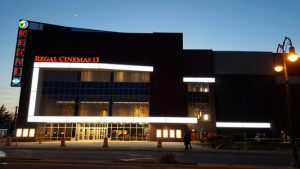 A new 13-screen, 1208-m2 (83,000-sf) theater in Lynbrook, New York, features surround sound, two- and three-dimensional images, and vibrating seats with built-in speakers. MBI Group, a New York City-based construction firm specializing in ground-up construction and interior fit-outs, was the general contractor (GC) for this project.
The scope of the project included:
demolition of the century-old United Artist theater that previously occupied the site;
excavation for the new building;
site work;
structural steel, concrete, roofing, elevator, and escalator elements;
installation of security systems and high-end finishes;
storefront and curtain wall systems;
the installation of the exterior metal panels and pneumatic tube system;
extensive electrical, life safety, and mechanical work; and
various audio-visual components.
MBI Group's project team worked closely with the developer Blumenfeld Group and Regal Entertainment Group. Other members of the design team included JKRP Architects, Enviro Design & Mechanical Engineering, RMS Engineering, and Pennoni Associates as structural engineer.