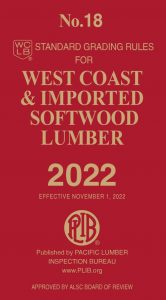 Pacific Lumber Inspection Bureau (PLIB) has published a new grading rule book, titled WCLB Standard Grading Rules for West Coast & Imported Softwood Lumber, No. 18, 2022.
The book replaces WCLB Standard No. 17, the bureau's previous version of the grading rules, written and first published by West Coast Lumber Inspection Bureau (WCLIB) in 1991, and revised multiple times since then.
When WCLIB and PLIB merged operations in 2019, PLIB was recognized by the American Lumber Standards Committee (ALSC) as a lumber grading rules-writing authority. The newest edition is the first major revision to the rule book since the merger, and the first to be published by PLIB. It is now recognized as the official WCLB Grading Rules for West Coast & Imported Lumber.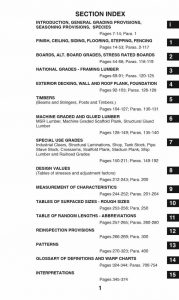 "The new rule book includes all updates to the NGR grade rules, as well as revisions to other grades specific to the WCLB rules," says Jeff Fantozzi, president of PLIB. "There are also several items included in WCLB No. 18 that had not been included in previous editions of the Standard No. 17 rule book."
Aside from the new title and publisher, one of the most significant changes is the inclusion of the complete and current National Grade Rule (NGR) interpretations, as well as the WCLB rule interpretations. WCLB No. 18 also features updates to Machine Stress Rated (MSR) grade tables and design value tables, as well as a new seasoning provision for timbers, intended to make the definition for dry timbers consistent across manufacturers. Fantozzi says PLIB also updated the species lists, rearranged the order of certain sections, and incorporated revisions and corrections from previous editions.