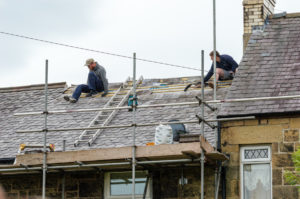 Earlier this summer, four roofing companies looking to cultivate long-term success of underlayment products for building envelope applications formed the Asphalt Underlayment Council (AUC). This new group's interim executive council was instrumental in identifying the need for an industry council that supports the standardization of underlayment product quality, performance, and integrity.
"With the introduction of new types of roofing underlayment products, it was felt that an industry group was needed to monitor, administer, and contribute to product standards," said Michelle Miller, executive director.
AUC's inaugural technical committee will focus on code classifications and industry regulations for both residential and commercial structures. Currently, standards and requirements for roof repair, reroofing, roof recovering, and replacement often lack clarification within the definition of underlayment.
Bringing regulatory issues to light through educational initiatives and industry outreach will be accomplished through raising awareness and advocacy. AUC will actively assist in the development of building codes to ensure the high performance of roofing systems.
"We will work directly with installers and contractors who may not be aware of the various product categories occurring in the underlayment industry," said Robert Almon, AUC's interim executive council member. "Understanding the nuances of underlayment as well as discerning codes and comprehending code compliance are vital. With our combined historical experience, AUC is in a prime position to ensure all the issues surrounding underlayment are addressed through a range of resources from an engaged council, committees, and membership to a vibrant website that will be launched soon, growing media outreach, literature development, and ongoing educational opportunities."
The group welcomes roofing underlayment firms to join AUC and work to make these important initiatives viable and sustainable. To learn more about the Asphalt Underlayment Council or to ask about membership, e-mail info@aucunderlaymentcouncil.org. Click here to join the council.