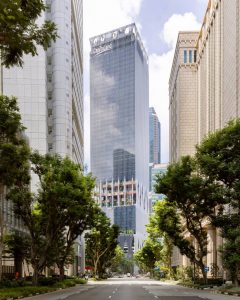 Bjarke Ingels Group (BIG) has designed Singapore's new skyscraper, CapitaSprings, staying true to Singapore's reputation as the "garden city," adding 8361 m2 (90,000 sf) of landscaped area to the building, with more than 80,000 plants.
The total site area is 93,000 m2 (100,1044 sf), and the landscaped area stretches 1.4 times more, according to green plot ratio (GPR), a measure developed by Singapore-based landscape architect Dr. Ong Boon Lay, as a scientific way to introduce greenery into urbanism.
The mixed-use complex reaches 280 m (919 ft) in height, giving it a towering presence in Singapore's skyline. Singapore was named "garden city" in 1967, by then Prime Minister Lee Kuan Yew, to meet his vision of transforming it into a cleaner and more pleasant version for its residents, and in hopes of attracting tourism.
Located at the heart of Singapore's financial district, the high-rise is defined by a dynamic interplay of orthogonal lines, lush greenery, and contrasting textures. At multiple elevations, the vertical elements comprising the building's facade are pulled apart to allow glimpses of the greenery blooming from the base, core, and rooftop "sky garden."
At the core of the building, between the hardscapes of the offices and residences, are four connected levels of organic softscape dubbed the "Green Oasis"—a 35-m (115-ft) open-air garden for work, casual strolls, relaxation, exercise, and events. The overall vertical softscape of the Green Oasis mimics the plant hierarchy of tropical rainforests, where leaf growth of the plants is directly proportional to light within the vegetation layers. Shade-tolerant plants with large leaves are on the "rainforest floor," because they require the least amount of direct light; moving towards the canopy layer, the "roof" of the rainforest, where trees are planted because of their smaller leaf structure.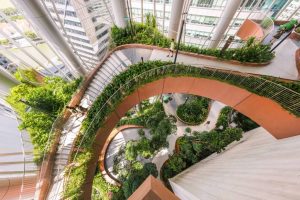 The Building and Construction Authority (BCA) of Singapore has awarded CapitaSpring Green Mark Platinum & Universal Design (UD) Gold Plus certifications.
Other collaborators on the project are Carlo Ratti Associati, RSP Architects Planners & Engineers (Pte) Ltd, ARUP Singapore Pte Ltd, Beca Carter Hollings & Ferner (S.E.Asia) Pte Ltd, Arcadis Singapore Pte Ltd, COEN Design International Pte Ltd, Takenouchi Webb Pte Ltd, Nipek Pte Ltd, Asylum Creative Ptd Ltd, Jacobs International Consultants Pte Ltd, Ignesis Consultants Pte Ltd, PH Consulting Pte Ltd, TSM Consultancy Pte Ltd, Dragages Singapore Pte Ltd, Meinhardt Singapore Pte Ltd, and Squire Mech Pte Ltd. The development was designed and built for CapitaLand Development, CapitaLand Integrated Commercial Trust, and Mitsubishi Estate Co., Ltd.