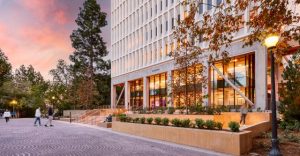 The newly renamed Pritzker Hall Psychology Tower at the University of California, Los Angeles (UCLA) has earned acclaim for the restoration and renovation of the historical campus building by CO Architects.
The building has received the following honors:
The Los Angeles Business Council's (LABC) 51st Annual Architectural Award for excellence in architectural preservation;
The Westside Urban Forum Design Merit Award 2021 for the public/institutional category in recognition of the modernization and seismic upgrade to the exemplary building, which also was noted by American School & University;
Southern California Development Forum Merit Award for Education;
The 2021 Excellence in Structural Engineering Awards Merit Award, New Buildings category, for the UCLA Pritzker Hall Seismic Renovation, from Structural Engineers Association of California; and
The National Organization of Minority Architects (NOMA) Phil Freelon Professional Design Awards, Citation Award for Historic for Historic Preservation, Restoration & Renovation.
Among the preserved features that have put a spotlight on the eight-floor, 11,613 m2 (125,000 sf) building that opened in 1967 are its articulated recessed windows on the third through eighth floors, where their gridded design's angled stucco frames obscure outside views to maximize privacy for psychology consultations and experiments. A subtle color change applied to the window glazing during the restoration retained the façade's architectural integrity, according to architect Page & Turnbull.
CO Architects retained and preserved the building's mid-century character, as designed by influential Black architect Paul Revere Williams, FAIA, by retrofitting upgrades with large viscous dampers. The building's character was preserved by retrofitting upgrades to ensure the reinforced-concrete structure's integrity in the event of earthquakes. Applications of innovative, modern materials like glass-fiber-reinforced gypsum materials mimicked historic details.