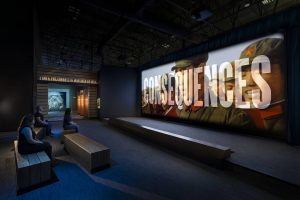 The new 3716 m2 (40,000 sf) Puller Gallery, created by design firm Roto for the recently opened National Museum of Military Vehicles (NMMV), aims to immerse visitors in the stories of Vietnam and Korean war service members through dynamic, interactive experiences.
A winding trail cuts through a perilous nighttime jungle. Thousands of hand-sculpted bamboo shots combine with an elaborate projection-mapped moonlit environment to create an eerie setting where booby traps and guerrilla forces emerge from the darkness.
Elsewhere, a U.S. firebase—dominated by a faithfully restored M109 155mm Howitzer—sits at the edge of enemy territory, where distant battles and helicopter operations are depicted on an elaborate animated mural.  The battle of Chosin Reservoir is depicted as a frozen mountain that looms above visitors, showcasing a series of cast figures that reflect the emotion of this defeat.
While the majority of the over 300 props were sourced directly from veterans, collectors, and surplus shops–including 'spike protective' jungle boots, air-dropped PSYOP leaflets, and a 1960s Zenith television console–Roto replicated a variety of items that could not be acquired directly. These items included a rare Chinese communist grenade, a U.S. military trip flare, an air-deployed motion sensor, Agent Orange barrels, and more than 100 ammunition crates.
The team put effort into connecting veterans to real-to-life memories. Three lifelike figures take cover behind an M48A3 Patton tank as they call in an airstrike. A vehicle convoy radio tuned to the armed forces network plays Creedence Clearwater Revival.
The Chosin Reservoir vehicle engines sputter and an authentic diesel generator causes the firebase structure lights to flicker. A M113 ACAV Recon vehicle in the Vietnam jungle invokes the sensation of rough travel within an un-airconditioned hulking steel shell.
The team's research even led to ensuring that the Huey helicopter's machine gun, which jammed up often, was modified with an authentic peach can from meal rations to help the ammunition belt feed into the gun more smoothly.
Founded by former St. Jude Medical CEO, Dan Starks, NMMV is a $100 million, 13,006 m2 (140,000 sf) facility located in Dubois, Wyoming.  Officially opened on this year's Memorial Day, the museum is home to the world's largest private collection of U.S. military vehicles, including 475 fully restored military vehicles, artillery pieces, naval vessels, and aircraft.