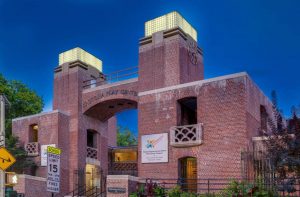 Exterior Technologies Inc. (EXTECH) revitalized New York City's Crotona Park with two new clock towers and four glass lanterns.
The park's arched entry to the pool building and play center in the Bronx features a newly reconstructed pair of 24.4-m tall (80-foot) tall clock towers capped with four-sided glass block "lanterns." In collaboration with City of New York Parks and Recreation, the new lanterns were designed, engineered, and fabricated by EXTECH, which specializes in daylighting systems, and installed by Sandhu Contracting Inc.
"The goal was to replicate the historic look of the original glass blocks, adding modern performance to the structural assembly," said Ron Clelland, EXTECH's architectural representative in New York. "Clear blocks were selected for their transparency, contributing to the lantern towers' warm, welcoming glow at night, which can be seen from a distance."
Both clock towers' lanterns are similar on all four sides. Each side of the four-sided glass block structures are approximately 3 m (10 f) long. The vertical sides are composed of dozens of hollow 5.75-in (146-mm) x -by- 3.88-in (98-mm) blocks.
These walls are joined together by custom, 90-degree, hollow-glass blocks at the corners. Totaling 3 tonnes in weight, more than 1100 blocks are positioned within stainless steel framing, which is concealed by a white mortar. The mortar's color was selected for historical accuracy by the Landmarks Preservation Commission.
Along with the correct glass block sizing and mortar formulation, EXTECH verified the project's precise design requirements with shop drawings and a submittal mock-up. To ensure both the aesthetic and performance requirements were met, EXTECH prefabricated the entire system under factory-controlled conditions.
EXTECH manufactured the glass block assembly with special removable hoisting rings so Sandhu Contracting's on-site team could more easily lift the large, prefabricated units by crane and accurately set them in place. Drawings illustrating the step-by-step installation process also supported Sandhu Contracting's efforts in the field.
For more than 80 years, the iconic towers have served as a landmark and destination during the day. At night, the glass lanterns are illuminated from within the building, beckoning neighborhood residents and park guests. After more than 80 years of use, EXTECH helped renew this Landmark Site's architectural heritage with modern performance.