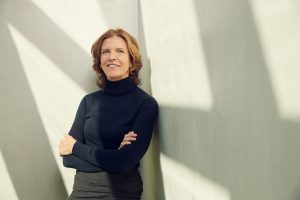 Architect Jeanne Gang, FAIA, founding principal and partner of Studio Gang, has received two awards for her life's work: The Urban Land Institute (ULI)'s 2022 Prize for Visionaries in Urban Development, and The Wall Street Journal (WSJ.)'s 2022 Architecture Innovator award.
One of the most prestigious and respected honors in the real estate, land use, and development community, ULI's award recognizes an individual who has made distinguished contributions to community building globally, established visionary standards of excellence in the land use and development field, and whose commitment to creating the highest-quality built environment has led to the betterment of society.
"Jeanne's artistry and creativity have established her as one of the most influential architects of her generation," said Ed Walter, ULI's global CEO. "From museums and skyscrapers to mixed-use developments and learning environments, Jeanne has produced buildings and places that push boundaries and reach new frontiers in sustainable reuse, ecological biodiversity, and social equity."
"I am honored to be recognized by ULI, whose effort to foster collaboration across real estate and land use disciplines are critical for shaping more resilient and equitable futures for our cities," said Jeanne. "I hope this award will inspire even more developers, architects, planners, and policymakers to come together to realize places that can both uplift communities and support our planet's greater network of living things."
Now in its 12th year, the annual Innovator Awards by WSJ. recognize groundbreaking talents across a range of disciplines whose ideas offer a blueprint for a better future.
In her interview with WSJ., Jeanne spoke about Studio Gang's philosophy of actionable idealism, which describes the firm's commitment to drawing on design's ability to build public awareness and awaken change towards a more sustainable and equitable future.
"For Gang, the way forward lies in thinking more expansively—not in terms of square footage, and not just about building, but about architecture itself," writes the author Sarah Medford.
Previously, Jeanne Gang has received numerous accolades for her projects including Chicago's Aqua Tower; Writers Theatre, a professional theater in Glencoe, Illinois; and the Arcus Center for Social Justice Leadership at Kalamazoo College in Kalamazoo, Michigan. Her most notable ongoing projects are an expansion to the American Museum of Natural History in New York City; a new United States Embassy in Brasília; the University of Chicago's European hub for study and research in Paris; and a unified campus for the California College of the Arts in San Francisco.