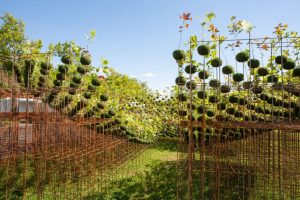 Kokedama Forest, designed by Nomad Studio, is a visual reflection on the hidden importance of the dwellers within the soil and how their partnership with plants creates a suitable habitat for people.
Kokedamas have their origins in Japan. In the Japanese language, kokedama translates to moss-ball, koke- meaning "moss" and dama- meaning "ball".
Kokedama Forest was a temporary installation within the Design District at the PHS Philadelphia Flower Show 2021. This edition was held at the FDR Park in Philadelphia with a narrative focused on habitat.
These micro-organisms are indispensable as they actively build fertile soil while nourishing plants within a network of relationships and constituting the core of healthy and resilient ecosystems. Disturbances in the soil microorganisms' habitat lead to desertification, and this loss of fertile soil equals the lack of habitat for the majority of species on this planet.
Kokedama Forest is a 93-m2 (1000-sq-ft) miniature sculptural forest consisting of more than 1200 autochthonous forestry seedling kokedamas nested within an inverted dome carved out from an intricate metal network. This 7.5 ft (2.29-m) high three-dimensional structure is woven with steel.
Guests are welcomed to enter the micro-woodland and be surrounded by the kokedamas: hundreds of seedlings displaying their relationship with soil supported by a web.