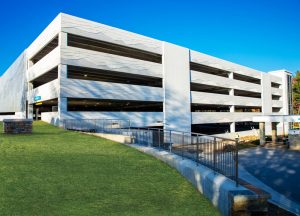 The Asheville Regional Airport parking deck in Fletcher, North Carolina, was awarded the 2019 Commercial Airport Project of the Year—Architectural Project by the Southeast Chapter of the American Association of Airport Executives (SEC-AAAE).
The architectural precast concrete used in the facility helped create the exterior design that seamlessly blends with the airport's Blue Ridge Mountain landscape.
The five-story, 31,944-m2 (343,844-sf) garage features several precast components, including beams, columns, wall panels, and double tees, as well as formliner spandrels that bring the mountain scene to life. The precast structure was engineered to support the 157-m (516-ft) long perforated metal screen. The garage provides more than 1300 parking spaces and is connected to the airport terminal through a covered awning, giving travelers easy access to baggage claim and the ticketing lobby.
Walker Consultants provided engineering support, with American South General Contractors as the general contractors (GCs), and Gresham, Smith and Partners as architect.