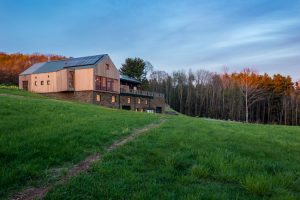 New York-based firm River Architects completed the world's first Passive House certified cidery, Seminary Hill Orchard & Cidery in Callicoon, New York.
The 864-m2 (9300-sf) building, opening June 25, houses an organic hard cider production facility, tasting area, commercial kitchen, and event space. Built by New York-based construction firm Baxter, the cidery is surrounded by an organic apple orchard on 25 ha (62 acre).
River Architects designed this building to be a modern take on a classic 'bank barn' built into the side of a hill, where the change in grade is used to provide easy access to upper and lower levels.
The cidery's main entryway pays homage to traditional Hudson Valley barns with filtered light through its gapped wood siding. The 279-m2 (3000-sf) tasting and event rooms further evoke these barns through heavy timber framing and soaring spaces. The tasting room, event space, and support areas are clad inside and out with larch wood reclaimed from the underwater pilings of the original Tappan Zee Bridge.
"My childhood was spent exploring Hudson Valley's barns—many that do not exist today," said James Hartford, River Architects' principal. "This experience inspired the wood-slatted entryway and its enticing play of shadows during the day, which transforms into a lantern at night."
Visitors will walk into a translucent entryway as well as views of the orchard and valley revealed throughout the space. Large windows, a wraparound patio, and balcony frame the panorama of the cidery's namesake historic seminary below and the Delaware River Valley beyond.
"In keeping with our firm's mission to apply Passive House design principles, the Seminary Hill Cidery is a low energy-use structure," said Hartford.
The building utilizes a super-insulated, air-tight thermal envelope to prevent unwanted heat loss or gain. Triple pane windows supply light and charming views, while also providing most of the heat to keep the rooms comfortable in winter. Conversely, retractable awnings reduce glare and help with cooling.
Photovoltaic (PV) solar panels produce most of the electricity required to light, ventilate, and cool the spaces helping offset the production equipment's high energy usage. Solar thermal collectors power the high-temperature potable water heaters used to sterilize cidery equipment.
Sustainability is embodied in all aspects of the cidery, the firm said in a press release. Water to wash fruit and equipment comes from an onsite greywater management system. Site lighting and signage are full-cut-off, dark-sky compliant to help reduce nighttime light pollution. The cidery production space and aging cave are built into the hillside and use the natural cooling of the earth to maintain colder temperatures needed for fruit storage and natural yeast fermentation. This lower level is clad in locally sourced bluestone, grounding it into the local geology and architectural style.