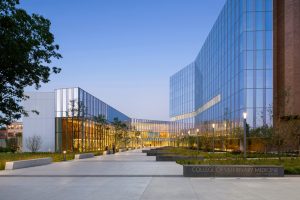 Cornell University's College of Veterinary Medicine in Ithaca, New York, has transformed its original complex—an ad-hoc collection of individual buildings—into a cohesive campus enabling the school to advance research while offering innovative curriculum for training future practitioners and researchers.
Designed by New York City-based practice Weiss/Manfredi, the 10,870-m2 (117,000-sf) project features a 6225-m2 (67,000-sf) expansion and 4645 m2 (50,000 sf) of gut-renovation—adding teaching spaces, connecting the hospital to the college, and creating public forums within the same overall square-footage as the original complex.
The expansion provides an updated anchor to Cornell's east-west campus axis. Here, a redesigned entry plaza is framed by a new library wing and the re-clad Veterinary Research Tower, providing a unified identity and front door to what was formerly a mixture of building styles and entries. Selective demolition of underutilized and nonadaptable structures helped reconnect existing laboratories and insert a series of classrooms and lecture halls centered around a wood-lined, three-story space.
The most notable newly constructed space is the gallery that creates a 'town hall' for the complex. The gallery connects to teaching spaces that include two new wood-lined, double-story-tiered lecture halls. Additionally, two new 60-seat, flat-floor classrooms allow for multiple teaching configurations. Renovated lecture halls and laboratories, as well as new seminar rooms, cafeteria, and administrative suites within the existing complex encircle the gallery, providing a seamless transition between the existing and the new.
The redesign increases the energy efficiency of the new spaces as well as the existing research tower, featuring sustainably harvested wood as well as local and recycled materials. Radiant floor heating and cooling is employed throughout the new spaces, and a new curtain wall on the existing research tower replaces a single-paned glass façade providing improved insulation.
Surrounding the college are native plantings and an entry plaza featuring a bioretention basin for more efficient storm water management. During the day and at night, the building is illuminated with light-emitting diode (LED) lighting. The project is anticipated to achieve Leadership in Energy and Environmental Design (LEED) Gold certification.
The design expands the existing college through strategic interior renovations and bold new additions, creating a coherent internal campus.