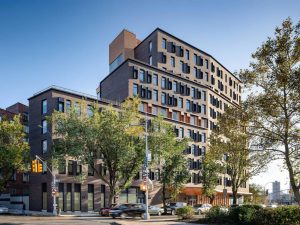 An award-winning senior housing in New York City's Mott Haven neighborhood in Bronx shaped zoning laws to allow greater mass, height, and street-level articulation. The design also made use of materials to integrate with the historical architectural context.
Tres Puentes was recognized with the 2022 SARA (Society of American Registered Architects) National Design Award. The architects behind the project are Redtop Architects, and Shakespeare, Gordon, Vlado: Architects PLLC. The engineers involved in the project were Silman, Dagher Engineering, AKRF, FNA Associates, and IROS Elevator. The landscape design was provided by Joanna Pertz Landscape Architecture.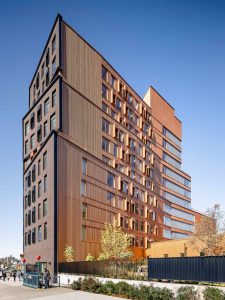 In 2010, when the project client West Side Federation for Senior and Supportive Housing (WSFSSH) took ownership of the Borinquen Court site in Mott Haven, they saw an opportunity to expand upon the strength of the existing building's community to bring more residents and resources to the large and underused site. The architects began their study of the lot's potential, while working on their renovations to the aging building—recognizing early in the process that any new construction would require approval by NYC's Department of City Planning to relieve the site of decades old restrictions mandating a "tower in the park" use of the site.
Close collaboration with the city's planners in the years that followed allowed the project to be a case study for zoning updates already in the making, further supporting more affordable housing throughout the five boroughs, with a focus on housing for independent seniors.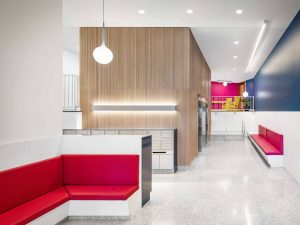 Such changes to the zoning would allow for parking lots to be transformed into housing, and for senior housing buildings to have a greater mass and height than previously allowed, as well as more street wall articulation.
The building, Tres Puentes, is named after the three neighboring bridges connecting the South Bronx to Manhattan. The project has added two new ground-up buildings to the Mott Haven site of the existing Borinquen Court, originally constructed in 1981. The new eight and eleven story structures are attached at ground level to this existing six-story building, which the architects renovated in 2014. Combined into a campus, these three buildings transform the nearly 0.81-ha (two-acre) site into a home for hundreds of seniors. The design of the buildings energizes both East 138th Street and Third Avenue by lining the once vacant street wall with entrances to the site's senior center, health clinic, and pharmacy.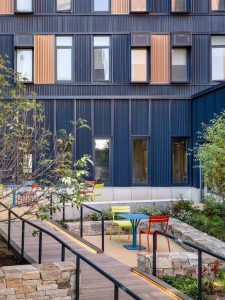 The design varies the use of materials on its facades to create a novel look to integrate into the site's industrial character and blend in with the rest of the neighborhood's brick-predominant architecture. The materials used at the senior housing include the elegant brickwork of its street facades, like many of the area's historic townhouse and New York City Housing Authority (NYCHA) neighbors, while the facades towards the site's gardens are clad in copper and navy-blue corrugated steel panels—a nod to the industrial Mott Haven.