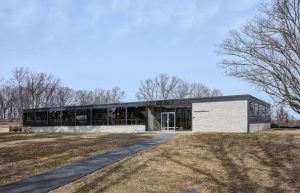 Design firm BassamFellows has preserved an old building made by prominent American architect Philip Johnson for its new headquarters in Connecticut.
The original building was completed in 1952. Now known as the Philip Johnson Building (PJB), it is a single-story, steel-glass-and-brick structure constructed over an underground storage/garage. The rectangular plan consists of perimeter offices organized around a central core that contains a landscaped courtyard, glass-enclosed conference room, and library. Around the central core is a wide, skylight-covered corridor allowing circulation between the perimeter offices and bringing natural light throughout the space. Each office has a solid infill wall of light gray iron spot brick on the interior corridor pierced by full-height oak doors. Exterior walls are brick below desk height with full-height window walls above. Ceilings are 3 m (10 ft) tall throughout.
BassamFellows maintained the original use of the building as executive office space with slight adaptations to bring the building up to current code and add needed services. According to the firm, the biggest challenge was adapting the building for standalone use. PJB had been left empty and essentially abandoned for 11 years.
The design team replaced the interconnected glass corridor with a massive glass pivot door that maintained the size, scale, and integrity of the original opening. The door provides egress while also opening the northwest side of the building to a park land view.
A new HVAC system was designed to improve efficiency and add more flexibility and comfort, surgically utilizing existing duct work and preserving Johnson's desire for invisibility.
Hospitality and other services, such as a kitchen and Americans with Disabilities Act (ADA)-compliant bathroom, were added in converted offices. Original, open-area secretarial pools were adapted to informal meeting/collaborative spaces.
Several layers of torch down roofing were removed to reveal the original steel roof fascia. Now fully restored and painted the original graphite color of all the exposed steelwork, the slim fascia returns the proportions to the building's exterior.
The destroyed interior ceiling was replaced with hung sheetrock, thereby allowing the design team to upgrade all electrical services to the individual offices and collaborative spaces and add contemporary lighting to supplement the original fixtures. All  ceiling reveals were restored in the process and painted the original dark gray shade.
Much of the interior courtyard wood window frames and the courtyard sliding door were rotted and had to be replaced. In the process, the design team restored the original window frame profiles that had been changed over time. Massive, oversized double pane glass was also sourced.
The original pale gray vinyl tile flooring was destroyed and covered in wall-to-wall carpet. The design team matched the original color of the vinyl tile.