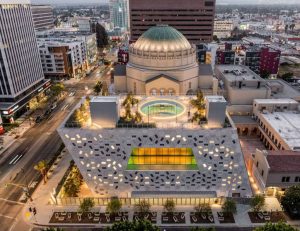 Wilshire Boulevard Temple has completed the Audrey Irmas Pavilion, a 5109.7-m2 (55,000-sf) structure designed by architecture firm Office of Metropolitan Architecture (OMA).
Led by OMA partner-in-charge Shohei Shigematsu, the Audrey Irmas Pavilion is OMA's first commission from a religious institution and its first cultural building in California. The pavilion is located on Wilshire Boulevard, in the heart of Koreatown/Wilshire Center, creating a bold statement from the oldest and largest synagogue in Los Angeles, and situated in the heart of a vibrant urban center.
The unique façade of the structure is crafted from 1230 hexagonal panels of glass fiber reinforced concrete (GRFC), affixed via cast-in-place clips on all six sides of the panel. The tonality and materiality resonate with the tones and textures of the existing temple and the larger campus.
These tones enhance the interior color moments throughout three main gathering spaces; red seen in the Grand Ballroom, green in the Chapel, and blue notes throughout the sunken garden. The neutrality in the colors of the façade is enhanced by its texture and dynamic appearance depending on the time of day.
"We assembled a constellation of spaces, distinct in form, scale, and aura—an extruded vault enveloped in wood establishes a multi-functional, central gathering space and connective spine; a trapezoidal void draws tones from the temple dome and frames its arched, stained-glass windows; and a circular sunken garden provides an oasis and passage to a roof terrace overlooking Los Angeles," said Shigematsu.
The ground level's main event space echoes the temple dome by lowering its arc and extruding it north across the site. The second level provides a more intimate chapel, and the trapezoidal room frames the arched stained-glass windows of the historic temple. The third void is a sunken garden that opens to the sky and leads to a rooftop with expansive views of Los Angeles, the Hollywood sign, and the mountains to the north.
Named after Audrey Irmas, the lead donor whose $30 million gift launched the capital campaign in 2015, the gift was among the largest single donations to a temple in the United States.