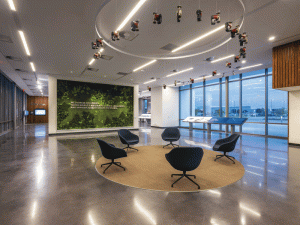 By Rebecca Silva
Grundfos, a global leader in water technology based in Bjerringbro, Denmark, has earned Leadership in Energy and Environmental Design (LEED) Platinum certification for its new Global Water Utility Headquarters—the highest available building certification through the U.S. Green Building Council (USGBC). Advanced stone wool ceilings for acoustical performance were key to the LEED Platinum certification.
The company demonstrates its commitment to sustainability at a global and local level, pioneering solutions to the world's water and climate challenges, and to improving the quality of life for people. Its new regional headquarters opened in 2021, located in Brookshire, Texas, approximately 48 km (30 mi) from downtown Houston.
"Grundfos has manufacturing that already existed in Brookshire. We decided we wanted to be near this location for customer visits, the market for available technical skills, and proximity to educational institutions," says Michael Franzen, senior regional manager for facilities and machining at Grundfos Global Water Utility Headquarters. The 4180 m2 (45,000 sf) facility houses more than 100 employees working in sales, operations, engineering, human resources (HR), finance, and other support functions.
"From the beginning, we wanted the design to be a culmination of Danish architecture and Texas style. Sleek, modern, and simplistic," says Franzen. "The initial design was developed by Grundfos architects, who then collaborated with the selected general contractor. The design was based on our needs, values, and sustainability initiatives."
Based in Houston, Harvey Builders served as the project's contractor, collaborating with architectural firm PGAL and acoustic engineer SLR Consulting. The project team recognized that advanced acoustic stone wool ceiling systems throughout the entire workspace were necessary to meet the project's aesthetic, performance, and sustainability goals.