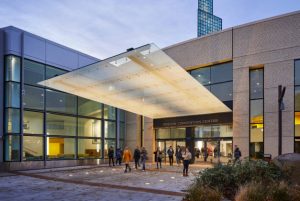 The Oregon Convention Center (OCC) in Portland has completed a $40-million renovation project—the center's first large-scale remodel since the venue was built 30 years ago.
The remodel of the 23,690-m2 (255,000-sf) convention center includes updates to numerous public spaces throughout the venue to improve accessibility, provide more flexible and transformable spaces, and elevate design aspects.
The renovations also include a new plaza area to provide a flexible outdoor space. To integrate creative design aspects throughout the venue, OCC drew inspiration from Oregon's natural landscape, with design touches such as lichen-inspired carpets and forest canopy ceilings.
The renovations were designed by Seattle-based LMN Architects, with Merryman Barnes Architects as the associate architect, and Mayer/Reed as the landscape architect and environmental graphics designer. Glumac was brought on as the mechanical, electrical, and plumbing (MEP) engineer, Seattle-based Magnusson Klemencic Associates was the structural engineer, and KPFF was the civil engineering firm.