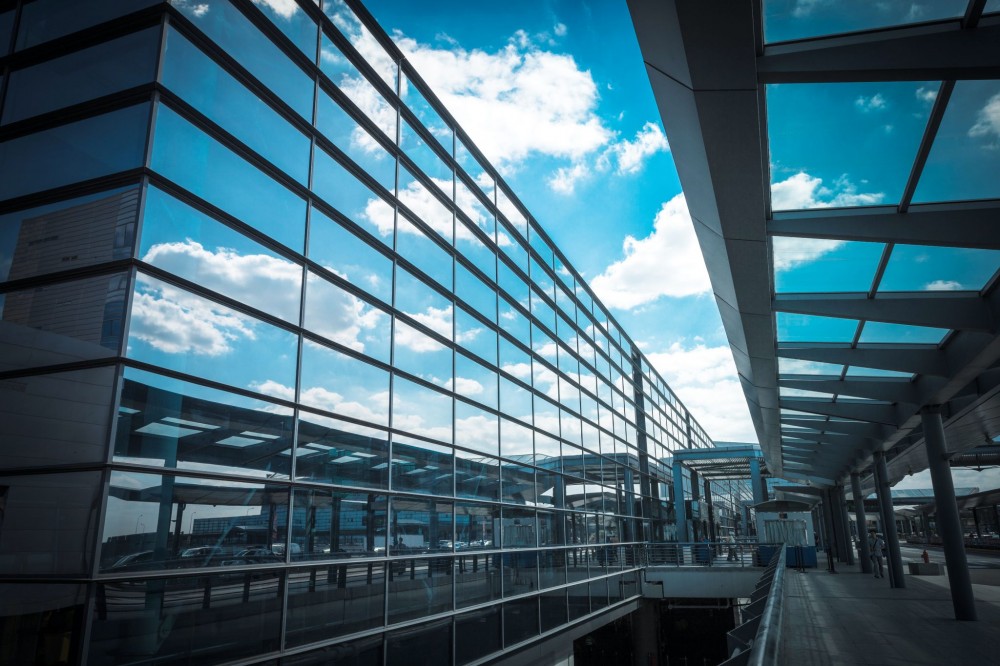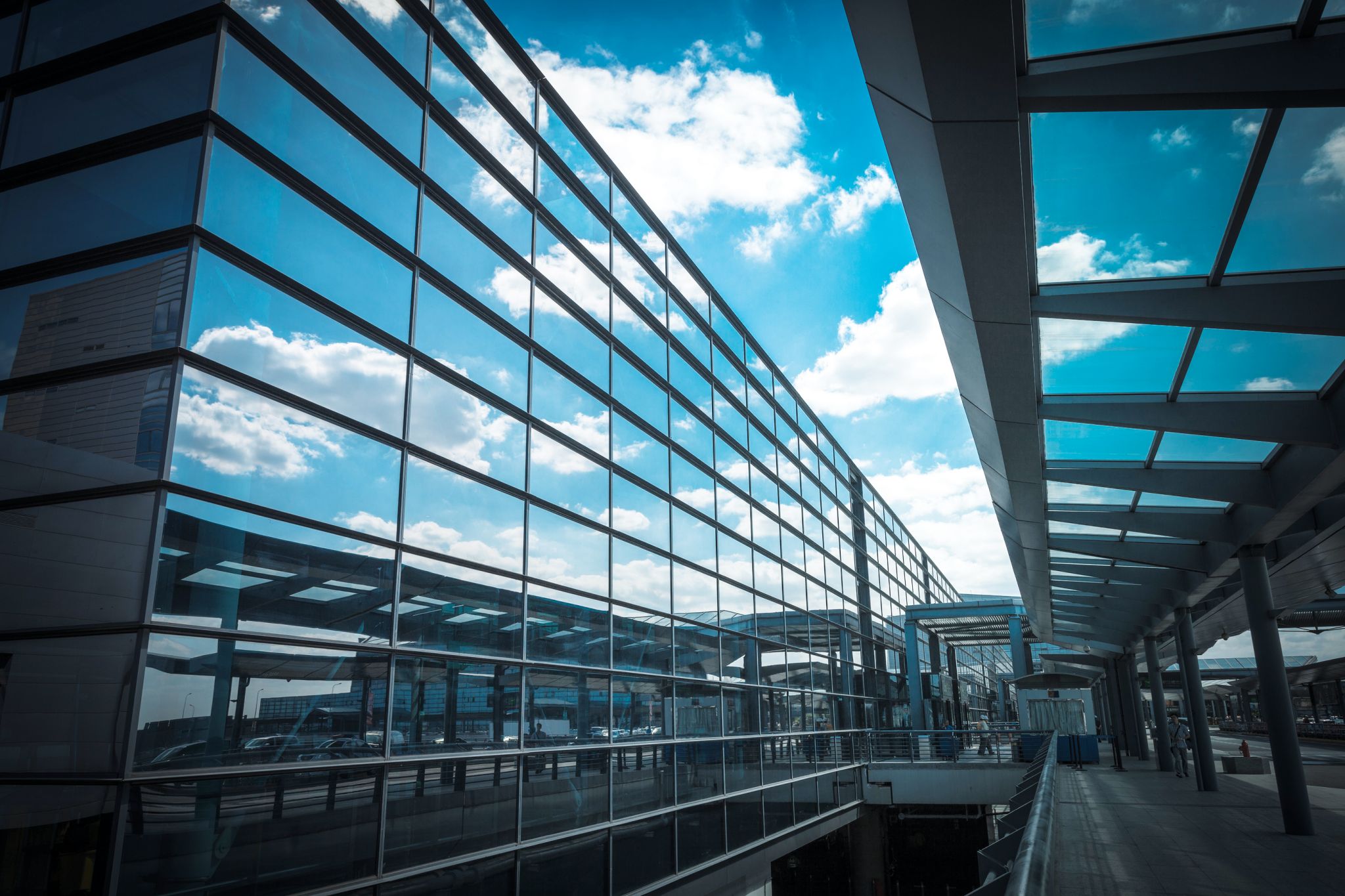 by Derek B. McCowan, PE, and Douglas R. Pac, EIT
The primary factors most designers consider when selecting window and curtain wall assemblies for their projects are well-understood: cost, aesthetics, and thermal performance, to name a few.
There are some other important, though often overlooked, considerations that can be important to weatherproofing, performance, and durability. This article will discuss some of these lesser-known factors and some of the related issues and challenges.
Material selection for windows
Since nearly all curtain wall and storefront systems exposed to weather are fabricated from aluminum, this article's section focuses on window materials. The common material types selected for commercial windows include vinyl, aluminum, wood, aluminum-clad and vinyl-clad wood, fiberglass, and steel. Each has several advantages and disadvantages, along with considerations that affect performance and durability.
Vinyl
Vinyl windows are typically the most inexpensive of the aforementioned material options; they are often chosen when appearance is less of a concern. Aside from their look, vinyl windows have proven to be an economical and rot-resistant option for residential construction applications where small punched openings are required.
Nevertheless, the authors recommend specifying commercial-grade windows over residential ones, even on wood-framed residential projects. Vinyl is not a high-strength material and therefore typically cannot accommodate large openings where high wind loads are present. (Vinyl is often reinforced with aluminum for improving strength.)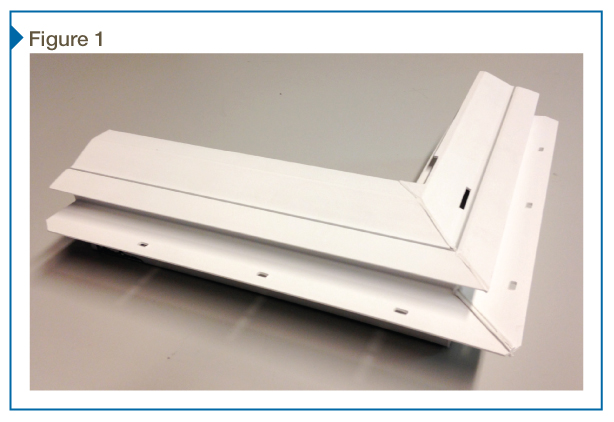 Key benefits of vinyl windows often include:
heat-welded frame corners that provide good resistance to water penetration (Figure 1);
wept glazing pockets that allow water bypassing glazing seals, as well as condensation, to drain to the exterior; and
continuous nailing flanges at the perimeter of the windows for easy installation and reliable connections of surrounding weather barriers to the window frame.
Another attractive feature available with some systems is the use of a fully welded 'master frame' around the perimeter of multi-unit assemblies, such as two or three windows ganged together. The continuous, welded perimeter frame can help eliminate the sensitivity of gang mullion end conditions that are often problematic with respect to leakage.
Aluminum
Like vinyl windows, aluminum windows are attractive to building owners because they are highly resistant to corrosion, and are also strong and durable. With this increase in strength and durability generally comes added cost.
Although there are exceptions, aluminum windows rarely come equipped with wept glazing pockets; unlike many of their vinyl counterparts, they rely on sealant at mitered or coped frame corners (Figure 2), making a sill pan flashing an essential feature of a window system design—even shop-applied sealant is sensitive to workmanship (i.e. workers in a factory) and sealant can degrade and lose adhesion over time.
The added strength of aluminum, combined with the various options that are often available (e.g. receptor framing, reinforcing mullions, and gang mullions) generally make aluminum windows a good option where large multi-unit and ribbon assemblies are needed.
Wood
Wood windows are often used in residential and historic applications, but are susceptible to rot, especially when less durable species like pine are used without being maintained. Durable wood products like mahogany are a great option, but may be cost-prohibitive. Aluminum-clad or vinyl-clad wood windows are often specified when the owner and/or designer desires the appearance of wood on the interior while obtaining the durability/rot-resistance of an aluminum or vinyl window on the exterior. The concept is appealing, but there are weaknesses of some clad wood windows that often go unrecognized.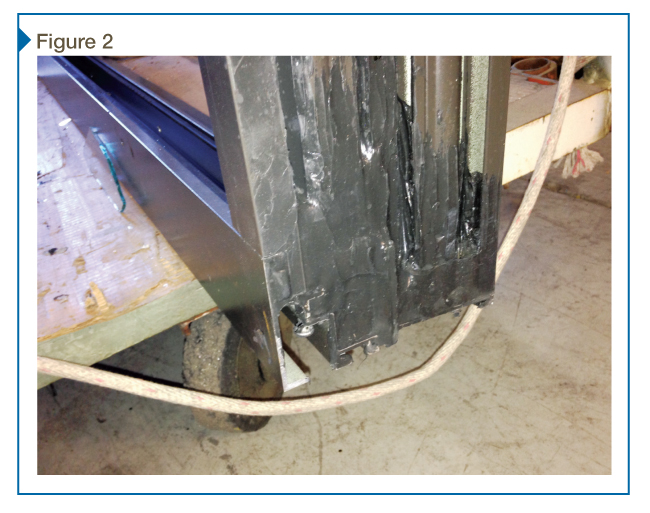 Joints in the cladding are either treated with sealant or left unsealed (Figure 3). If seals at the cladding joints and/or glazing seals are poorly fabricated, not well-maintained, or not installed, water can bypass the cladding and reach the wood core. Once water reaches the wood core, it can become trapped due to a lack of weep provisions within the cladding itself (with many systems, no weep paths are provided). This can lead to rotting and leakage to the interior.
Many manufacturers treat the wood with a preservative that can help extend the material's life. However, the preservative does not solve the underlying problem. Other products like aluminum may carry similar risk of leakage due to failure of glazing seals, but they do not pose the same risk of frame deterioration.
Perimeter detailing
Well-considered fenestration perimeter details are critical for the window, curtain wall, and storefront system's air and water penetration resistance. Industry professionals who conduct leakage investigations on problem buildings know the perimeters of glazed systems are often the source of problems. Flashing and perimeter sealant detail options can vary depending on the type of fenestration chosen and, in particular, the shape of the frame members at the system perimeter. If the perimeter detailing is not coordinated with the intended fenestration type, issues can arise. The failure of coordination may arise as a result of inconsistency between the drawings and specifications, or due to a substitution.
For instance, the authors have reviewed designs where the drawings showed pressure-glazed curtain wall mullions and related flashing details, but the specification called for an interior-glazed storefront system. Storefront systems have different mullion geometries and work differently from curtain walls—therefore, flashing options are quite different.
Situations like this can go unnoticed until it is time to fabricate and install the storefront system, at which time the installer may realize it is not possible to install the perimeter details shown in the drawings. Similar situations arise when fenestration systems are changed after the design is complete (i.e. value engineering or substitution requests), or when an acceptable 'or equal' system is selected by a subcontractor rather than the 'basis of design' (BOD) one.]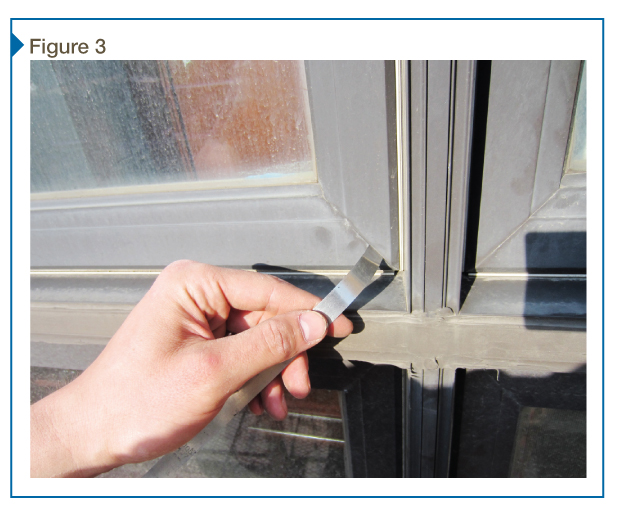 Continuing with the curtain wall versus storefront example, a common and reliable perimeter flashing condition for curtain walls consists of a flexible sheet membrane, such as silicone sheet or ethylene propylene diene monomer (EPDM) membrane, extending from the surrounding weather barrier into the glazing pocket of the curtain wall (Figure 4). The perimeter mullions of storefront systems generally do not have an open glazing pocket to facilitate direct access for tying in the perimeter flashing, so the glazing pocket flashing detail is not feasible. If the project team does not realize the discrepancy until the glass-and-metal systems are already fabricated and installation is imminent, issues can result, and the opportunity to achieve a reliable perimeter flashing can be lost.
Similarly, if a stick-built, pressure-glazed curtain wall system and associated glazing pocket flashing concept is specified, but a pre-glazed unitized curtain wall system is provided, the flashing design will no longer work (even with an excellent high-performance unitized system). When units are pre-glazed, the glazing pockets will not be accessible, and a continuous starter sill will be present along the sill condition, necessitating a re-design of the flashing system.
This topic is not only applicable to storefront and curtain wall systems, but it also holds true for the different window types discussed in this article. For another example, if flanged windows are envisioned by the design team though block-frame windows are purchased for the project, the original detailing, sequence of installation, and even the intended weatherproofing materials may no longer work.
Performance data
Designers often rely on manufacturer-published performance data when selecting fenestration systems. Some of the more common test data in which specifiers are interested include thermal performance, air and water penetration resistance, and structural performance. The data is useful for relative comparisons between similar base systems, but does not ensure the exact glazing assembly specified for a project will have the same performance level.
For instance, data is often published for a particular window model of a particular size with a standard configuration (i.e. a single window unit of a standard size is tested, not various sizes or any multi-unit assemblies). In most cases, this exact window size will not be installed on any given project. The data may not be applicable for:
larger windows (often, bigger windows have more trouble meeting performance requirements);
windows of a different configuration (e.g. multi-unit assemblies ganged together, with or without a receptor frame);
windows with additional features such as muntins; and
windows with different glass types/thicknesses.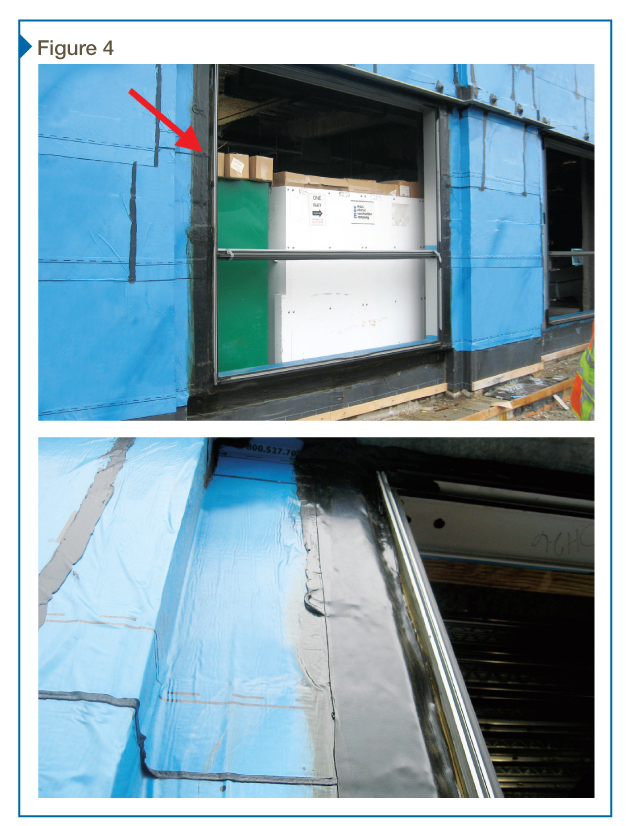 Often, untested, unrated components—such as gang mullions, sill receptors, and muntins—are where problems arise during field testing and in service.
For example, on a recent project, a window advertised as an "80-psf window" (i.e. 3830 Pa) was barely able to meet a 40-psf (i.e. 1915-Pa) design wind load. This was mainly due to window sizes being larger than the assembly tested by the manufacturer, along with the inclusion of components like muntins that were advertised as standard, but were not included in the tested assembly. The authors have also observed frequent water test failures at ganged mullions that were advertised as standard components, but also not included in the tested assembly.
Conclusion
Special care is needed when specifying and detailing a fenestration system—be it a window, storefront, or curtain wall. One should not only consider appearance, economics, and thermal performance, but also give consideration to other factors with special focus on project-specific detail considerations.
Are large punched openings or ribbon openings desired? How important is rot-resistance when compared to appearance? How proactive will building owners/managers be with respect to maintenance? What is the likelihood a different glazed system will be proposed after the design work is complete, and how will this process be managed? These are just a few questions to consider on future projects.
Derek B. McCowan, PE, is a licensed professional engineer in Massachusetts with national engineering firm Simpson Gumpertz & Heger. He has 12 years of experience investigating building envelope failures, consulting on new design projects, and providing construction administration and performance testing services. He has a graduate degree in civil engineering and is member of the American Society of Civil Engineers (ASCE) and of ASTM International Committee C24 Building Seals and Sealants. McCowan writes and presents frequently on various building enclosure topics and has experience as a guest lecturer at various local universities. He can be reached at dbmccowan@sgh.com.
Douglas R. Pac, EIT, works for Simpson Gumpertz & Heger. He has six years of experience investigating envelope failures, designing envelope repairs for restoration/renovation projects, providing construction administration services, and consulting on new design projects. Pac has a master's degree in civil engineering from the University of New Hampshire. He can be reached at drpac@sgh.com.