Ovid's metamorphosis
April 3, 2017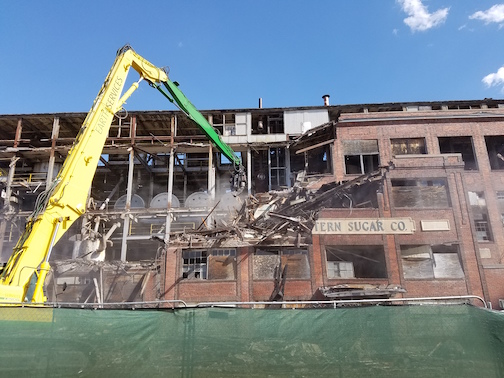 How open-air demolition halved costs for a sugar factory project
by Sue Rose
The small town of Ovid rests in the far northeast corner of Colorado near the Nebraska border. While its modern amenities are limited to a couple of restaurants, a grocery, and a gas station, the town retains a significant historical landmark: the gleaming white storage silos containing beet sugar from what once was the Great Western (GW) Sugar Company's finest factory.
Built during the booming sugar economy of the early 1900s, Ovid's huge GW factory was built with coal, steam, and mules. The town incorporated in 1925 during the factory's construction, and by 1940 had grown to a resident population of 650—twice the town's current population. Unfortunately, Colorado's sugar economy died off with the expiration of the Sugar Act in 1974, and the factory closed two years later.
By September 2006, the entire domestic beet-sugar industry had become grower-owned. Amalgamated Sugar, a cooperative of sugar beet farmers, bought the Ovid property in 2002. It had been abandoned except for the warehouse and silos, which were still in use. Amalgamated Sugar did not anticipate the liability they had taken on along with the purchase of the property.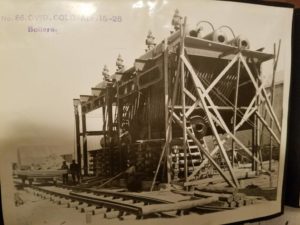 As with other abandoned sugar factories now dotting the rural landscape, Ovid's abandoned factory was truly dangerous—structurally unsound and riddled with asbestos. In 2011, a death at an abandoned sugar factory in a nearby town (a person died after plunging 23 m [75 ft] while exploring the ruins) brought attention to the need to demolish and abate these sites.
Amalgamated Sugar made the commitment to abate and demolish the factory site, which included 11 smaller buildings, a 10,777-m2 (116,000-sf) mill, and a 59-ha (146-acre) site. The enormous price tag for the job would have to be borne by the cooperative's 750 farmers themselves, with no hope for return on their money. Still, they deemed the investment worthwhile to eliminate the looming liability. They contracted with Schafer Environmental Consulting to devise a plan for abatement and demolition that would leave only the sugar storage silos and one warehouse standing.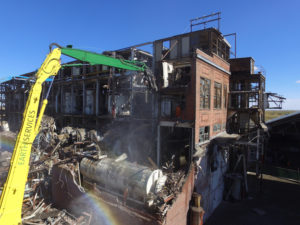 Five years in planning stages
For five years, Schafer conducted extensive research and worked a complex series of proposals with the Colorado Department of Public Health and Environment (CDPHE). Several abatement and demolition firms bid on the project, intending to use traditional methods—that is, fully containing the structure in poly sheeting and then demolishing the structures after all asbestos had been removed. The costs were astronomical, ranging from $7.3 to $11 million. Earth Services & Abatement (ESA) proposed an alternate plan that might, if successful, save millions of dollars.
Central to the problem was the mill. According to Rod Schafer, that building was like a massive city within itself, housing its own power plant, huge boilers, and rusted machinery.
"The upper floors were collapsing," he explained. "Engineers and the local fire department assessed the building, and calculated what would be necessary to rebuild parts of the structure to make it sound enough to proceed with the asbestos abatement."
The customary method would have been first to enclose the mill, abate the asbestos, and then to demolish. However, there were tremendous safety concerns related to abating the main structure. Walls were collapsing, floors had dangerous penetrations, and handrails were mangled and broken. In short, it was unsafe to abate. To find a safer, more cost-effective way, ESA teamed up with Schafer and CDPHE.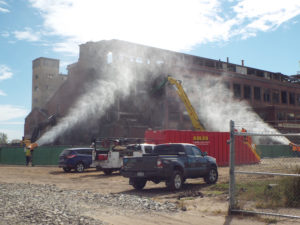 The firm had two main challenges:
get the local landfill to approve a one-time asbestos permit to accept the waste so trucks would not have to haul the material three hours each way; and
convince CDPHE to approve a variance allowing for demolition of the mill with the asbestos still inside.
Working collaboratively with the state department, ESA was able to do both.
The strategy included traditional abatement and demolition of the smaller structures first since they were safe to abate. Once complete, ESA proposed traditional abatement on any easy-to-access sections of the main mill, removing as much bulk asbestos as safely feasible. ESA would then complete structural demolition of the mill, leaving the remaining asbestos in place. Once demolished, all trucks would be lined and wrapped so materials could be hauled without emissions. If successful, this would avoid the tremendous hazards of abatement in a structurally unsound building, as well as millions of dollars in labor and plastic used for traditional abatement.
In August 2016, ESA's plan was approved. They were to provide at least one dedicated certified asbestos abatement supervisor onsite at all times during structurally unsound demolition and debris-removal activities. Full-time inspection and air-monitoring personnel were also required at all times.
"This was a collaborative effort that proceeded without the head-butting that can often occur in projects of this scale," added Schafer. "From their professional field personnel to upper management, ESA was an exceptional partner in a very complex project that was not free of complications. ESA's unique experience inside regulatory agencies was a huge benefit that allowed us to obtain the variance needed to save the owners millions of dollars now, and possibly many more millions in potential lawsuits down the line."
The ESA team included project manager Robert Szynskie, who used to work within regulatory agencies and as a consultant, and co-owner Kory Mitchell, who serves as president of the Colorado Environmental Professionals Association, which works closely with CDPHE on regulatory issues.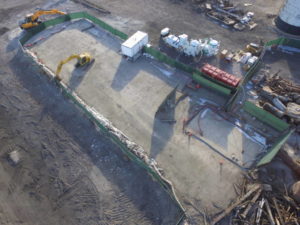 Another unique aspect of variance for the project involved steel being allowed to be decontaminated of any asbestos and recycled. ESA's equipment operators segregated the materials, cut metal into manageable size sections, and placed the materials in a metal cleaning area. Control measures such as windbreaks were installed to ensure the activities performed within this area were separated from the demolition and waste-loading areas. Wet methods and handwashing were conducted on a concrete pad using low-volume high-pressure sprayers and a high-volume vacuum impervious liquid barrier system. This system was supported with an ESA vacuum loader set up to filter recovered water to 5 µm prior to disposal in the specified sanitary sewer system.
Metal was cleaned inside the cleaning area and the state-certified air-monitoring specialist/building inspector (AMS/BI) visually inspected the metal for any dust and debris before the metal was moved outside the work area. The clean metal could then be moved from the work area to the clean recycling area to be loaded on rail cars or trucks for recycling.
Conclusion
What's next for the remaining 21 abandoned sugar factories in Colorado? After ESA's groundbreaking work in Ovid, perhaps more abandoned factories will follow suit.
"Our focus on this project was to show that safety must come first on projects of this nature. Sometimes, a common-sense approach in working with the state can yield results that are not only safer for the public health and the environment, but also more affordable for clients," said Mitchell.
Time will tell if such an approach will be replicated on other dangerous abandoned structures littering the countryside.
[6]Sue Rose is the founder of Rose Public Relations. She has written for the construction industry for two decades. Rose launched the Construction Writers Collaborative last year. She can be reached at sue@suerosepr.com[7].
Endnotes:
[Image]: https://www.constructionspecifier.com/wp-content/uploads/2017/04/1.jpg
[Image]: https://www.constructionspecifier.com/wp-content/uploads/2017/04/2.jpg
[Image]: https://www.constructionspecifier.com/wp-content/uploads/2017/04/3.jpg
[Image]: https://www.constructionspecifier.com/wp-content/uploads/2017/04/5.jpg
[Image]: https://www.constructionspecifier.com/wp-content/uploads/2017/04/6.jpg
[Image]: https://www.constructionspecifier.com/wp-content/uploads/2017/04/tint200godaddyrose-4165_copy_5.jpg
sue@suerosepr.com: mailto:sue@suerosepr.com
Source URL: https://www.constructionspecifier.com/ovids-metamorphosis/
---