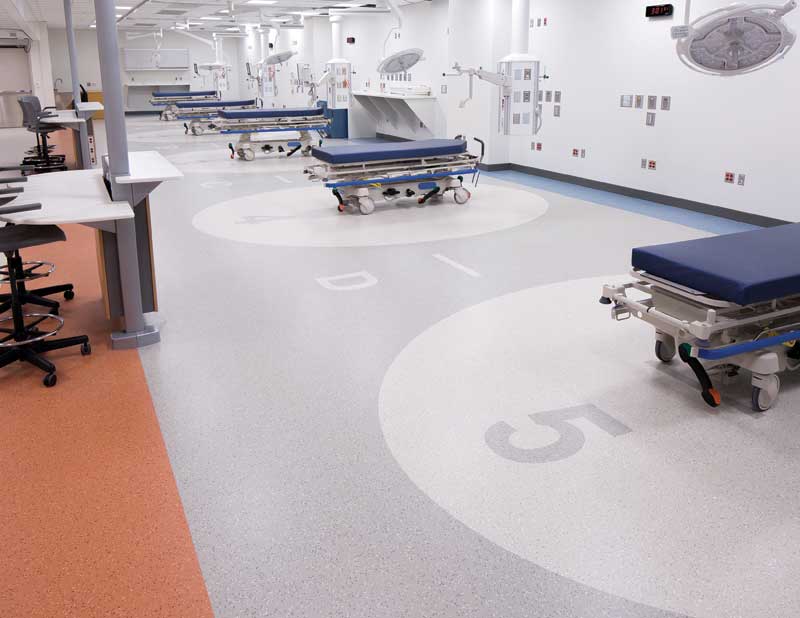 by Sandra Soraci, EDAC, LEED AP, NCIDQ, and Tasha Hughes
Not long ago, design drivers focused on aesthetics and price when it came to the selection and specification of floorcoverings in healthcare facilities. Floors are a vital part of the palette supporting interior designers' visions and allowing them to adhere to project budget constraints. Decisions pertaining to flooring and its various performance characteristics have evolved, and are now far more complex, often guided by an evidence-based design strategy acknowledging a link between the physical environment, materials specified, and patient and staff outcomes. This strategy becomes even more important given a portion of the health system's reimbursement is tied to patient outcomes.
Floorcoverings are now being evaluated according to a new set of design and performance criteria. They still need to adhere to budget guidelines, and must still have aesthetic appeal, since they contribute to visitors' first impressions of a space and shape opinions about the quality of care. However, they must also support clinical efficiency, safety, and operational optimization via performance characteristics impacting patients and staff.
As this change in the selection process has evolved, premium rubber flooring has remained a strong choice. It addresses barriers in the built environment and offers multiple performance characteristics to healthcare professionals and their patients.
Composition materials and differences in manufacturing processes result in floors that differ in appearance and ability to meet the performance demands of a healthcare facility. Premium rubber flooring combines high-quality rubber,
raw mineral materials extracted from natural deposits, and environmentally compatible color pigments with manufacturing processes that create a single homogenous product free of layers. Together, these materials and processes ensure the safety, durability, surface density, stain resistance, maintenance, and reparability characterizing floors that contribute to positive patient and staff outcomes.
Flooring contributes to performance improvement goals
In a 2012 research study, the Center for Health Design identified eight performance characteristics defining the impact flooring has on operations, health, safety, and wellness. (For more, see 2012's "Achieving EBD Goals Through Flooring Selection and Design" by U. Nanda, E. Malone, and A. Joseph with the Center for Health Design.)
This evidence-based design approach defined how flooring can reduce:
slips, trips, and falls;
patient and staff injuries associated with falls;
noise levels;
staff fatigue;
surface contamination and potential risk of healthcare-acquired infections (HAIs); and
complaints about indoor air quality (IAQ).
Rubber floors can represent the best return on investment (ROI) for many healthcare projects.