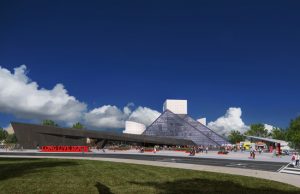 Practice for Architecture and Urbanism (PAU) has won the Rock & Roll Hall of Fame's competition to design a major expansion of the famous landmark in downtown Cleveland, Ohio.
"Our impact has been great on visitors, students, and the community over the last 25 years, and it is now time to expand our physical space," said Greg Harris, Rock & Roll Hall of Fame president. "We are excited to join with PAU, one of the world's top architectural design firms, as we build on this success and look forward to the next 100 years."
"Rock and Roll—like NASA and pizza—brings us together like few other cultural phenomena at this moment when our nation needs to come together," said Vishaan Chakrabarti, PAU founder. "We are beyond ecstatic to have been selected by the Rock Hall to design the expansion of I.M. Pei's heart of glass, which sits aglow upon Cleveland's storied industrial waterfront, particularly in light of the architectural luminaries against whom we had the honor of competing. This is PAU's stairway to heaven."
The Rock Hall kicked off a process last year for a dramatic museum redesign that would bolster its library, provide new or enhanced experiences, and modernize its infrastructure by adding to its existing 13,935 m2 (150,000 sf):
● 929 m2 (10,000 sf) for large-scale traveling exhibits;
● open space for event and education programming;
● onsite archives for visitors to access their unique collection;
● creation of museum campus with the neighboring science center;
● lakefront gathering place for Cleveland residents and museum visitors;
● interactive learning classrooms; and
● event spaces for indoor performances, community gatherings, and private rentals.
While this design concept will continue to evolve, the plans represent the space and function needed to support the museum's growth in all aspects of the mission. This new addition will create both internal and external gathering spaces for the community to learn and celebrate together and will serve as a connector to the Great Lakes Science Center. The newly designed museum will bring more space to engage with visitors including hosting more concerts and community events.
Work began on the 4645-m2 (50,000-sf) addition with the City of Cleveland in early 2019 to secure the land between the Rock Hall and the Science Center, a 0.4-ha (1-acre) plot.
After submitting an request for quotation (RFQ) to 22 firms, the hall unanimously selected PAU, along with their partners James Corner Field Operations (urban design and landscape architecture practice), architecture firm Cooper Robertson, and L'Observatoire International (lighting design firm), proclaiming that the team best met the needs of the Rock Hall in terms of contemplating a building that would channel the energy of Rock and Roll, excite future visitors, inspire donors and supporters, pay homage to the existing I.M. Pei building, and address the hall's spatial needs.
With the Rock Hall, PAU will actively drive schematic designs throughout 2021. Construction will launch in early 2022 with the architect of record Robert Madison Int'l/DLR.