Perkins&Will unveils design for New York studio
by dave_flaherty | March 15, 2021 11:45 am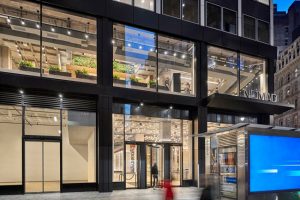 The New York practice of architecture and design firm Perkins&Will[1] has unveiled its new Manhattan home at NoMad Tower in Midtown.
The studio functions as a storefront, providing passersby with a peek into its design culture while connecting staff to the street life below.
"The gradual return to the office presents a rare opportunity to pilot elements of our new studio as we collectively navigate what the hybrid work model will look like for us. Our design vision was anchored in an acknowledgment of constant change in the way we work, the way we socialize, and the role technology plays in our lives," said Bill Harris, managing director of Perkins&Will's New York studio.
The new space officially opened in fall 2020 with both the build-out and move accomplished amid the COVID-19 pandemic.
The studio is located in the emerging NoMad neighborhood in New York City, a new epicenter of culture.  The studio occupies the second floor of a renovated building known as NoMad Tower. The double-height space, originally intended for retail, benefits from oversized windows that welcome the hustle and bustle of the city into the office environment.
"We wanted to, quite literally, immerse ourselves in the urban environment that we ourselves help build," said Harris. "This is about as close to a storefront architecture practice as you get."
Endnotes:
Perkins&Will: https://perkinswill.com/
Source URL: https://www.constructionspecifier.com/perkinswill-unveils-design-for-new-york-studio/
---