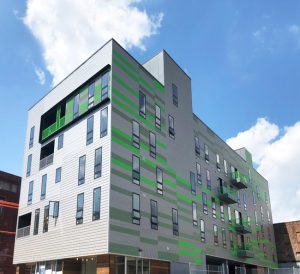 For OTTO Brewerytown, Philadelphia, Pennsylvania, a two-building, two-phase project with 52 high-end, high-tech condo units, the designers used metal panels to create an eye-catching look for the building's exterior.
Phase one of the project was completed last year, and ground broke this February for phase two comprising 32 more units. Metal wall panels in patina green, silversmith, and brilliant green in 0.032 aluminum, and rainscreen-style metal panels in silversmith in .040 aluminum, were used to create the striking design.
The architect for the project was Philadelphia-based Interface Studio Architects (ISA). All Seasons Home Improvement Company of Huntingdon Valley, Pennsylvania, installed the metal panels.
Brewerytown is a neighborhood rich in history. The name 'Brewerytown' comes from the nine brick-faced breweries located within its boundaries during the late 19th century. The population then mostly comprised German immigrants who worked in the breweries. The building's name OTTO is in tribute to the architect, Otto Wolf. His innovative designs of breweries, bottling houses, storage facilities, and more, transformed the neighborhood into an icon. Although much of his work has now fallen, Otto's legacy, and those of the brewers and immigrants who helped to build this neighborhood, continues to inspire those living in and building up Brewerytown. Today, the location is a hotbed for development in Philly, including new residences, restaurants, and retail.
"The design concept for OTTO was to organize an existing warehouse plus two new multi-family podium buildings around a courtyard in a way that refers to the site's adjacency to Fairmount Park—one of Philadelphia's great natural and recreational assets," said Gregory W. Hallquist, senior vice-president, development and construction, with Equinox Management and Construction (building owner). "The outside perimeter façades of the new buildings were conceived as being more neutral with a surprise courtyard experience that refers to the natural dimensions of the context."
A pair of contrasting green color finishes creates a type of synthetic moss wall within the courtyard, with a series of horizontally jointed gray panels at the outer edge façades. Pops of green along major entry points and terrace moments help link the two façade conditions and make a coherent whole out of the building. Both buildings are five stories and are wood frame over a first-floor podium of steel and concrete.
"In selecting a façade material, we are extremely focused on the building envelope and achieving a watertight solution," Hallquist said. "We also consider aesthetics, durability, maintenance requirements, and affordability.  Over the years, we have analyzed a wide variety of material for use on our façades, and metal siding has become our material of choice."
The design team collaborated closely with the metal panels manufacturing company to select products that would achieve the design and aesthetic goals of the project, while also meeting budget parameters. They also worked with the manufacturing company during the construction to ensure the installers understood the product and followed the installation guidelines and requirements.
The metal panels can be installed horizontally or vertically with exposed fasteners. They provide a rugged, urban-industrial look desired by many building owners and architects alike. The panels are easily installed and the long-lasting, high-performance fasteners and accessories in matching colors are made to resist weathering and deterioration. The rainscreen-style metal panels are manufactured in 0.032 or 0.040 aluminum, and are also offered in copper, zinc, and stainless steel. They are installed with concealed fasteners for horizontal or vertical applications. Both types of metal panels can also be perforated, if desired. Architects and owners are can get creative with using multiple metal wall panel profiles on their projects, along with combining a variety of colors, panel orientation, and both solid and perforated panels.