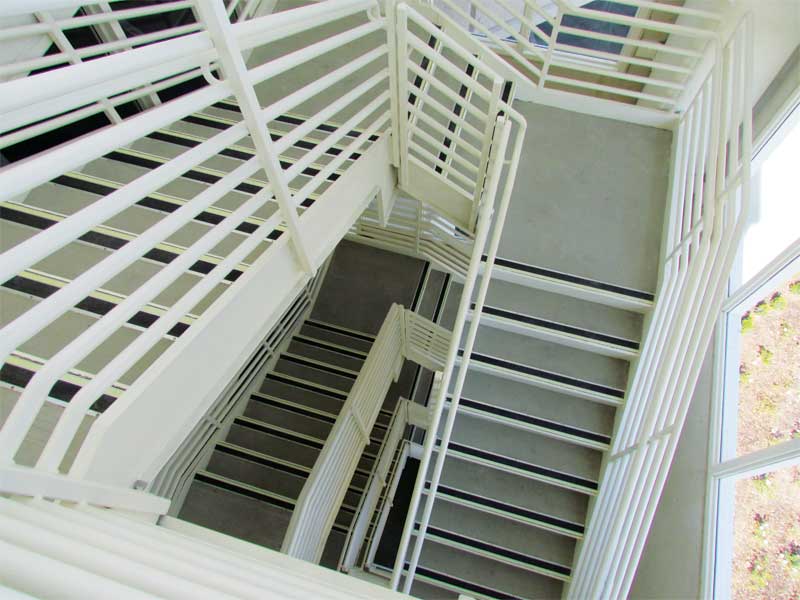 Other considerations
While there are many materials, methodologies, and installation styles specifiers must choose from, test standard certifications can help determine which products satisfy code and provide long-lasting performance in the application.
In addition to those already mentioned, other test standards important to consider are:
Bombardier SMP 800C, Toxicity;
flame spread as per ASTM D635, Standard Test Method for Rate of Burning and/or Extent and Time of Burning of Plastics in a Horizontal Position;
salt spray resistance as per ASTM B117, Standard Practice for Operating Salt Spray (Fog) Apparatus;
slip resistance as per UL 410, Certification for Slip Resistance of Floor Surface Materials;
nonradioactive qualities as per ASTM D3648, Standard Practices for the Measurement of Radioactivity; and
UL 1994 or ASTM E2072 testing with a specific lighting type (e.g. LED and fluorescent).
Conclusion
While employing PL egress path markings is typically required by code, a greater level of life safety can be provided to occupants when the best-suited product is selected for the project. It is important to consider durability, wear, and unique conditions such as UV exposure when selecting the product. When properly selected, PL systems ensure safe egress of occupants and provide peace of mind to building owners.
John M. Harder is senior manager of quality and engineering services for Balco USA, a Kansas-based manufacturer of construction product specialties. Harder was integral in the design of Balco's product line of photoluminescent (PL) stair nosings, aluminum strips, exit path markings, signage, and other egress path products. Harder can be reached via e-mail at john.harder@balcousa.com.