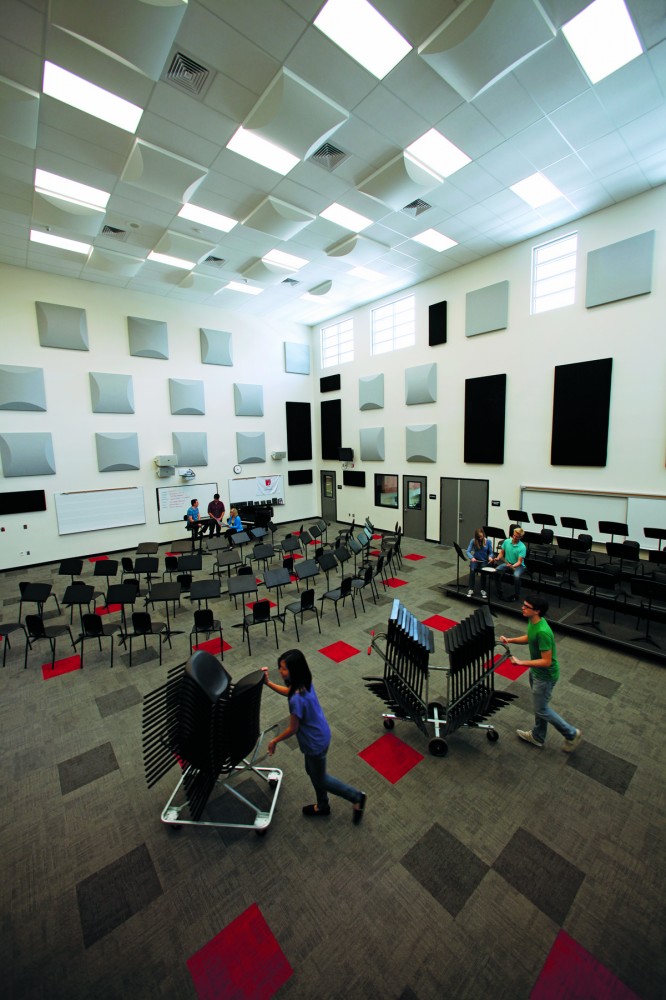 by Denny Meyer
As with a wonderful concert performance, a successful high school music suite also requires preparation and teamwork.

A suite consists of rooms and areas used for music education—rehearsal and practice spaces, as well as storage for instruments, sheet music, and equipment. In Santa Clarita, California, the renovation of Hart High School's music suite illustrates three key factors for success: acoustics, space planning, and storage.
Laying the groundwork
Any successful project starts with a vision. Mark J. Hulme, AIA, (architect with Los Angeles' Flewelling and Moody) says the William S. Hart Union High School District's dedication to a high-quality music program was evidenced by the long history of recognition received by band director Anthony H. Bailey, other music faculty, and the student performing groups they led.
"This attitude made the process of finding consensus much easier, because we are all moving toward the same goal," Hulme explains.
"I think it's really important to know what you want—by being well-informed and by visiting many schools," says Bailey.
He toured schools in California and across the country, looking at room layouts, specified materials, and equipment.
In terms of the Hart High School music suite's success, Bailey credits open, ongoing communication from everyone involved. He also credits a planning guide for school music facilities developed by this author's firm.1
"It helped us convince our school board new rehearsal rooms were necessary," says Bailey. "It also brought up issues for me to consider throughout the design process."
Hulme agrees.
"We found the guide helpful from start to finish, for the rule of thumb guidelines on room size and cubic volume, along with information about room adjacencies and buffer zones," he adds.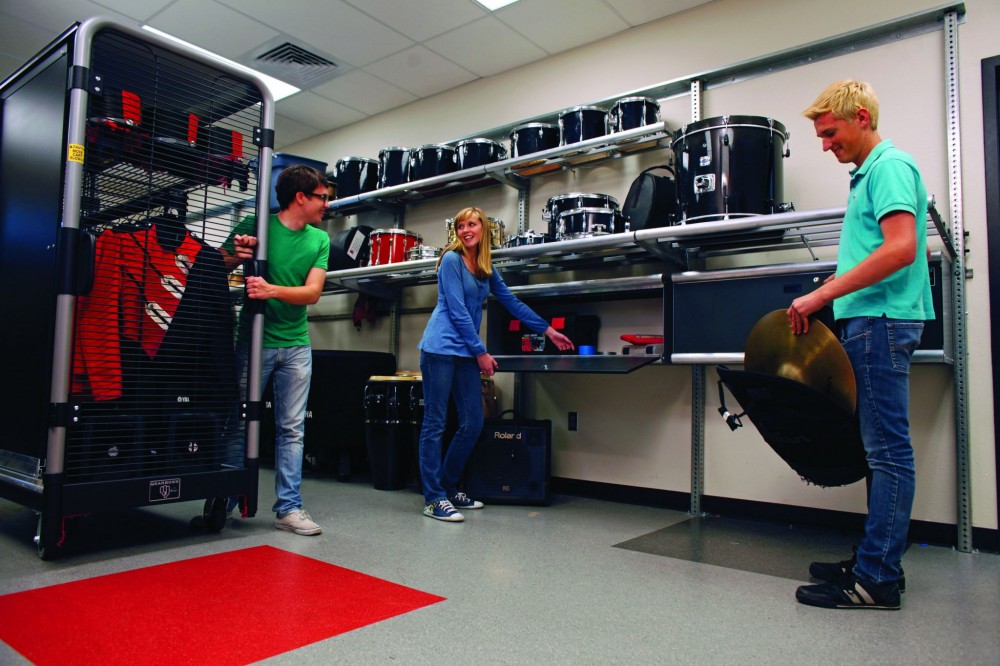 Proper acoustics
The importance of good acoustics in music facilities cannot be over-emphasized. Learning music requires critical listening skills. Students must be able to hear the slightest variations in pitch, tempo, articulation, and balance. Acoustics is a multi-faceted topic with several important aspects.

Cubic volume
For rehearsal rooms, adequate cubic volume is the most critical element. The sounds typical music ensembles generate must have enough space to develop and blend effectively. Also, rooms that are too small can result in dangerously high sound-pressure levels, increasing the likelihood of hearing damage.
Sound pressure levels are measured in decibels (dB). According to Occupational Safety and Health Administration (OSHA), 90 dB is the maximum acceptable level of noise in a workplace without hearing protection. Musical ensembles can sometimes reach an excess of 100 dB, which is why adequate cubic volume design considerations are so important.
To ensure sufficient cubic volume, this rule-of-thumb should be considered: each band/orchestra musician requires 16 to 20 m3 (550 to 700 cu ft), while each choral musician needs 10 to 14 (350 to 500 cu ft).
For a band/orchestra rehearsal room that accommodates 60 to 75 students, the ceiling height should be a minimum of 5.5 to 6.7 m (18 to 22 ft) and the floor size approximately 232 m2 (2500 sf). The resulting total cubic volume will be 1274 to 1557 m3 (45,000 to 55,000 cu ft).
When designing a rehearsal room to maximize cubic volume, portable risers offer advantages over permanent built-in risers, which are usually poured concrete. If the space under portable risers is left open, they do not diminish the room's cubic volume. Portable risers also expand the room's utility by offering the flexibility of a flat floor for other activities.
The construction and maintenance of risers will impact footfall noise. Carpeted risers are quieter than hardboard. However, the benefits of greater room volume outweigh minor noise drawbacks.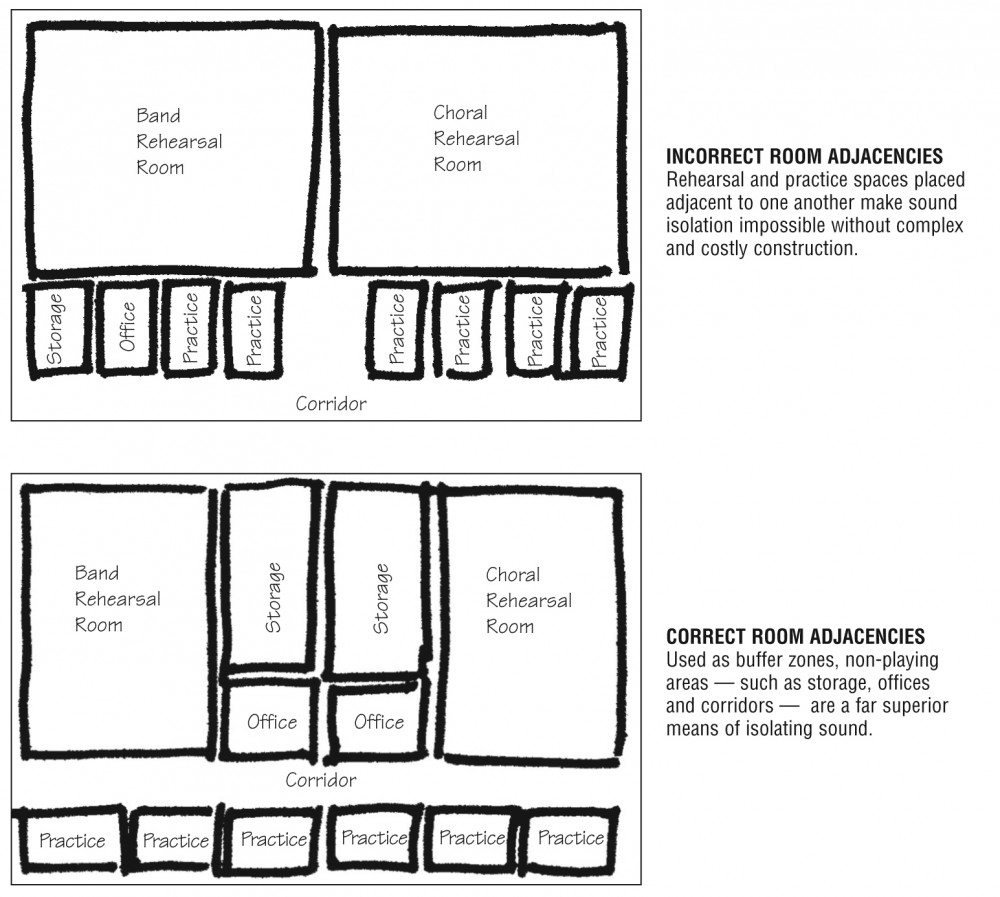 Sound isolation
Sound isolation is vital to effective listening as it keeps sound-generating areas separate from each other. With inadequate sound isolation, a music suite never realizes its full potential.
Walls should be full-height and sound-isolating, with an airtight seal to the building structure at both the floor and roof deck. Wall seams are a common source of sound leakage, whether at roof deck, floor, electrical outlets, or ventilation ducts.
Sealed construction should be noted in specifications; an entire sound-isolating wall can be rendered ineffective by something as seemingly insignificant as a room-to-room electrical box or a gap as small as 645 mm2 (1 si).
Even with excellent construction methods, room adjacencies still impact sound isolation. Instead of rehearsal rooms sharing a common wall, buffer zones can be created between them with non-playing areas, such as offices and storage rooms.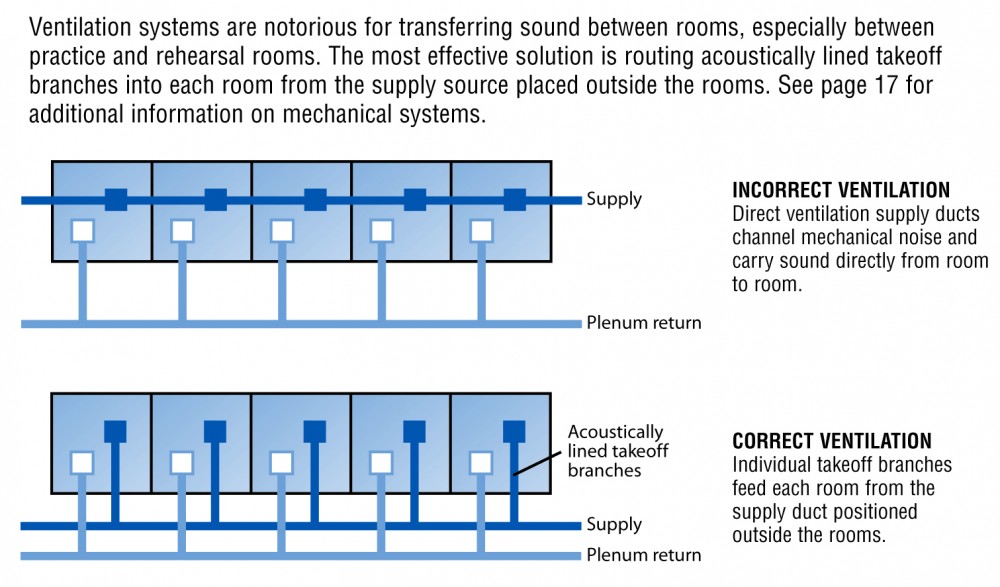 Music practice rooms
Just as with rehearsal rooms, practice rooms should provide sound isolation and musically supportive interior acoustics. Unfortunately, these rooms are often the worst music spaces because they break the first rule of good acoustics: inadequate cubic volume to properly dissipate sound energy.
When compared to the cost of properly constructing built-in practice rooms with good acoustics, pre-engineered practice rooms offer a cost-effective alternative. Modular rooms can provide guaranteed sound isolation and the option of future re-sizing or relocation. These rooms are heavily sound-absorbing and balance sound across a broad frequency range. Unfortunately, they are also acoustically 'dry'—the opposite environment most musicians would choose for performing.
Virtual acoustic technology can remedy this situation by electronically simulating the acoustics of different performance spaces including a recital hall, various sizes of auditoriums, cathedral, or arena. The acoustical responsiveness makes practicing more realistic, effective, and enjoyable.
This technology also incorporates digital record/playback capabilities, which enables student self-critique and teacher assessment.
In the Hart High School renovation, Hulme said space limitations discouraged the use of modular practice rooms. However, the acoustics technology was retrofit into one existing built-in practice room.
"My students like the instant feedback and ability to change the room acoustics at the touch of a button," comments Bailey.
Mechanical and lighting systems
Many typical mechanical sounds that exist throughout schools can cause problems in the music suite by masking the music students and teachers are striving to create. For example, a drinking fountain's compressor noise will easily distract those trying to rehearse.
Since playing music is a physical activity, the air-exchange rate within the space should be approximately double that of other classrooms. Depending on local codes, typical academic classrooms require four to eight air exchanges per hour while music rehearsal rooms require eight to 12 exchanges. Specifying larger ducts and vents with bigger grilles will help reduce potential 'whooshing' sounds caused by increased air volume and velocity.
HVAC systems are also notorious for transferring sound between rooms, especially practice and rehearsal rooms. The most effective solution is routing individual takeoff branches which feed each room from main ducts outside practice and rehearsal rooms. For maximum sound isolation, this ductwork should also feature an acoustically absorptive lining.
While adequate lighting is essential for the music suite—approximately 753 to 1076 lux (70 to 100 footcandles)—certain fluorescent lighting ballasts generate a discordant hum, preventing students from tuning correctly. Solutions include quiet-rated fluorescent fixtures or placing ballasts outside the room.
Balanced sound
While safeguarding the music suite against distracting noises, it is also vital to optimize the acoustical environment for musicians.
The ideal rehearsal room has the correct combination of absorption to control excessive loudness and diffusion to scatter sound, enabling musicians to hear themselves and the entire ensemble better.
The sound-frequency range in the music suite is much greater than in other parts of a school, and should be accordingly addressed. Most surface finishing materials (e.g. drapes, carpeting, or ceiling tile) are too thin to absorb powerful, low-frequency sound. These materials primarily absorb higher-frequency sounds, such as flutes and violins, and the high harmonic overtones of most instruments. As a result, the remaining low sounds—tubas, string basses, and timpani drum—are overpowering and indistinct.
To equally absorb sound across all frequencies, acoustical consultants usually recommend a treatment of absorber panels on the walls, typically constructed of pressed fiberglass. The thicker the panels are, the greater the absorption. Wall panels should be at least 76 mm (3 in.) thick. If a suspended ceiling grid is used, 25-mm (1-in.) thick ceiling panels are recommended.
While absorber panels reduce loudness, diffuser panels on the walls and ceiling help blend sound. They also prevent negative acoustical effects caused by untreated parallel surfaces, including flutter echoes or standing waves. These panels were used in the Hart music suite and improved the acoustics.
"The acoustical treatment has really changed our rehearsals; my students are excited to hear the difference," Bailey explains. "Band comes alive when you can move beyond learning your own part to analyzing other parts and hearing what the composer intended."
Hart's acoustical panels also became design elements. For added visual interest, the architect specified custom panel colors to coordinate with the floor's semi-random pattern of carpet tiles. Such aesthetic considerations, while important in complementing the music suite's overall design, should be incorporated in the planning process without compromising the second key factor: optimizing the music suite's space plan.

Efficient space planning
For the music suite's successful functioning, the following elements of the space plan should be carefully considered.
Floor space
Music education is a physical activity, with instrumentalists and vocalists requiring room to move. Adequate floor space is essential; instrumentalists need room to accommodate instruments and music stands, and some vocal programs involve a large amount of choreography and movement.
Equipment in the rehearsal room—such as pianos, podiums, and risers—also require space for use and storage.
When factoring in the instruments, chairs, music stands, aisles, and storage space, each band or orchestra student requires 2.8 to 3.3 m2 (30 to 35 sf) of floor space—twice the requirement of a non-music classroom. As noted earlier, adequate cubic volume (i.e. sufficient floor space with corresponding ceiling height) is also crucial for proper acoustics.
In Hart's renovation project, the existing 149-m2 (1600-sf) choir room was demolished and the choir moved into the 204-m2 (2200-sf) band room. New construction included:
372-m2 (4000-sf) band room with 8.5-m (28 ft) ceilings;
offices;
instrument storage areas;
music libraries;
costume shop;
dressing rooms; and
practice rooms.
Hart's largest ensemble, the marching band, includes 100 students; its largest choir numbers 45.
Traffic flow
The music suite is a high-traffic area, particularly during class transitions. Band and orchestra students need to move quickly between instrument storage and rehearsal areas twice in a single class period. A well-designed music suite promotes proper traffic flow, reducing risk of instrument damage and increasing available rehearsal and practice time.
Separate entry and exit doorways for storage and rehearsal areas minimize congestion. Throughout the music suite, doorways, hallways, and ramps should be wide enough to facilitate the movement of large equipment such as pianos or timpani drums. At Hart, Bailey requested there be no mullions on as many interior doors as possible, to make moving equipment easier. Other doors around the music suite have removable mullions, which are also effective.
In Bailey's research, he saw many facility designs that failed to address traffic flow.
"People often don't think about moving equipment, but it is something we do daily," he explains. "It was important to me that equipment could move around in multiple ways."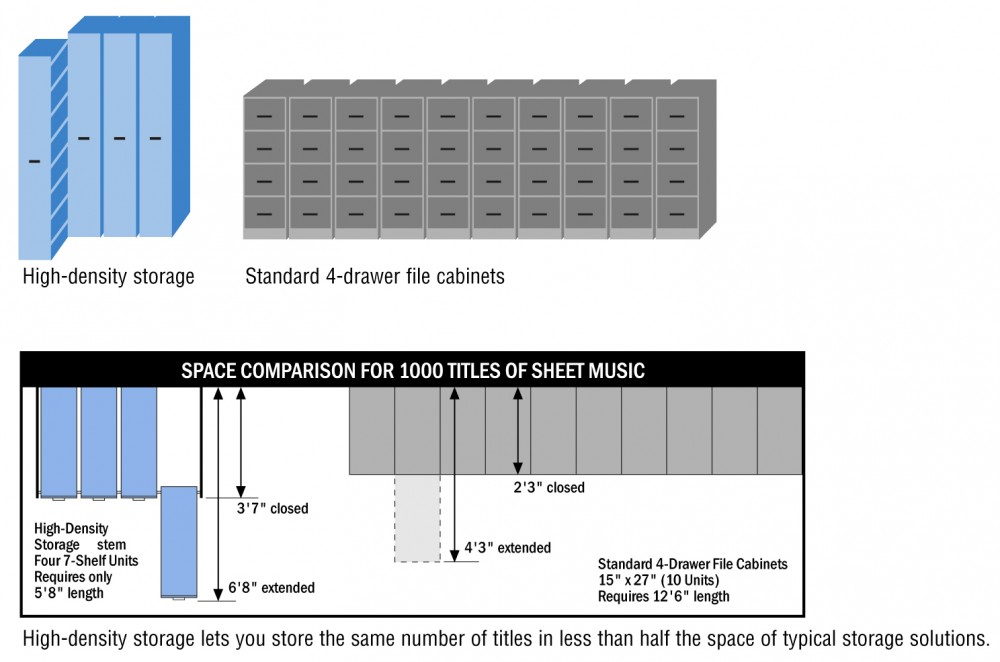 Access to related areas
Room adjacencies are crucial—while some areas logically need to be near each other, others do not. Ideally the music suite should be close to related school areas such as athletic fields for marching bands and the auditorium for performances. They should also be near a loading dock for easier equipment transporting when traveling to off-site performances.
Similar to many bands, Hart students often rehearse percussion and wind instruments separately—in both the auditorium and band room. Double doors near the back of the band room, by the percussion section, directly access the auditorium through a short hallway.
This proximity also speeds transitions for concerts.
"For pre-concert warm-ups, being able to treat your band room as a 'green room' is very helpful," explains Bailey.
Effective storage
Once acoustics and traffic flow are addressed in the music suite, planning attention focuses on the third key factor: optimizing storage solutions.
Music suite equipment—including instruments, uniforms, and sheet music—represents more than a $330,000 investment at a typical high school. Safeguarding all of this requires specialized storage areas and compartments that address several issues.
Sufficient space
Inadequate storage was a frequent complaint Bailey heard in his planning visits to other schools. Hart features a number of specialized storage rooms. Some of these spaces also provide acoustical buffer zones between the auditorium and rehearsal rooms.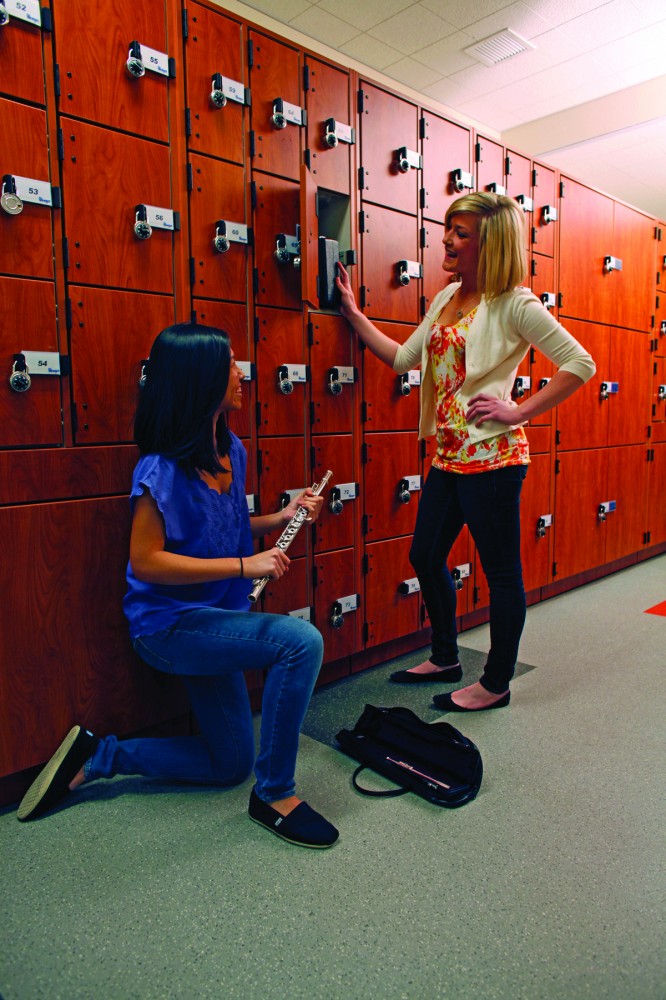 Sheet music is an item requiring a surprisingly high amount of storage space. Most high schools have at least 1000 music titles—enough to fill 15 standard four-drawer filing cabinets. As an alternative to these filing cabinets, high-density storage systems only require half the square footage and one-third the width.
Bailey is particularly pleased with the extra storage space provided by a loft added above the Hart uniform room, accessible only by a ship's ladder. This storage loft holds various fundraiser supplies, riser components, and extra chairs, music stands, and instruments.
Student instruments
Individual locked cabinets offer the best protection for a student's instrument and belongings. Storage areas should maintain consistent, year-round temperatures between 18 and 22 C (65 and 72 F), with humidity levels between 35 and 50 percent.
At some schools, limited space dictates these cabinets are installed inside the rehearsal room. With grille doors or no doors, the cabinets will not diminish the room's overall cubic volume. For these situations, specialized cabinets are also available with acoustically absorptive material built into the back.
At Hart, Bailey requested instrument storage cabinets be located outside the rehearsal room. This provides students easy access without disrupting rehearsals, including after-school hours when the band room is locked. Solid wood cabinet doors were specified, primarily for aesthetic reasons.
Rather than using standard multi-purpose cabinets designed for other school areas, Hulme prefers to specify purpose-built cabinetry for instrument storage because customers benefit from specialization and refinement. He developed an instrument-cabinet layout using recommendations by the manufacturer, which was then approved by the high school's music personnel.
Flexibility
Complementing Hart's fixed cabinets are several flexible storage solutions that help maximize efficiency. These include heavy-duty wheeled carts that hold marching band uniforms and are designed to roll from the storage room directly onto the loading dock and trailer. The percussion and uniform rooms each feature adjustable wall shelving units to suit changing needs.

Conclusion
After the final ovation, a wonderful concert lives on in memories of participants—both musicians and audience members. After the ribbon-cutting ceremony, a successful music suite remains as an enduring, tangible tribute to those who helped transform the vision into reality. Most importantly, by addressing key factors of acoustics, space plan, and storage, an outstanding music suite like Hart High School helps develop and inspire greater musical achievements and performances in the future.
Notes
1 The resource, Planning Guide for Secondary School Music Facilities, is available at www.wengercorp.com/Construct/docs/Wenger%20Planning%20Guide.pdf.
Denny Meyer is an acoustics product manager at Minnesota-based Wenger Corp., a manufacturer of products and services for music education and performing arts markets around the world. He has made numerous presentations on music facility planning at national and regional conventions during his 30-year career with Wenger. Meyer played a key role in developing the company's Planning Guide for Secondary School Music Facilities. He received his bachelor's degree in music education from Concordia College (Moorhead, Minnesota) and is a graduate of the executive program at the Carlson School of Management at the University of Minnesota. Meyer can be reached at denny.meyer@wengercorp.com.