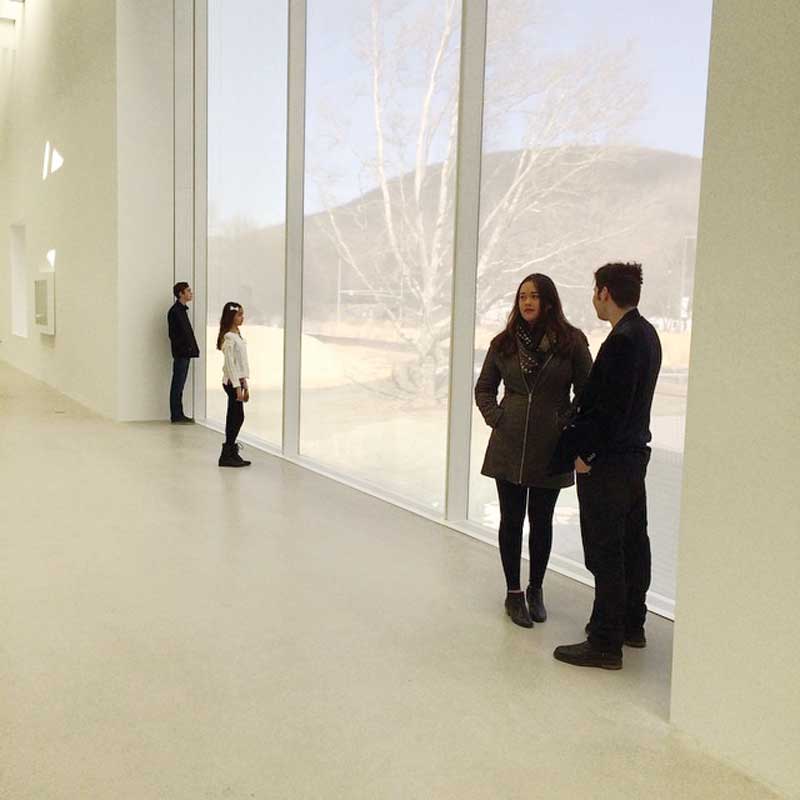 Complementing beauty
When the Corning Museum of Glass (Corning, New York) opened its Contemporary Art+Design Wing in 2015, it was considered the largest space in the world devoted to the display and creation of contemporary art and design in glass. The $64-million expansion features a 9300-m2 (100,000-sf) addition, which includes 2415 m2 (26,000 sf) of gallery space and a 500-seat live glassblowing demonstration facility. The wing provides visitors with a day-lit environment in which to experience contemporary art and design in glass from the past 25 years.
The building façade is constructed of large, white-glass panels that create a nearly seamless, softly reflective expanse. Inside, the building features a simple, white interior. The galleries are defined by massive, curved concrete walls that serve as the supports for the skylight roof. Concrete beams that are 90 mm (3 1⁄2 in.) thick and stand 1.2 m (4 ft) tall rest on the curved gallery walls and diffuse the light as it comes through the skylights, directing the light to the white concrete floor where the glass is displayed.
Since the walls are bright-white plaster, the architect wanted an extremely light-gray concrete floor for subtle contrast. The original design had specified a slag cement mix to provide that hue. However, the ready-mix supplier was not able to provide the slag cement until much later than needed. Waiting for it would have jeopardized project scheduling and completion time.
After several unsatisfactory concrete slab mockups, contractor D.J. Rossetti (Malta, New York) recommended using CSA-cement-based self-leveling topping with integral color. The pigment was matched from a paint color to achieve the architect's desired look.
This self-leveling topping, resurfacer, and underlayment is an advanced calcium sulfoaluminate cement material that is crack-resistant and durable. For this project, the speed of the polishable topping helped meet the tight construction schedule. The one-component system cures to a light off-white color ideal for stained, dyed, or integrally colored floors. With the addition of custom pigment, it cured to a very light gray (almost white) that was ideal for the light-filled space.
Before installing the self-leveling topping, the D.J. Rossetti crew performed surface preparation by using a grinder with 25-grit metal diamonds. Next, the team applied a two-component moisture- and alkali-insensitive epoxy primer. The primer seals porous concrete so floors can be installed in as few as 12 hours. There were no concerns with moisture vapor transmission since the overlay and epoxy primer are not sensitive to moisture. As long as the topping is cement-based, there can be up to 9 kg/92m2 (20 lb/1000 sf)/24 hours of moisture vapor transmission. The installers also broad-casted 20/40 mesh sand to increase adhesion to the topping.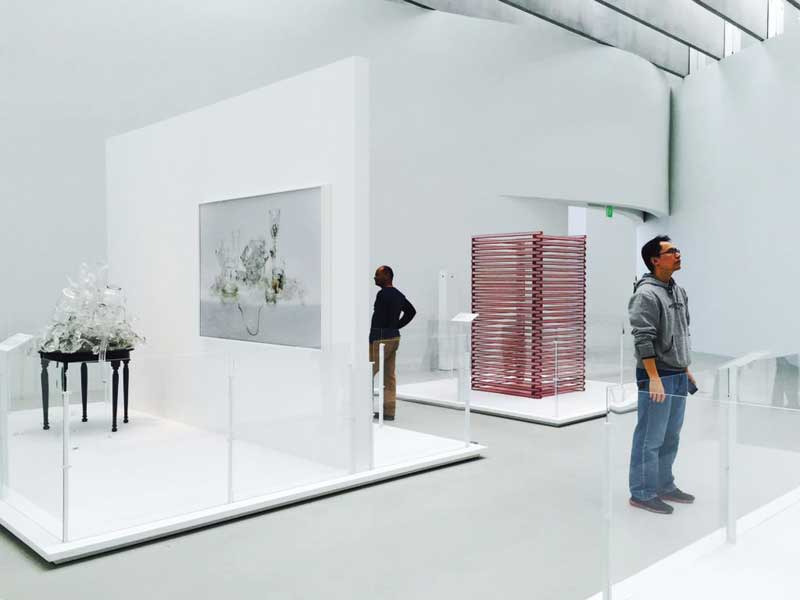 Crew members then placed the topping and used spike rollers to release any trapped gas. This self-leveling topping rapidly levels, maintains workability for 30 minutes, and produces a smooth, strong surface with high bond strength. It can be ready for foot traffic in two to three hours, and for coatings in about 12 hours. For flat surfaces, one 23-kg (50-lb) bag covers 2 to 2.2 m2 (22 to 24 sf) at 6 mm (1⁄4 in.) thick, and 1 to 1.1 m2 (11 to 12 sf) at 13 mm (1⁄2 in.) thick. For this 2415-m2 (26,000-sf) project, workers used 1850 bags of product; it was mixed via portable mixer and placed at 9.5 mm (3⁄8 in.) thick, covering approximately 1.5 m2 (15 sf) per bag.
Since the architect wanted a low-sheen finish, the contractor used a grinding machine with diamond tooling to polish the concrete to a matte sheen. The crew first used 80-grit metal, then 150-grit metal before moving onto 50-grit resin and finally 100-grit resin. The result is refined concrete flooring that acts as a sophisticated canvas for the museum's glass art.
"With the opening of the new wing, we are able to display and interpret contemporary art and design in glass in the same elegant and thoughtful way in which it is being produced," says Tina Oldknow, the museum's senior curator of modern and contemporary glass.
Continuing to provide solutions
The marketplace will continue to challenge architects and construction professionals to find solutions meeting modern demands. With products that address a variety of needs, projects ranging from floors to building structures can be renovated rather than torn down and rebuilt. By using fast-setting materials to reduce downtime, projects can be completed in a fraction of previous timeframes. These time-saving materials provide for a range of architectural touches, including an array of decorative finishes, including colored and polished overlays. These new solutions are encouraged for architects and contractors pursuing economical and sustainable paths to their renovations.
Jose Ruiz, eastern regional manager packaged products for CTS Cement Corp. (Cypress, California), has been working and/or involved in the concrete construction and restoration industry for more than 20 years. Ruiz joined CTS in 2008 and has been instrumental in the company's expansion and growth. As a regional manager, he works with the sales team to expand market growth and manage product sales. Ruiz also works closely with construction industry leaders and construction material suppliers to provide support and solutions for their everyday projects. He can be reached at jruiz@ctscement.com.