by Serena Vescoso, CSI, and Chris Bennett, CSI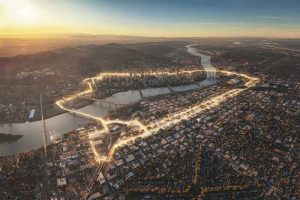 All of our childhood travels are filled with green days. When young, we play under a canopy of laurels, trees, and blue air. Unlike poor adults forced to drive to the staccato of stop-and-go traffic while breathing exhaust fumes during work commutes, children hop between yards, scale fences, and ride bicycles for hours each day to engage in the enterprise and adventures of youth. The City of Portland, Oregon, may just be able to bring some of that spirit back with the ambitious Green Loop.
The Green Loop is a big new idea from Portland's CC2035 Plan seeking to reconnect the city and its denizens with their nature-loving youthful selves by creating natural spaces and 10 km (6 mi) of exciting new routes to travel the City of Roses with or without an automobile. Being brought to life a section at a time, the Green Loop creates a series of public spaces and paths to promote more walking, jogging, and bike riding around Portland's urban core, linking several places of learning, business, and entertainment as well as civic and cultural centers. The Green Loop will join existing parks and create new ones as it runs through the Rose Quarter, South Downtown and South Waterfront, Portland State University (PSU), and Lloyd and Cultural Districts, as well as the West End, Central Eastside, the Oregon Museum of Science and Industry (OMSI), and the famed Pearl District.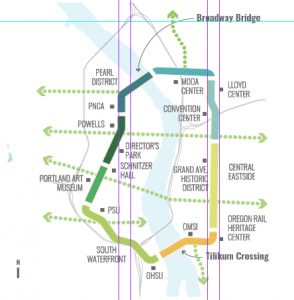 In 2016, the University of Oregon's John Yeon Center for Architecture and the Landscape, Portland Monthly contributor Randy Gragg, and Design Week Portland announced Untitled Studio had won the Green Loop design competition.
Gina Ford, principal and co-founder of Agency Landscape + Planning and a member of the competition jury, said of Untitled Studio's design, "It was at once both visionary and tangible – with a powerful graphic identity and memorable concept that could compel the community over the long road of implementation and a series of incremental actions the jury could see starting immediately and with little cost."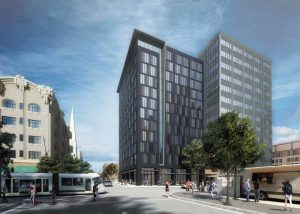 This kind of promise—visionary and immediate—is needed, she noted, for transportation projects, which are not often perceived as "sexy or quick." Untitled Studio wanted people to imagine the Green Loop as a "public celebration," one in which all parts of the city influence their section of the project, but work toward the ideals of 'green' days when life was less regulated and time and paths of travel were free.
While this concept of an integrated Portland (PDX) is not new, the idea of fastening parks and places with a single promenade has gained momentum as traffic necessity and attitudes toward an urban experience change. Portland is considered the bike capital of North America as seven percent of its population commute by bike. The city also has nearly 2.4 million human beings with a density of around 4400 people per square mile, and that number is growing, thereby putting more pressure on an already congested urban travel. The city's lofty target is at least 25 percent of Portlanders will be traveling on bikes by 2035, creating even more pressure to create seamless travel paths within the city in the next 20 years. This, of course, means drastically changing the way in which streets are being designed to better accommodate what studies refer to as the 'interested-but-concerned cyclist.' The Green Loop offers the opportunity for low-stress, park-like, physically separated walking and bike paths through Portland's densest center to maximize the effectiveness of mass transit systems and relieve pressure on roads and highways. This is critical if the intention is going to be consuming less energy, driving fewer miles, and reducing carbon emissions outright.
Yet, the Green Loop is not just a response to the surfeit of automobile traffic or even changing attitudes toward alternative transportation in Portland. While a testament to the spirit of the ride, open spaces, and community connectivity, the Loop has another more specific purpose. The burgeoning Smart City PDX initiative and partners in the local tech community can help equip the Green Loop with the necessary infrastructure to improve safety near schools, disaster resilience, and emergency preparedness by creating clear paths of travel, wayfinding, and designated alternative transportation ideas.