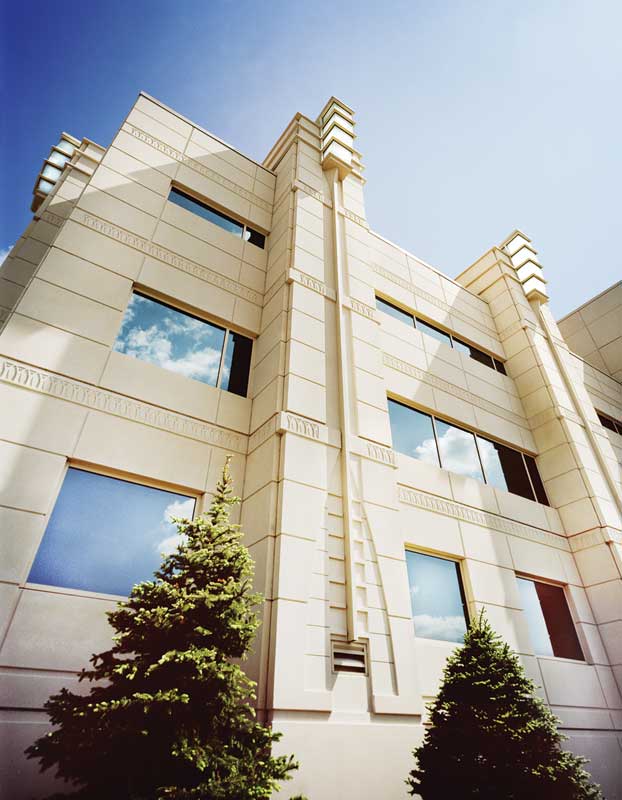 by Larry Rowland, CCPR, FACI, LEED AP
Resilience is where the promise of sustainability and the real world meet. Unfortunately, this promise often goes unfulfilled as current industry trends favor cheap instead of durable. A first-cost mentality is simple, but when the wrong materials are specified, it can expose owners and occupants to higher risks than most realize. While naysayers counter that 'resilience' is just the latest buzzword driven by green building enthusiasts and designers with unrealistic aspirations (and no regard to costs), it is in fact a highly achievable goal that enables buildings to better maintain their value as well as save owners and communities money.
One of the sustainability movement's most important lessons has been the concept of lifecycle cost. Risk assessment of prevalent hazards a community faces in the planning or initial design stage of a project fosters informed choices on what types of construction materials and assemblies to allow. This forward-looking approach is far more likely to produce a structure that will withstand a disaster and provide protection for its occupants.
The antidote for hazard-based risk is informed design, effective and straightforward building codes, and active code enforcement. If stakeholders and communities are to adopt these best practices, design/construction professionals must educate themselves and their clients about how resilient materials, methods, and best construction practices can mitigate risks common to their location. This delivers immediate and long-term benefits, reduced maintenance, and increased building longevity and security. Concrete is often a natural choice when these factors are considered.
Passive fire protection
Fire safety is an important consideration for commercial, mixed-use, and multi-family construction. An increasing number of commercial and multi-family residential structures are being built with combustible materials such as engineered wood assemblies, which the National Fire Protection Association (NFPA) says can burn quicker and fail faster than their dimensional lumber counterparts. (See Alan Earls' article, "Lightweight Construction" in the July/August 2009 edition of the NFPA Journal).
According to the latest NFPA data, 1,298,000 fires were reported in the United States in 2014. Of these, there were 494,000 structure fires, resulting in 2860 civilian deaths and 13,425 injuries. Property damage for structure fires was $9.8 billion, with fire departments responding to structure fires every 64 seconds and a civilian fire death occurring every 2.7 hours. (Haynes, Hylton J.G. Haynes's piece, "Fire Loss in the United States During 2014" is posted on the NFPA website, www.nfpa.org).
Since their initial implementation, U.S. building codes stressed passive fire safety through non-combustible materials. In the 1990s, this trend shifted significantly. Steve Skalko of Stephen V. Skalko PE & Associates LLC, explains it this way:
as the building codes transitioned from the three 'legacy codes' to the single International Building Code (IBC) in the late 1990s and early 2000s, the emphasis moved from a combination of passive and active fire safety for occupants, fire service, and property protection to more exclusive focus on active measures for occupant safety.
Active fire safety measures currently stressed commonly take the form of sprinkler systems relying on external water sources with the intent of providing enough time for able-bodied persons to evacuate a structure. However, conflagrations at building sites from Los Angeles to Houston to Baltimore offer a grim reminder that sprinkler systems almost never protect during a project's construction phase and cannot be relied on when water sources are disrupted.
In spite of these shortfalls, many framers of the unified code were willing to swap passive fire resistance for a mandatory sprinkler-based scheme to fire safety. Along with successive changes to the building code, this has allowed light-frame construction to soar to new heights. In doing so, building occupants are exposed to an increased fire risk and buildings are more prone to significant damage from fire and other hazards. The risk is magnified when local code provisions then permit omission of sprinklers where public water is unavailable with no compensating requirement to restore passive fire safety.
Commercial building owners often assume building codes safeguard their investment and be relied on for safety when the wind blows or fire approaches. This faith can be erroneous given the current national patchwork of regulations and weakened standards often failing to ensure even the bare minimum of building safety.
In the name of saving money, fire sprinklers are used to counterbalance the risk of building with combustible materials. Construction Types III and V built with lightweight materials employ sprinkler systems intended to dampen the spread of fire, essentially buying time for able-bodied persons to get out and fire departments' time to arrive. However, based on two apartment fires in Edgewater, New Jersey, this strategy can be a significant gamble with community well-being.