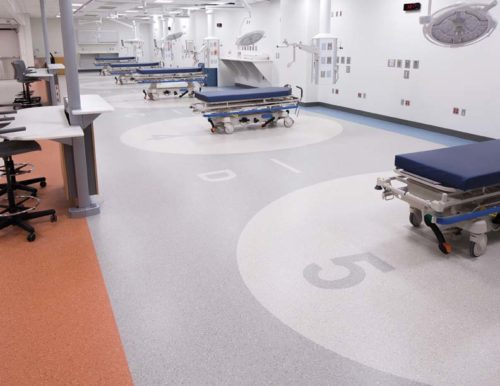 by Sandra Soraci, EDAC, LEED AP, NCIDQ, and Tasha Hughes
In the October 2018 issue of The Construction Specifier, the article "When the Rubber Hits the Floor: Patient Outcomes and Operational Efficiency Supported by Rubber Flooring" included a look at a 2012 research study from the Center for Health Design that took an evidence-based design approach to show how flooring could reduce slips, trips, and falls, along with the severity of associated injuries.
The Centers for Medicare and Medicaid Services (CMS) identify falls as preventable events that should not have occurred. Nevertheless, they are common adverse events in hospitals. Between 30 and 35 percent of patients who fall sustain an injury, resulting, on average, in 6.3 days tacked on to the hospital stay.
In addition to their far-reaching negative impacts on patients' recoveries and quality of life, falls affect the bottom line of the hospital, in part because costs associated with the treatment of a fall are no longer reimbursable. This results in a direct cost to the health system and affects its safety rating. According to the Joint Commission's (TJC's) Preventing Falls with Injury project, the cost for a fall with injury is about $14,056.
CMS has also identified falls and trauma on its list of hospital-acquired conditions (HACs) for which reimbursement will be limited—specifically, for falls resulting in fractures, dislocations, and intercranial injuries. Hundreds of thousands of patients fall in hospitals every year; in one study, a fall with injury added 6.3 days to the hospital stay. As a 'sentinel event,' this is another cost that is not reimbursed to the health system. (For more on this topic, check out "Cost Analysis of a Falls-prevention Program in an Orthopedic Setting," by J. Galbraith et al in Clinical Orthopedics and Related Research, and "Cost-effectiveness of Patient Education for the Prevention of Falls in Hospital: Economic evaluation from a randomized controlled trial," by T. Haines et al in BMC Medicine.)
Rubber flooring reduces likelihood of slips and falls
Three flooring-related issues impact fall prevention: slip resistance, glare, and light reflectance value. As it relates to patient and caregiver safety, the flooring material, finish, type of maintenance, and coefficient of friction (CoF) should also be carefully considered when evaluating flooring products to create safer spaces.
The slip-resistant properties of rubber flooring reduce the likelihood of slips and falls. In the case of premium rubber flooring, the floor may even exceed Occupational Safety and Health Administration (OSHA) recommendations for slip resistance, providing extra traction.
Should a fall occur, the resilience of rubber flooring cushions the fall and can possibly reduce the likelihood of serious injury. This feature is most appealing for patients using canes and walkers, as well as orthopedic patients working to regain their balance and ability to walk. Those in wheelchairs (and the nurses who push them) will also find it easier to maneuver chairs across premium rubber flooring. In fact, the floor's low resistance to wheeled equipment reduces the possibility of over-exertion on the part of staff who regularly move carts, equipment, chairs, supply carts, and patient beds.
Glare and high gloss, often due to layers of wax, can also negatively impact safety. The average age of the typical inpatient population is 65, while a caregiver's average age is 55. Glare can alter cognitive perception for these populations, and visual acuity with the ageing eye can be a trip hazard. This is because when a surface is perceived as slippery, patients may change their gait or walking speed, which modifies the amount of surface contact to the floor. As a result, the non-glare finish of rubber flooring becomes a safety feature supporting outcomes and reimbursement drivers for the healthcare facility.
Tasha Hughes is a public relations and marketing specialist for nora systems, an international rubber flooring manufacturer dedicated to developing premium flooring solutions for various commercial markets, including healthcare, education, industry, life science, labs, and public buildings. She can be reached via e-mail at tasha.hughes@nora.com.
Sandra Soraci, EDAC, LEED AP, NCIDQ, is the marketing leader, healthcare solutions, for nora systems. She has been a healthcare designer and thought leader for more than 20 years. As a designer, Soraci's mission is to collaborate with and support the challenges nora's healthcare partners are faced with. She can be reached via e-mail at sandra.soraci@nora.com.