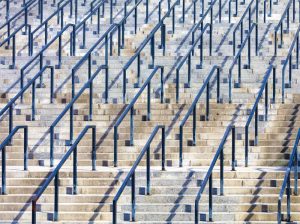 Railing systems are ubiquitous in the built environment, and as such, their appearance is more highly considered than functionality. Minimum loading requirements for railing systems have been part of codes for about as long as these standards have been in existence, and although railing systems may be built and tested to meet code loading requirements, and manufacturers provide generic mounting details, rail post anchorages still need to be formally designed either by the designer of record or by a specialty engineer who is retained through the delegated design process.
Rail post anchorage design is often not properly emphasized, or is altogether forgotten during the design process. The design and installer/manufacturer teams often see anchorage design as the others' responsibility. Critical design and coordination issues are either not considered or left to be resolved in the field. Someone needs to verify the anchorage is capable of supporting code required loads, coordinate the trades involved so the anchorage does not interfere with other construction, and ensure post holes will not explode. This person can be the architect, engineer of record, delegated designer, contractor, or all of the above depending on project size and delivery method.
An article in our newest, sponsored e-book explores design considerations for rail post anchorage into concrete. It appears along with a trio of articles from the pages of The Construction Specifier in Concrete Building Design, a free, downloadable resource. To get your copy in either pdf or digital edition, visit www.constructionspecifier.com/ebook/laticrete-concrete-building-design-e-book.