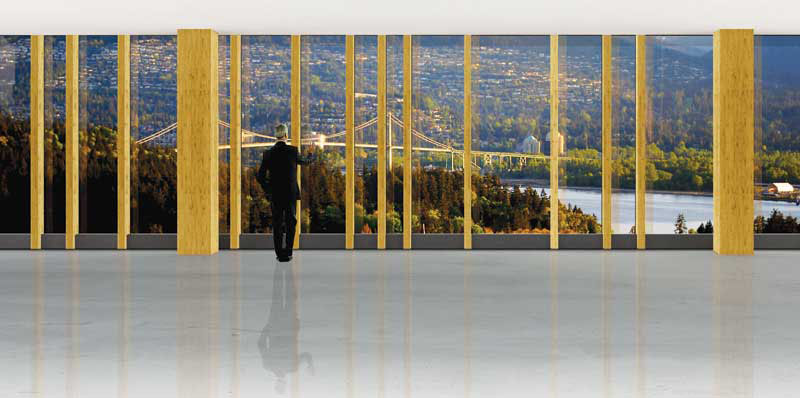 Before the end of the 19th century, wood was commonly used as a primary building material in several types of non-residential structures. Demonstrating the durability and strength of building with wood, many of these timber-built structures remain in use. Some date as far back as the seventh century, such as the 32.5-m (106-ft) high Horyu-ji Temple in Nara, Japan.
In the late 1800s and early 1900s, significant advances in steel and reinforced concrete technology enabled the construction of landmark projects—such as the Eiffel Tower and high-rises in New York City and Chicago. This established steel and concrete as the default structural materials for large buildings. Concurrently, light wood-frame construction gained popularity in the residential sector. While losing ground as the primary choice in commercial applications, it became the defacto material for home-builders.
Over the past few decades, timber technology has seen advances and a transformative evolution. Factors contributing to making timber a technically versatile and economically competitive material include:
new engineered wood products;
computer-numerical-controlled (CNC) fabrication;
versatile high-efficiency timber connectors; and
progress in fire engineering.

Further motivated by a desire to build structures with a smaller carbon and energy footprint, architects and engineers increasingly consider wood as an alternative for the construction of large-scale, non-residential structures such as educational facilities, museums, airports, and stadiums.
In the context of tall wood buildings, the introduction of solid wood panel or mass timber construction has had the biggest impact. Developed in Europe 15 years ago, panel construction is quickly making headway in North American building. This new framing method involves the assembly of large, prefabricated engineered wood panels in either platform or balloon framing arrangements. Panel construction is often mixed with post-and-beam, and floor assemblies often include a concrete topping, sometimes made composite with floor panels to achieve greater strength, rigidity, vibration, and sound transmission performance.
The potential of solid wood panel construction has quickly been recognized and design teams around the world have begun to work on concepts for the construction of mid- and high-rise timber structures. Last March, a report sponsored by British Columbia's Wood Enterprise Coalition (WEC) entitled "Tall Wood" introduced a structural concept using solid wood panel construction, called 'Finding the Forest Through the Trees' (FFTT). Unlike most other timber high-rise concepts, FFTT was developed for high-seismic areas using Vancouver design data, and does not rely on a concrete core. Preliminary 3-D finite element analysis of 12-, 20-, and 30-story frames has validated the system's capability for timber high-rises in seismic zones.
Solid wood panel construction
Solid wood panel construction does not refer to a specific product type, but to a construction method involving the assembly of large wood panels to form structures. There are six basic panel types available in Europe, which can be broken down into proprietary products. They include edge- or cross-laminated panels, either nailed, dowelled, or glued under pressure. In North America, engineered wood panel products—such as laminated strand lumber (LSL) and laminated veneer lumber (LVL)—have also been employed in projects. The most widely used panel type is the glued version of cross-laminated timber (CLT). (For more on cross-laminated timber, see the article, "The Coming of Cross-laminated Timber," by Lisa Podesto, PE, in the September 2011 issue of The Construction Specifier.)
In the United States and Canada, glued CLT panels are currently produced by suppliers in maximum sizes of 3 m (9.8 ft) in width, 13 m (43 ft), in length and up to 309 mm (12 in.) in thickness. LSL and LVL panels are typically produced in billets of 1.22 or 2.44 m (4 or 8 ft) in width, 19.5 m (64 m) in length, and up to 89 mm (3.5 in.) in thickness. They must be block-laminated together to achieve thicker panels.