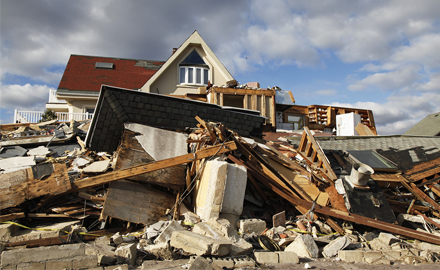 Florida gets top marks, but North Carolina and Louisiana have taken steps backward when it comes to building codes and the threat of hurricanes, according to an Insurance Institute for Business & Home Safety (IBHS) report.
The group, which comprises U.S. insurers and reinsurers, released its midterm update to its 2012 "Rating the States Report" last month. IBHS reviewed the progress of the 18 most hurricane-prone states along the Gulf of Mexico and the Atlantic Coast in strengthening their residential building codes.
The report reassessed states according to whether they have taken positive, negative, or no action to improve codes. It found many of those with strong building code systems in place have made their updates to the most recent model codes and, in some cases, passed legislation to further strengthen protections.
Florida was called a "leader in building code safety," with IBHS citing the state's progress in adopting the 2012 editions of the International Building Code (IBC) and International Residential Code (IRC) with region-specific amendments as the 2013 Florida Building Code (FBC). (The projected effective date is March 2014.)
However, the report said North Carolina has taken legislative and regulatory actions to weaken its code requirements. In 2012, the state passed a law lengthening the adoption cycle of code changes from three to six years. IBHS argues the same legislation weakens local enforcement of the code, while separate action by the North Carolina Building Code Commission will weaken wall bracing provisions in coastal hurricane-prone regions
Louisiana was criticized for taking "a step backward" with the State Code Council's approval of an Emergency Declaration adopting the 2012 IBC and IRC design wind speed maps, but not the new trigger for following high-wind design requirements. The report said this has resulted in a "deficiency in protecting residential dwellings in areas subject to high winds."
Other states—such as Mississippi, which has virtually no statewide regulatory process in place for building codes—were also highlighted.
"In the residential building code, there are certain provisions requiring work by design professionals like licensed architects and professional engineers," IBHS codes and standards manager Si Farvardin told The Construction Specifier. "Therefore it is important for these professionals to know what building codes are in effect in each state, and how the code enforcement program works in the jurisdiction. It is equally important for designers, builders, and remodelers to know what residential codes are in effect in different states. The more recent editions of the residential code have more enhanced requirements in many areas of construction, including wind, seismic, fire, energy, and building products requirements, making it necessary to know these requirements."