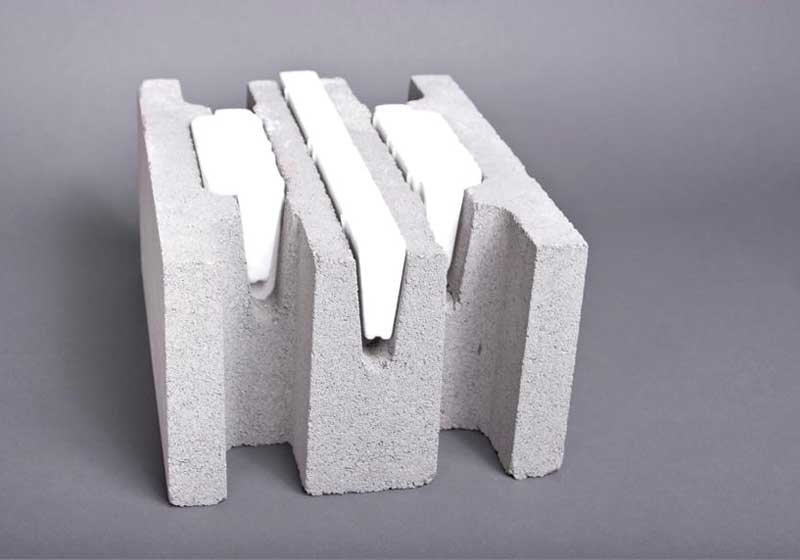 Concrete masonry product innovations
The negative attributes of masonry when utilized in single-wythe design are fairly obvious. Cross-webs of CMUs will act as thermal bridges for heat to conduct and traverse. The air space in the cavity may be easily affected by face-shell temperature changes or air flow. Additionally, mass improperly positioned or used in a masonry wall design may adversely store heat. Overcoming these deficiencies has led to ongoing innovations in wall design and product design.
Foam-filled standard CMU block cores, whether by liquid-filled expandable insulating foam or preformed inserts, have been a block-insulating process for many years. A claim by this methodology's supporters is it may raise the R-value of a standard 200-mm (8-in.) CMU from an R-2 to better than R-14. Regardless of the claims, thermal bridging through the cross-webs would bypass any insulation in the cores, reducing the effectiveness of the insulation.
According to NCMA's Thermal Catalog of Concrete Masonry Assemblies (second edition), a CMU wall with foam-filled cores does perform better thermally than a CMU wall without foam filling. Insulating the cores of standard CMU increases thermal performance by insulating the air pockets and reducing airflow through the wall.
Knowing cross-webs serve as thermal bridges that bypass foam-filled cores, industry professionals and inventors sought to decrease thermal bridging by reducing or eliminating these components. A typical CMU has three cross-webs. Manufacturers have developed CMU with either one (i.e. H-blocks) or two (i.e. A-blocks) cross-webs rather than three to improve thermal performance. (These products are referred to as one- or two-web assemblies by NCMA.)
NCMA's Thermal Catalog of Concrete Masonry Assemblies offers tables for expandable-foam-filled cores. In this catalog, a 200-mm block wall, lightly reinforced and varying by block density, will have a range of R-values from R-3.27 to as much as an R-6.73. A 200-mm CMU two-web assembly lightly reinforced will vary by block density from an R-4.34 to as much as an R-7.94. In the same table, a 200-mm CMU single-web assembly lightly reinforced can vary by block density from about an R-5.4 to as much as an R-8.95.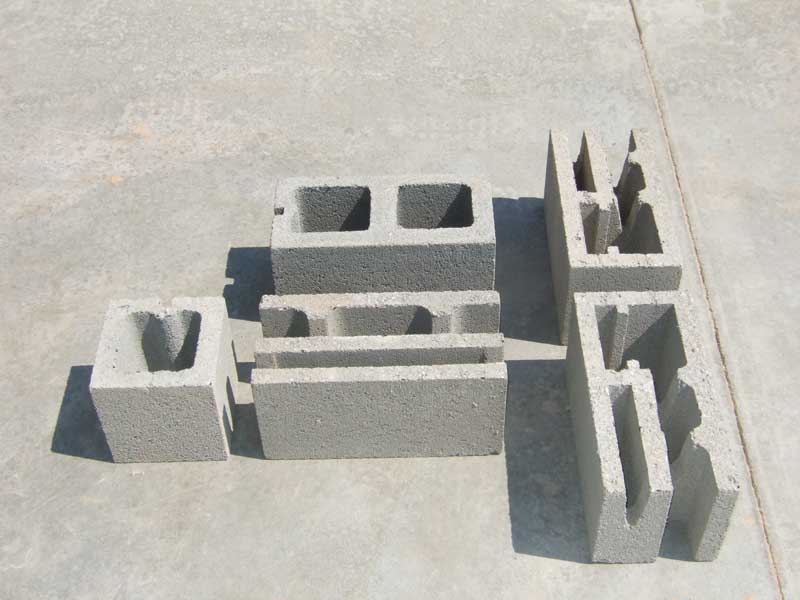 Then, product design became more interesting. Rather than just reducing the cross-webs, several manufacturers varied their proprietary approaches to reducing thermal bridging by eliminating the cross-webs or lowering the height. Additional product designs attempt to:
reduce or eliminate the thermal bridges;
elongate the thermal pathway (thereby increasing thermal lag);
benefit from additional thermal mass; and
combine mass with insulation in a balanced approach
For these products, some manufacturers have completely removed their thermal bridges. Two types have a face shell and core divided by a foam insert, while another has plastic 'arms' connecting the two face shells. This separation of mass by insulation or non-conducting materials is the thermal break giving these systems more effectiveness by removing thermal bridging.
Integrally insulated concrete masonry
Employing the principles of thermal mass and thermal lag, another design has offset cross-webs constricted in their heights that do not reach the top of the block's face shells. To keep the block intact as one unit, a middle lineal wall (acting as a heat sink) on the interior connects the offset cross-webs in a 200-mm CMU and two middle lineal walls connect the offset cross-webs in a 300-mm (12-in.) design. These alterations disrupt the thermal bridge by significantly increasing the length of the thermal pathway and positively position additional mass for heating or cooling benefits. This increases the block's thermal performance in any climate or condition.
The addition of offset webs and middle lineal wall(s) create cells for specially shaped non-mortar interfering insulating inserts. These inserts fill the air spaces, creating an airtight single-wythe wall with alternating layers of mass and insulation, along with minor, but heavily disrupted, thermal bridging.
For this type of CMU, one manufacturer performed a guarded hot-box test (then known as ASTM C236, Standard Test Method for Steady-state Thermal Performance of Building Assemblies by Means of a Guarded Hot Box) and was rated an R-13.57. However, third-party guaranteed utility programs have rated the wall system to operate at an R-24.6. Calculated methods of analysis have rated 200-mm CMUs to have an R-18 to R-20 depending on the block density, and 300-mm CMUs to operate between an R-28 and R-30.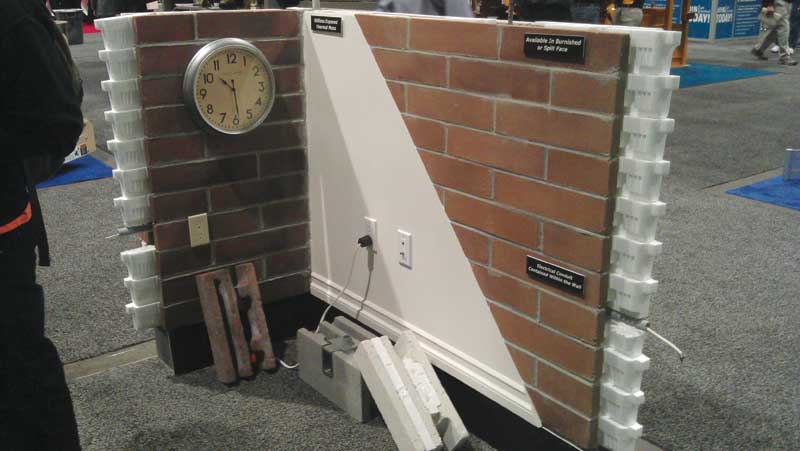 This mortar-set block system is very similar in its construction methodology of standard CMU walls. Its closed-cell expanded polystyrene (EPS) inserts are made from recycled post-industrial contents, are non-combustible, repel moisture, and cross the head and bed joints to add insulation throughout the height and length of the blocks, as well as between neighboring blocks for thorough insulating effects.
Nevertheless, this type of product is considered to be an integrally insulated block and has some thermal bridging—therefore, it cannot be considered to have continuous insulation. Despite the minor bridging, its performance over 25 years, in four countries, and seven climate zones has been stellar.
As with all integrally insulated block, one must use the U-factor alternative tables to evaluate whether it offers the correct U-factor (inverse of R-value) per climate zone regulation.
Conclusion
Clearly, there are many viable options for modern single-wythe masonry designs and construction. Any of the product and system types discussed in this article may be used in a single-wythe design based on the current energy code. As whole-building energy analysis is a better way to design a building for its energy use, the limitations of prescriptive design may be overridden and people can perhaps enjoy the many benefits of single-wythe masonry.
Ed Weinmann, LEED GA, is an architectural specialist for Ernest Maier, a concrete masonry unit (CMU) producer serving the Washington, D.C., area. He is a board director for the CSI Baltimore Chapter and a member of the U.S. Green Building Council (USGBC) National Capital Region, having served on the 2015 GreenBuild host committee. Weinmann is a member of the Baltimore chapter of the American Institute of Architects (AIA) and the USGBC Maryland Chapter. He is an independent consultant for Omni Block and a subject matter expert on the thermal performance characteristics of masonry. Weinmann can be reached via e-mail at ed@emcoblock.com.