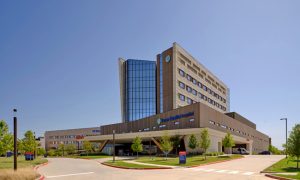 The Texas Health Frisco – New Bed Tower, Frisco, Texas, has won the Best Healthcare and Medical Building award from the Precast/Prestressed Concrete Institute (PCI).
A panel of judges awarded 26 projects and 12 honorable mentions for design excellence in building and transportation categories for the institute's 2021 PCI Design Awards.
Now in its 58th year, the awards showcase and recognize the creative and innovative use of precast concrete. The panel of industry experts that includes engineers, architects, and precast concrete producers judges all nominees. The buildings and transportation categories are judged on aesthetic, structural, and use versatility; site, energy, and operational efficiency, and risk reduction; and resiliency, such as structure durability, multi-hazard protection, and life safety and health.
"Once again, the precast concrete industry has put its best foot forward and has delivered many inspiring and impressive projects," said PCI president Bob Risser, PE. "Each year, the PCI Design Awards program demonstrates that precast concrete is not only a practical solution to many construction challenges, but also a head-turning aesthetic solution."
All winning projects will be showcased and honored at the 2021 PCI Convention in New Orleans, Louisiana, with an event on May 21. For a complete list of award winners, click here.