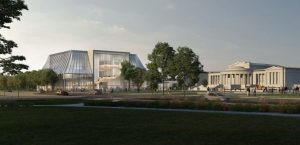 Gilbane Building Company and Albright-Knox celebrated the completion of a steel frame and upcoming renovations for the Albright-Knox Gallery (AKG) museum and its new Gundlach Building in Buffalo, New York.
Under the leadership of the museum's construction management team, Gilbane Building Company, concrete pouring for the Gundlach Building floors will soon begin, followed by installation of the glass curtain wall beginning this fall.
"This is an exciting milestone in the building of the new Buffalo AKG Art Museum," said John LaRow, vice president of Gilbane Building Company. "Through all of the challenges created by the COVID-19 pandemic, the Gilbane team, our subcontractor partners, and the trades workers have dedicated themselves to this project."
The construction team has also been working on the interior and exterior of the museum's historic buildings, including extensive renovations in the 1962 building. In addition, the museum will improve its campus by:
building an underground parking structure and transforming the former surface parking lot into a Great Lawn, a vibrant landscape and public gathering place to effectively repatriate nearly an 0.4 ha (1 acre) of green space;
adding a new point of entry and exit on the east façade of the museum's Seymour H. Knox Building to open a route through the museum from Elmwood Avenue to Olmsted's Delaware Park;
covering the Seymour H. Knox Building's open-air sculpture garden to create an indoor town square, a new space for year-round civic engagement. (The covering is an artwork called Common Sky, designed by Olafur Eliasson and Sebastian Behmann of Studio Other Spaces);
creating a new education wing in the lower level of the Seymour H. Knox Building with five state-of-the-art classrooms and more than 185.8 m2 (2,000 sf) of gallery space; and
constructing a signature scenic bridge to connect the new Gundlach Building with the Wilmers Building.
The Albright-Knox Art Gallery is recognized as home to one of the world's leading collections of modern and contemporary art. With more than 7000 works in its collection and a dynamic series of exhibitions and public programs, the Albright-Knox continues to grow and to fulfill its mission to acquire, exhibit, and preserve modern art.