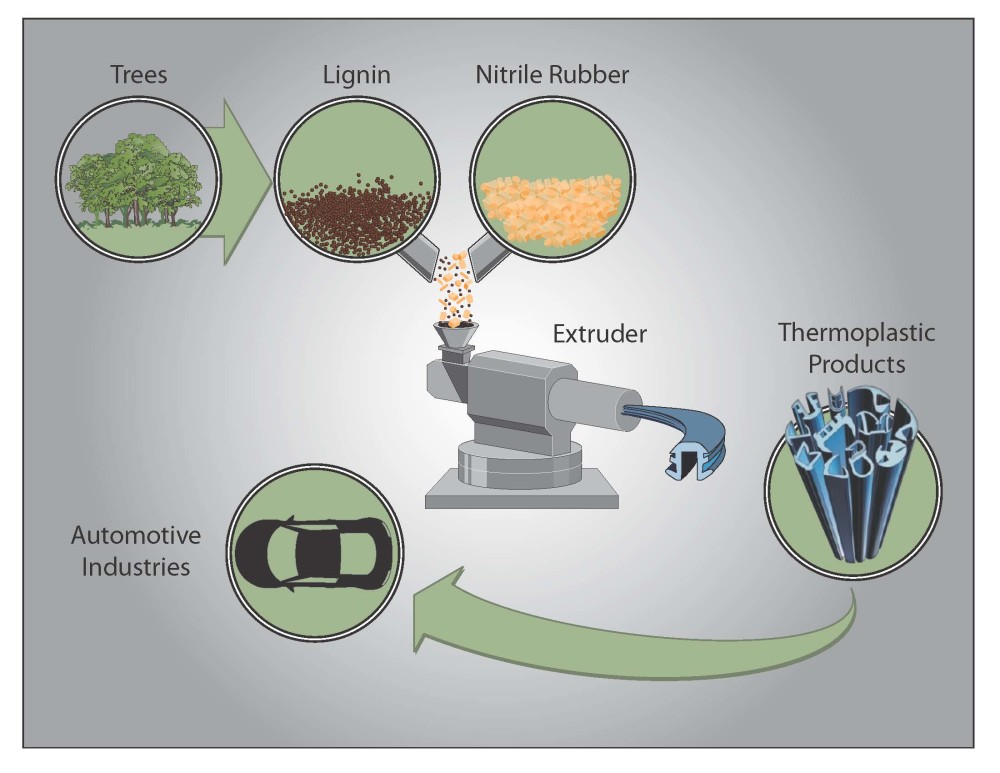 Researchers from the Department of Energy's (DOE's) Oak Ridge National Laboratory (ORNL) have invented a stronger thermoplastic made up of 50 percent renewable content.
The researchers created a solvent-free production process interconnecting equal parts of nanoscale lignin dispersed in a synthetic rubber matrix to produce a meltable, moldable, ductile material that is at least 10 times tougher than acrylonitrile butadiene styrene (ABS). They replaced styrene with lignin—a brittle, rigid, polymer that, with cellulose, forms the wood cell walls of plants.
The resulting thermoplastic, known as acrylonitrile butadiene lignin (ABL), is recyclable. It can be melted three times and still perform well. The results could bring cleaner, cheaper, raw materials to diverse manufacturers.
"The new ORNL thermoplastic has better performance than commodity plastics like ABS," said Amit Naskar, co-inventor. "We call it a green product because 50 percent of its content is renewable and technology to enable its commercial exploitation would reduce the need for petrochemicals."
To produce an energy-efficient method of synthesizing and extruding high-performing thermoplastic elastomers based on lignin, the ORNL team needed to answer several questions:
Can variations in lignin feedstocks be overcome to make a product with superior performance?
Can lignin integrate into soft polymer matrices?
Can chemistry and physics of lignin-derived polymers be understood to enable better control of their properties?
Can the process to produce lignin-derived polymers be engineered?
"Lignin is a very brittle, natural polymer, so it needs to be toughened," explained Naskar. "We need to chemically combine soft matter with lignin. That soft matrix would be ductile so that it can be malleable or stretchable. Very rigid lignin segments would offer resistance to deformation and thus provide stiffness."
To learn more, click here.