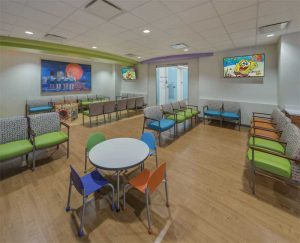 by Jane Rohde, AIA, FIIDA, ASID, ACHA, CHID, LEED AP BD+C, GGA-EB, GGF
When specifying flooring, one should consider both sustainability and performance. They are not mutually exclusive, but rather completely integrated. Both are affected by the material science that goes into the product: How are they constructed? Where do the materials come from that make these products? These factors not only contribute to the sustainability of the flooring, but how it performs.
The materiality of different resilient flooring products may alter some perceptions regarding sustainability. For example, how many are aware that salt is the main ingredient in vinyl? In fact, how many know it is used in many resilient flooring types? Do most people think all rubber comes from a rubber tree? Yes, trees are certainly one source, but this is not necessarily the case. There is natural and synthetic rubber—the synthetic kind was born out of necessity during World War II and is the predominant type of rubber used in flooring. Cork does come from trees, but trees that regenerate themselves (and their cork bark) many times over their lifespan being used for underlayments, flooring, and in composites.
Even sustainably made floors must be installed correctly
From a performance standpoint, even a sustainably made floor must be installed correctly to be truly sustainable. Otherwise, its service life can be cut short due to any number of failures. It is such a waste. So much of resilient flooring in commercial applications is installed over concrete slabs. While the non-porous nature of resilient sheet vinyl or luxury vinyl tile (LVT) has numerous advantages, it can also be problematic if not installed by a well-trained installer using proper moisture testing methods, appropriate adhesives, and moisture mitigating coatings. It is all about avoiding premature product failure due to subfloor, adhesive, installation, or moisture conditions.
As a designer and trained architect, the author discovered through her own research she needed to have a better understanding about the materiality of resilient flooring and its relationship to sustainability and performance. The author has also found many younger architects and designers may be well versed in the technology of the profession, but not as much in the material science of the products they specify to meet owner's project requirements (OPR).
At the Resilient Floor Covering Institute (RFCI) the author created an American Institute of Architects (AIA) approved continuing education unit (CEU) "Resilient Flooring & Materiality—Transparency, Product Service Life & Performance." It addresses the OPR as the starting point for the selection of resilient flooring products. It is all a matter of balance for arriving at the best specification through a series of questions, covering criteria from performance characteristics to health and wellness goals to aesthetics, cleaning and disinfection, maintenance, and cost, among others. The author recommends reviewing this in a pre-construction meeting with flooring contractors, as well as identifying installer teams who have the training and experience with the resilient flooring that is specified. The correct flooring specification is one of the most important decisions that will be made, impacting the quality of the experience within the space, the economics of cycle renovations, and the related costs resulting from premature product failure. Therefore, evaluating the best flooring solution for the application certainly warrants time and consideration.
It is recommended one looks at a variety of key indicators for the correct resilient flooring specification when developing the OPR. Here are just a few:
• What is the application for the flooring product including wear layer required based on the traffic level?
• How frequently should flooring product be replaced?
• What is the cleaning and disinfection protocol for each different flooring product specified?
• Has one had issues or concerns with maintaining any existing product previously installed?
• What are the project sustainability priorities based upon performance, service life, and application?
• Is the goal to achieve certification from a green building rating system?
• Has COVID-19 created any additional considerations for flooring specifications?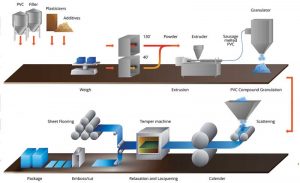 Tied to OPR are the overall performance and testing requirements based on American Society for Testing and Materials (ASTM) F06.20 on Test Methods for various types of testing for all resilient flooring products. This is available by manufacturer in their technical data sheets per selected style and usually downloadable from their websites. Flooring specifiers will look at characteristics such as:
• square-ness;
• thickness;
• dimensional stability; and
• resistant to chemicals.
It is all about specifying the right product for the right application (or project conditions) with attention paid with the right resilient floor and proper installation for creating an 'envelope' for the floor (sealed seams, clean-ability, disinfection, etc.) Every structure for every product is different. This may lead to a different performance outcome. In healthcare, sheet vinyl, rubber sheet, or linoleum may be used because it has fewer seams where contagions can hide and can be heat welded with coved base. In senior living communities, LVT is specified often because it provides a nice homey feel for the residents and is durable for mobility device traffic. For residential or multi-family apartments, cork may be selected for its acoustic properties.
Selecting resilient flooring for sustainability
Architects, designers, and project specifiers can select resilient flooring for sustainability, health, and wellness criteria with confidence. Resilient flooring products of today are the most technologically advanced products of their kind ever made. These flooring products are designed and engineered to not only be aesthetically pleasing, but to also satisfy needs for durability, performance, and cleaning and disinfection for all types of settings within various vertical commercial markets.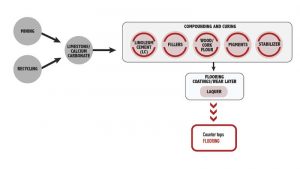 The Resilient Floor Covering Institute (RFCI), a trade organization that represents more than 90 percent of the resilient flooring manufacturers in the U.S., was founded in 1995 to, among other things, promote voluntary product and industry programs that support safe, healthy, and sustainable environments. The resilient flooring category is made up of a range of materials, surfaces, and their attendant advantages available to the architect and interior designer. There are vinyl sheet goods (heterogeneous and homogeneous), luxury vinyl planks and tiles, solid vinyl tile, vinyl composition tile (VCT), linoleum sheet and tile, rubber sheet and tile, cork tile and sheet underlayment, and rigid core luxury vinyl planks and tiles.
Foundational to RFCI's sustainable priority are six important resilient flooring industry initiatives that are relevant to specifiers of resilient flooring:
• Support of the Vinyl Sustainability Council (VSC)
• Support of the Green Building Initiative
• The revision and utilization of NSF International/American National Standards Institute (NSF/ANSI) 332, Sustainability Assessment for Resilient Floor Coverings
• Industry wide environmental product declarations (EPD) and product specific EPDs completed by resilient manufacturers based on International Standards Organization (ISO) 14025 and ISO 14040
• Pilot participants for the resilient flooring category for the development of embodied carbon data for Building Transparency's Embodied Carbon Construction Calculator (EC3)
• FloorScore certification for indoor environmental quality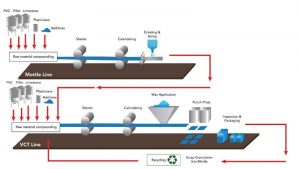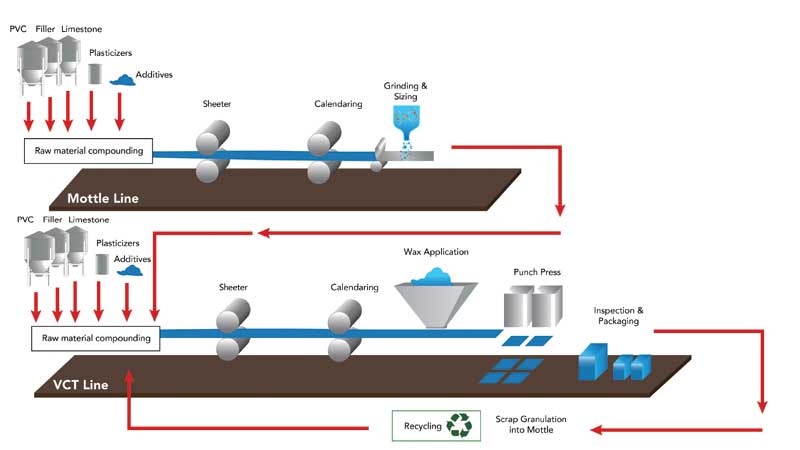 The Vinyl Sustainability Council (VSC) is supported by RFCI and plays an important role in providing information on environmental stewardship of resin producers to resilient flooring manufacturers. VSC initiatives include manufacturer compliance with the +Vantage Vinyl program, which supports supply chain transparency and sustainable corporate responsibility for resin producers that are subsequently utilized by resilient floor covering manufacturers.
The focus of the +Vantage Vinyl program is in three areas: reducing emissions to water, air, and soil; protection of the biodiversity of the ecosystem; and water conservation. Compliance with +Vantage Vinyl principles is measured voluntarily on an annual basis against impact goals of resource efficiency, emissions, and health and safety.
The Green Building Initiative (GBI) is the only ANSI-certified organization to develop green building standards that are used as the basis for green building rating systems. Green Globes includes a rating system for new construction (NC), existing buildings (EB), and sustainable interiors (SI). In addition, GBI has a federal compliance program, Guiding Principles for New Construction & Modernization that is used by various Federal Agencies and Departments, including the Veterans Administration (VA) and the Department of Defense (DoD).
NSF/ANSI 332, Sustainability Assessment for Resilient Floor Coverings includes compliance criteria for environmental, health and wellness, and social impacts is currently being updated from the 2015 version and is anticipated to be released before the end of 2021. Certification to NSF/ANSI 332 offers specifiers of resilient flooring the highest level of confidence in sustainability and transparency. As part of the revised standard a transparency scorecard will be available so specifiers will know what criteria has been met from the standard for a specific product.
RFCI members participated in the development of industry average EPDs and many members also have development product specific EPDs as part of their sustainable initiatives for continual improvement. Life cycle assessments are required to completed EPDs, which provide usable information to the specifier as well as for the product manufacturer to evaluate processes and product design. EPDs comply with ISO 14025 Type III, third-party certified EPDs, which are recognized in green building rating systems and environmental standards, including the U.S. Green Building Council's (USGBC's) Leadership in Energy and Environmental Design (LEED) rating systems, the Green Building Initiative's (GBI's) Green Globes rating systems, and American Society of Heating, Refrigerating and Air-Conditioning Engineers (ASHRAE)/International Code Council (ICC)/USGBC/Illuminating Engineering Society (IES) Standard 189.1, Standard for the Design of High-Performance Green Buildings that is the content for the International Green Construction Code (IgCC).
Knowing that global warming and climate change is at the top of the list of concerns when designing buildings and specifying products, RFCI joined Building Transparency to create the pilot category for resilient flooring to develop embodied carbon information and uncertainty analysis as part of the Embodied Carbon in Construction Calculator (EC3) based upon both industry average and product specific EPD data. The category is anticipated to be public by the end of September 2021.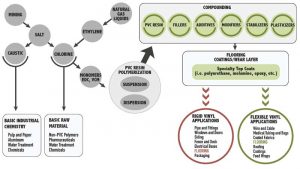 The sixth initiative is the development and maintenance of FloorScore certification for indoor environmental quality for resilient flooring products. It is one of the most highly recognized certifications from the designer/specifier community as well as within the consumer sector for representing the highest of standards for indoor air quality (IAQ).  FloorScore certification complies with an IAQ standard for resilient flooring products that is independently certified by SCS Global Services for compliance with lower VOC emission standards, in accordance with California's Section 01350 protocol (Standard Method for the Testing and Evaluation of Volatile Organic Chemical Emissions from Indoor Sources). SCS Global Services is a provider of third-party certification, validation, and verification and is responsible for the standard used for compliance for FloorScore certifications. In addition to FloorScore certification, SCS also completed the standard used for the Assure Certified program for rigid core flooring. Assure Certified, conceived and developed by RFCI and certified by SCS Global, establishes uniform quality standards for all rigid core luxury vinyl flooring sold in the U.S. While rigid core has grown in popularity as a residential flooring solution, it is seeing more and more light commercial applications, too. Assure Certified product compliance encompasses several areas, including manufacturing quality control procedures, on-site audit, FloorScore IAQ certification, ASTM F3261-17 performance testing compliance, no intentionally added heavy metals (lead, hexavalent chromium, cadmium, and mercury) or ortho-phthalates.
Overall, the resilient floor covering industry has been proactive in initiatives that support the environment and health and wellness within the built environment. Flooring solutions that meet both sustainability and performance requirements provide designers and specifiers a broad array of products that successfully meet needs within various project types.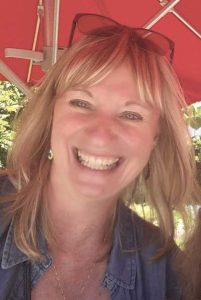 Jane Rohde, the principal of JSR Associates Inc., in Catonsville, Maryland, believes in a global cultural shift toward person-centered solutions for healthcare and environments for aging and sits on various healthcare and sustainability committees supporting research, advocacy, and humanistic approaches to care. Rohde provides technical consulting on sustainability and health and wellness guidelines, codes, and standards for various trade associations and standards and guidelines committees, including the Resilient Floor Covering Institute (RFCI). In 2015, she was the first Changemaker Awardee for Environments for Aging from The Center for Health Design. In 2018, she received the ASID Design for Humanity Award, was recognized as an Honorary Alumni of Clemson University's Architecture + Health program and honored as one of top 10 Women in Design for leadership in healthcare design. In 2020, she received the Pioneer Award from the Facility Guidelines Institute, and in 2021 was honored as a Green Globes Fellow from the Green Building Initiative. She can be reached via email at jane@jsrassociates.net.