Prestige buildings
Privacy is often viewed as an extension of quality design and can create an exclusive, private, and comfortable experience. Some prestige commercial office spaces require high-end design in addition to privacy due to the status of the company or its clientele.
At a California film studio restroom renovation, the architect was able to achieve a sophisticated look with high privacy by using European-style toilet cubicles with occupancy indicators and interlocking flush-front door and fascia panels to eliminate sightlines, complemented by luxurious finishes and a cubicle system that appears to 'float' due to its recessed foot pedestals.
Design professionals striving for a well-designed, clean, minimalistic look can leverage cubicles to create this flush-front exterior aesthetic, often utilizing visually interesting finishes with solid colors or patterns.
Novel materials, such as glass, also can be used to reinforce a luxurious aesthetic.
Education facilities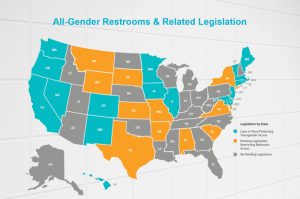 Schools may require additional privacy considerations, especially when creating all-gender restrooms, including those in dorms, libraries, and other gender-inclusive spaces.
Vashon Island High School, just outside of Seattle, recently renovated both a boys' and girls' restroom into two all-gender restrooms—the first of their kind in Washington state.
Specifications such as 1829-mm (72-in.) panels, no-sightline integrated doors and stiles, and lower floor clearances support inclusiveness and privacy.
The principal remarked, "Making bathrooms all-gender is the safest and clearest way to prevent students from having to explain or justify their bathroom use to anyone."
For a library renovation in 2017, the University of California, Fullerton, needed an all-gender restroom solution that would serve the building's diverse user groups while achieving the utmost privacy. A no-sightline partition system with occupancy indicator latches delivered privacy and practicality. Floor-to-ceiling, 2705-mm (106.5-in.) doors were employed to create room-like environments, without the additional trades, cost, and construction implications associated with fully enclosed walls and single-user restrooms.
Gender-inclusive restroom legislation
The rise of all-gender restrooms underscores the scale of the privacy issue. A number of states and municipalities have passed laws protecting transgender individuals and others who wish to use the restroom of their choice within public facilities.
The states in teal (Figure 1) have passed anti-discrimination laws requiring public facilities to accommodate certain individuals who wish to use the restroom of their choice rather than the sex listed on their birth certificate. The states in orange have pending legislation. The states in gray have no pending legislation on the issue.
Currently, no states restrict access to some public bathrooms by individuals who identify with a gender that is not on their birth certificate. While North Carolina passed such a bill in 2016, it was repealed in 2017.