David Leigh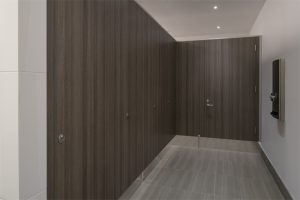 From millennials and caregivers to individuals with personal medical needs, today's restroom users view privacy as a key amenity. As all-gender restrooms rise in popularity and are required by law in some states, privacy has taken a central role in restroom design.
While privacy has become an expectation in a range of building types, it has not always been that way. Gender-segregated restrooms did not become law in the United States until the late 1800s, when a law was passed in Massachusetts to ensure women in the workplace had a safe, private restroom during working hours. In 1990, the Americans with Disabilities Act (ADA) was passed, creating the need for compliant, accessible restrooms for all. By 2013, 150 universities and several high schools had installed gender-neutral restrooms. As of 2018, the International Building Code (IBC) and the International Plumbing Code (IPC) address single-user restrooms identified for use by any gender, as proposed by the American Institute of Architects (AIA), ensuring safe, dignified access to public restrooms for all.1
Beyond all-gender restrooms, many patrons, such as caregivers, nursing mothers, the elderly, individuals with health issues, and those who suffer from chronic health conditions (e.g. diabetic patients requiring insulin injections) prefer more privacy.
From a personal safety standpoint, many individuals also feel vulnerable in the restroom. There are concerns about child safety, camera phones, and theft of personal belongings in public restrooms, and all these can be addressed by providing more privacy.
A patron's experience in the restroom can influence their impression of the building, lower or raise employee morale, and impact a customer's likelihood of returning to a business. Patrons care about privacy, and, by extension, so should the business owners and design professionals who serve them.
Identifying common privacy issues
Gaps between toilet compartment doors and stiles have long been a source of patron complaints. This is typically a consequence of toilet partition material selection. With metal toilet partitions, the gaps are due to configuring toilet compartment layouts to the size of restrooms using standard size doors, panels, and stiles manufactured to whole-inch dimensions.
Some of the common complaints are the standard 305-mm (12-in.) floor clearances on partition doors are excessive and allow for people to easily peek underneath to see if the toilet compartment is occupied, and the gaps allow for visibility not only from the outside in, but also from compartment to compartment.
Without any codes regulating gap or door width, there has been little impetus to enhance cubicle and partition design. Some materials are produced in stocked widths, which do not allow precise matching to room dimensions. Fortunately, there are many privacy solutions to help address these pain points across a range of building types.
Commercial offices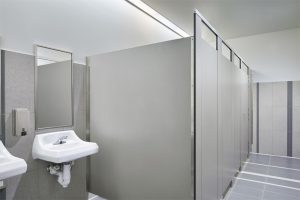 Moderate Class B to premium Class A commercial office spaces may require additional privacy to enhance patron and tenant satisfaction and safety as well as create a more pleasant experience for employees and visitors.
In 2017, the global headquarters of a publicly traded bank in California underwent a major renovation to provide a comfortable, morale-building experience for their employees. While design was important, privacy was key to ensuring all employees felt comfortable. They were able to achieve a high sense of privacy with a European-style toilet cubicle system with interlocking door and fascia panels to eliminate sightlines, occupancy indicators, and self-closing doors.