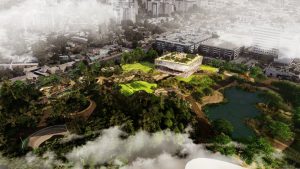 Three architectural teams, Dorte Mandrup (Copenhagen), Weiss/Manfredi (New York), and Diller Scofidio + Renfro (New York), have revealed their proposals for the La Brea Tar Pits in Los Angeles. The finalists were selected through a process that began in March.
The long-term initiative by the Natural History Museums of Los Angeles County (NHMLAC) asked the designers to reimagine and renovate its 5-ha (12-acre) campus in Hancock Park encompassing the world-renowned La Brea Tar Pits and the George C. Page Museum.
Dorte Mandrup's proposal imagines a journey of curiosity with exploratory wayfinding, active research sites, a megafauna playground, and prehistoric plants and trees. Surrounded by Pleistocene flora, a series of boardwalks connect all activities in the park and lead people toward the new, open foyer in the Page Museum. It also includes a new public rooftop garden and the Tar Bar.
Weiss/Manfredi proposes the 'La Brea Loops and Lenses,' forming a triple mobius linking all existing elements of the park to redefine it as a continuously unfolding experience. The proposal also includes a new 1-km (0.6-mi) pedestrian path connecting the various elements of the site, bringing drama to the crossing of the Lake Pit, enhancing amenities for community engagement and research, and revealing the museum collection.
Diller Scofidio + Renfro create public engagement with science throughout the masterplan, including new glass edge of the Tar Pit Lake, revealing a former asphalt mine since filled by rainwater. The masterplan merges geometries of museum and park, tracing a grid of pathways and landscapes that anticipates future dig sites and seeps while selectively deforming to connect key features of the site.
The selection of the architectural team will be made by the end of this year. The design process for the masterplan will take place over the next several years and will be presented to the community during that time.