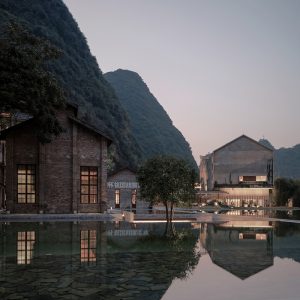 The Royal Institute of British Architects announced 16 exceptional projects which have been awarded RIBA International Awards for Excellence 2021.
The projects, located in 11 countries, range from large urban masterplans and infrastructure schemes, cultural centers, hospitals, and memorials to private residencies.
"Our global awards show how well-considered, well-delivered, and well-performing architecture has the immense potential to improve lives and communities," said RIBA president Alan Jones. "We are very pleased to be able to celebrate some of the most innovative, ingenious, and impactful architecture in the world—designed by some of the most talented architects of our time."
International Awards for Excellence winners 2021
Alila Yangshuo by Vector Architects for Landmark Tourist Investment Company
Amorepacific Headquarters by David Chipperfield Architects Berlin for Amorepacific Corporation
Artists' Retreat at Pittugala by Palinda Kannangara Architects for J C Rathnayake
Dongziguan Villagers' Activity Center by gad × line+ for Changkou Town Government in Fuyang District of Hangzhou
Expansion of the University Hospital of the Santa Fe de Bogotá Foundation by El Equipo Mazzanti/Giancarlo Mazzanti for Fundacion Santa Fe de Bogotá
Friendship Hospital, Satkhira by Kashef Chowdhury/Urbana for Friendship NGO
James-Simon-Galerie by David Chipperfield Architects Berlin for Stiftung Preußischer Kulturbesitz rep. by Bundesamt für Bauwesen u. Raumordnung
Kohan Ceram Central Office Building by Hooba Design Group for Kohan Ceram
Lianzhou Museum of Photography by O-office Architects/Jianxiang He & Ying Jiang for Lianzhou Foto Office
Lille Langebro by WilkinsonEyre with Urban Agency for Realdania Byg A/S
Modern Art Museum and its Walkways by Atelier Deshaus for Shanghai Eastern Bund Investment (Group) Co. Ltd.
Msheireb Downtown Doha Masterplan by Allies and Morrison with Arup and AECOM for Msheireb Properties, a subsidiary of Qatar Foundation
Renovation of the Captain's House by Vector Architects for private client
Tai Kwun – The Centre for Heritage and Arts by Purcell, Herzog & de Meuron and Rocco Design Architects Associates Limited for The Hong Kong Jockey Club
The National Memorial for Peace and Justice by MASS Design Group for Equal Justice Initiative
The Polygon Gallery by Patkau Architects for The Polygon Gallery
The shortlist for the RIBA International Prize 2021 will be announced in September. The winner will be named in November, along with the winner of the RIBA International Emerging Architect Prize.