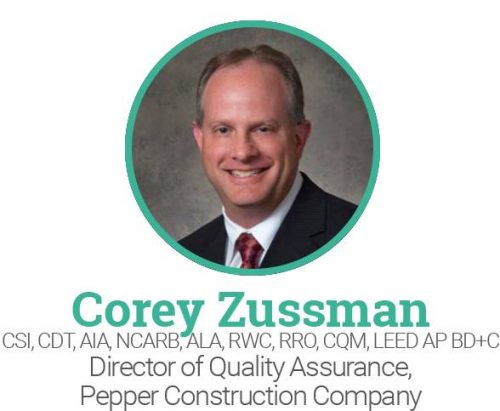 Sharpen your skills in construction risk identification, assessment, mitigation, and monitoring by joining your peers at the Construction Specifications Institute (CSI) Academy in Chicago on April 26 and 27. Learn from experts and share your experiences through interactive online and in-person sessions. This one-and-a-half-day conference features two tracks of focused educational content: Project Conception and Project Execution.
Corey Zussman, quality assurance director for Pepper Construction Group, will be one of the CSI Academy's featured speakers, discussing potential risks resulting from continued labor shortages across the United States. An architect and prolific writer on "Lessons Learned," Zussman will leverage his nearly 30 years of experience in design, preconstruction, preservation, and construction to identify a range of personnel and training related risks that continue to plague the construction industry.
CSI asked Zussman what else Academy attendees can expect to learn from his address.
Why is your presentation so relevant to AEC professionals right now?
Currently, labor shortages are prevalent in most trades and are only expected to get worse. Having the right people, who are properly educated and trained, and ensuring the work is verified is imperative for a successful project. In my presentation, I will explore the topic of contraction risk, discuss its importance, and look at what we can do to manage the risk associated with construction.
For Academy attendees, how will your expertise expand their working knowledge of the critical steps in construction risk management?
My background is diverse with respect to construction. I am a registered architect who practiced for more than 15 years as a technical and forensic architect. I was an owner's rep on the institutional side, and for a developer involved with high-rise buildings and restoration of historical high-rise buildings. I was also the quality director for one of the largest masonry and concrete restoration companies in Chicago.
Today, I am the director of quality for one of the largest contracting companies in Chicago and have worked on more than 1200 buildings throughout the county. I am currently working on anywhere from 50 to 70 buildings a year, which allows me to see many different design types, products, and architects.
I have developed a mobile app, currently available on the app stores, which houses more than 150 "lessons learned" bulletins. I have also developed a web-based application where I can collect and track construction deviations throughout the company. At this time, I have developed 17 AIA-accredited presentations on subjects such as air barrier installation and design and other building envelope topics, as well as life safety and MEP-FP topics for the AEC community. I frequently speak at the industry leading conferences and symposiums and present to the AEC community throughout the country.
With my background, I have a unique multi-faceted perspective on the industry and what is needed for a successful project.
How will your presentation inform individuals who are implementing a risk management plan?
My speech will lead to a better understanding of what the risks are for the industry and ways in which everyone can help. Ensuring the community knows what questions to ask will allow for a better risk management plan.
What are your key takeaways for how AEC professionals develop real-world strategies for addressing risk management in their projects—from risk identification and assessment to methods of mitigation and monitoring existing risks?
When it comes to risk management, a better understanding of risks, what construction companies are doing to manage them, and how these companies are implementing strategies is important. This way, how to get involved on the project scale to better manage the risks with the teams will be better understood and developed as a group.
To read more about CSI Academy, click here.