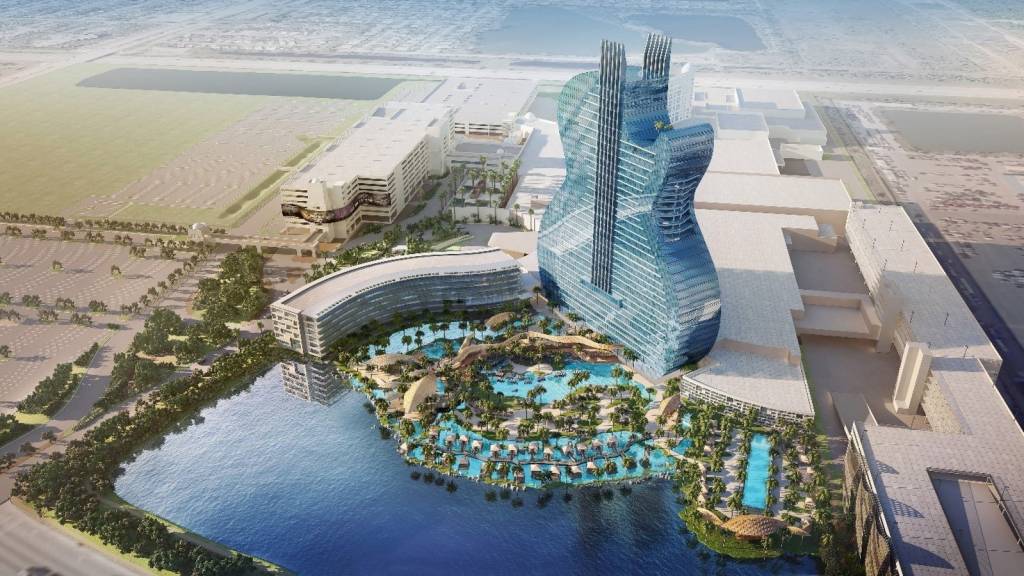 Construction on a much-anticipated building in the Miami area has passed the halfway point. Located in Hollywood, Florida, the guitar-shaped hotel is part of a $1.5 billion expansion project at the Seminole Hard Rock Hotel & Casino, the flagship destination of the Hard Rock International empire owned by the Seminole Tribe of Florida.
The unique structure is the vision of Seminole Gaming CEO James F. Allen, who is working closely on the project with Las Vegas-based Klai Juba Wald Architects as well as other design firms. Designed to resemble back-to-back guitars, the 137-m (450-ft) tall tower will serve as the centerpiece of an elaborate casino complex redevelopment. The design nearly doubles the size of the location's current Hard Rock Casino and will feature 3267 slot machines, 178 table games, and a 1672-m2 (18,000-sf) poker room, as well as a 7000-seat Hard Rock Live venue. In total, the redevelopment will add 5574 m2 (60,000 sf) of retail and restaurant space.
The complex is expected to open in mid-2019.
To read more, click here.