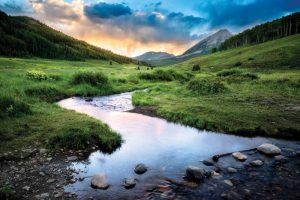 By Sasha Aguilera and Karen Liu
Americans experienced many climate disasters in 2021. Much of Texas was covered in snow in February with more than 4 million households lost power. In June, the Pacific Northwest suffered from a heat dome, which set all-time heat records in seven states and caused hundreds of deaths. In October, three atmospheric rivers caused mudslides, flooding, and power outages on the California coast. Scientists predict extreme weather events will become more intense and more frequent with climate change.
In many major American cities, a sizable percentage of rainfall occurs in fewer days, during larger and more intense storms. For example, the atmospheric rivers brought 138 mm (5.44 in.) of rain over 24 hours in Sacramento and 102 mm (4 in.)
in San Francisco in October 2021. According to a study by Princeton University, new flood maps show '100-year' floods may now occur annually along the southeast and Gulf of Mexico coasts, or every one to 30 years.
Urban centers have high concentrations of impervious areas and outdated sewer infrastructures, which post a challenge in managing stormwater during extreme rainstorms. Heavy rain events or back-to-back storms cause flash flood, damage property and infrastructure. Large volume of stormwater can also lead to combined sewer overflow in older cities across the U.S., which pollutes drinking water, harms aquatic habitats and causes beach closures.
Green infrastructure builds climate resilience
Green infrastructure mimics a site's natural hydrological cycle to manage runoff close to its source. As land is expensive real estate, designers are turning to the many rooftops, which make up 20 to 25 percent of the land area in major North American cities. There are growing interests in using green roofs, blue roofs, and blue-green roofs to manage stormwater in urban centers such as Washington DC's Green Area Ratio (GAR) environmental sustainability zoning regulation, NYC's Climate Mobilization Act–Local Laws 92 & 94 and San Francisco's Better Roofs Ordinance.
Sustainable roof colors—blue or green?
Rooftop stormwater management solutions are classified as source control tools, capturing rainfall right where it lands before it runs off into the storm sewer network. They are the first line of defense when working in combination with other at or below grade options onsite, such as bioswales or underground storage tanks. They manage stormwater through two distinct mechanisms: retention and detention.
Green roofs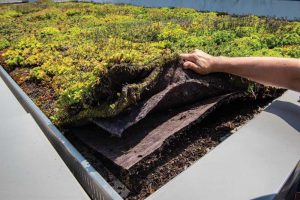 Green roofs are specialized roofing systems which support vegetation growth on rooftops (Figure 1). The vegetation and growing medium capture rainfall, reduce runoff, and delay peak flow. The rainwater is retained in the growing medium, which is either taken up by the vegetation or returned to the atmosphere through evapotranspiration, completing the natural hydrological cycle.
Green roofs reduce runoff volume, thus lessening the burden on storm sewers and wastewater treatment plants, particularly those located in areas where storm and sanitary sewers are combined. They work well most of time, except during back-to-back rainstorms because fully saturated green roofs cannot retain more water until they are dried out or "recharged" before the next rain event.
Green roofs are multi-taskers. They offer multiple benefits to buildings and the environment. They create amenity space, extend roof membrane longevity, reduce a building's energy demand, improve air quality, and enhance biodiversity in the urban areas. Currently, more than 30 municipalities across North America have some form of policies or programs to encourage green roof adoption.