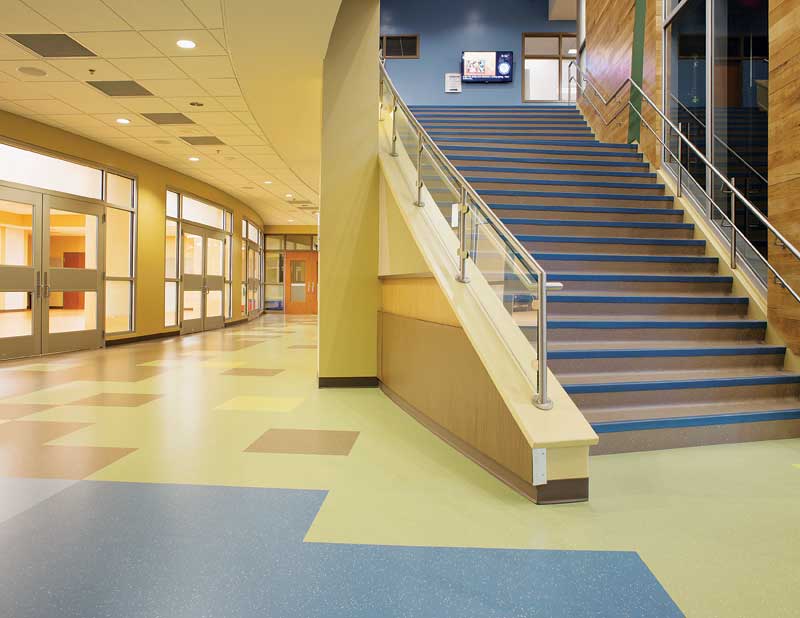 by Tasha Hughes
Selecting floor coverings for education facilities can be a difficult decision, due to the various demands placed on them and the multiple options available. Just as important in the decision-making process are the maintenance requirements of the chosen floor covering, especially when cleaning costs can account for as much as 80 to 90 percent of the cost of a floor over the lifetime of the product.
There are seemingly endless flooring options available, including:
vinyl;
rubber;
hardwood;
laminate;
bamboo;
tile;
stone;
terrazzo; and
carpet.
What makes some floors easier to maintain than others? Much has to do with the surface of the floor. Floors with open pores and rough surfaces provide multiple opportunities for dirt and bacteria to collect. Some manufacturers provide protection from this in the form of a polymer coating, which may need to be renewed depending on how heavily the floor is used and how frequently it is cleaned. Replacing the polymer requires complete stripping and reapplication of the coating.
Rubber flooring, with its nonporous surface, provides an attractive alternative. This sustainable floor covering is made from both synthetic rubber and renewable, natural rubber extracted from the sap of the tropical rubber tree. Depending on the manufacturer, the product may also contain natural fillers to supplement the high-quality natural and industrial rubber. It may also include environmentally compatible color pigments free of lead and other heavy metals.
Rubber flooring repels dirt
Rubber flooring's dense, homogenous surface helps repel dirt while resisting stains. As a result, the floor tends to stay clean longer and can be maintained with regular dust mopping. The floor's natural density also allows it to stand up to water, chemical, and other liquid spills without absorbing them. In a busy education center, spills are bound to happen, whether in the form of cafeteria beverages, break room coffees, art class supplies, or science lab chemicals. These spills can be cleaned up quickly, minimizing the potential for slips.
When deeper cleaning is required, a mop and tap water are often sufficient. One manufacturer also offers a cost-effective and sustainable cleaning system combining water and scrubbing pads designed for all levels of maintenance needs, from the periodic cleaning of small spaces to more intense post-construction cleaning.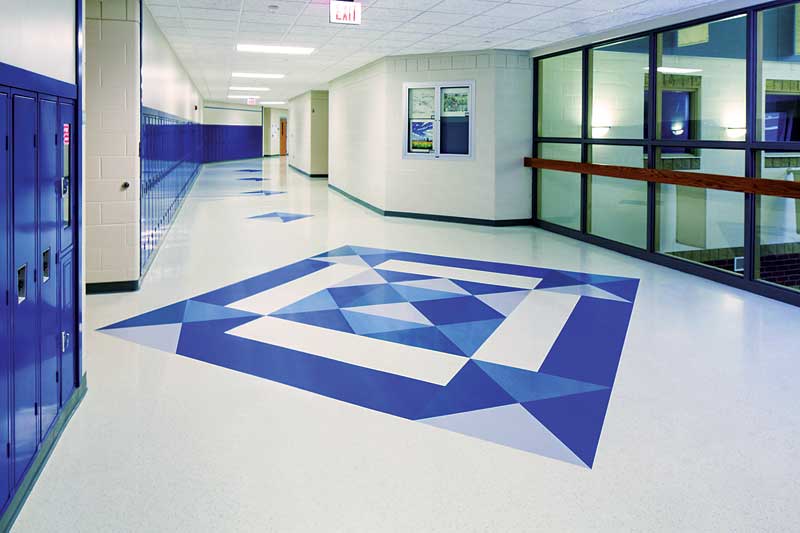 No-wax finish
Perhaps the best news for facility managers is rubber flooring never requires waxing, labor-intensive stripping, or the application of sealants. This saves a significant amount of time when it comes to maintaining the floors, minimizing not only cleaning time, but also the wait for irritating fumes to dissipate, and for wax to dry. Additionally, maintenance for this style of flooring is far less invasive than others, because groups of students do not need to be moved from areas for extended periods of time while floors are cleaned and waxes are applied and allowed to dry. Even emergency spills can be cleaned up quickly without needing to move students in fear of compromising the air they breathe.
Additionally, it becomes easier to schedule floor cleaning when rubber flooring is used, because these large areas do not need to be closed for long periods of time. Stripping and waxing of other resilient floor coverings is typically completed over summer months or during winter breaks when school is not in session. This requires the additional cost of running the HVAC system to regulate the facilities' temperature in order to keep staff comfortable and meet the needs of the stripping and waxing protocol. This process also entails additional training and labor hours—either a large team getting the job done quickly or a few employees completing the task over a longer time span. Rubber flooring, on the other hand, can be cleaned while school is in session. Additionally, staff is free to tackle other jobs throughout a building or campus during these off times.
As hours and manpower are reduced, so are maintenance expenses. Rubber floor's cleaning regimen does not require waxes, sealants, strippers, or harsh cleaning products—further reducing expenses. To put this in perspective, the cost of stripping and waxing supplies to coat a floor can range from $1.60 to $10.76 per m2 ($0.15 to $1.00 per sf) or more depending on the condition of the floor. When annual coating costs exceed what is expected and the life of the floor is factored in, the seemingly cheaper initial cost per m2 (sf) of a non-rubber floor skyrockets.
The absence of sealants and cleaning agents also supports sustainability goals by contributing to improved indoor air quality (IAQ). The often distracting and irritating scent of chemical cleaners is no longer a problem, allowing for a more pleasant working environment for students and staff.