Rubber flooring: Commuting with comfort
March 18, 2019
by Tasha Hughes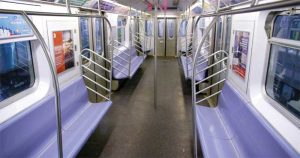 Public transportation is a very convenient and affordable means of travel in many cities. Millions of commuters across the country rely on mass transit to get them safely to their destination every day, and the number continues to increase. The American Public Transportation System[2] said, since 1995, the use of public transportation has increased by 30 percent, a rate higher than the 22 percent increase in the United States population during the same time.
As mass transit becomes increasingly popular, riders are demanding more amenities to enhance their travel experience. City authorities continue to seek out innovative ways to design public transportation systems that are not only comfortable for commuters, but are also durable and sustainable enough to stand up to the burgeoning ridership. Flooring systems are one way specifiers can bring comfort, sustainability, and high-impact design to public transportation.
Evidence-based design
Floorcoverings are being evaluated according to a new set of design and performance criteria. In the past, specifiers largely focused on delivering aesthetic appeal while adhering to budgetary requirements, but they are now taking the long view and considering the total cost of ownership (TCO), which also includes life-cycle costs, during product selection.
Decisions pertaining to flooring and its performance characteristics in the built environment have evolved and are often guided by an evidence-based design (EBD) strategy, taking into account the link between the physical environment and operational outcomes. Specifying flooring for a project begins by determining the desired usage of the space, project drivers, and calculated return on investment (ROI). Using EBD methodology, designers can select products based on credible research.
Materials specified for new construction or renovation of mass transportation systems can have a significant impact on passengers as well as the lifespan of its cars or vehicles. Selecting resilient flooring products, such as premium rubber, can help meet the demands of mass transit while maintaining a like-new aesthetic for decades after installation. Premium rubber is differentiated by its manufacturing process and quality of ingredients that result in a superior surface density delivering a host of benefits and meeting the highest certifications.
Operational optimization
Much like the cities they serve, mass transit systems are always on the go, leaving little downtime for cleaning and maintenance. Flooring with simple cleaning protocols keeps mass transit systems moving. Resilient flooring requires little more than water and a mop for daily maintenance. Uncoated flooring has the additional benefit of never needing to be stripped and recoated.
In this author's experience, premium rubber flooring is a resilient flooring system supporting EBD and benefits operational optimization in construction. The absence of wax from the cleaning regimen also means maintenance is far less invasive. Transportation systems do not have to go 'offline' for extended periods of time while floors are stripped and recoated. This also reduces the number of labor hours required to maintain the vehicles, contributing to additional cost savings and lower TCO. For example, the process of stripping and waxing a floor on a rail car could take a day or longer to allow multiple required steps and product drying times. However, premium rubber floors eliminate multistep, time-intensive processes, as it is able to be cleaned with little more than light detergent and water.
Chemicals and special equipment make cleaning both complex and costly—impacting operational optimization and efficiency. Considering approximately 90 percent of the cost of a floor comes from ongoing care and maintenance, premium rubber can greatly reduce TCO over its lifespan. Additionally, premium rubber floors can last up to 50 years, so they may never need to be replaced during the lifespan of the transit system, as was the case for Frankfurt Airport in Germany. In case of any damages incurred, spot repairs are also simple. They blend in well and are hard to detect after completion. Additionally, any flooring produced can be reproduced again for repair—it is just a matter of following the same recipe.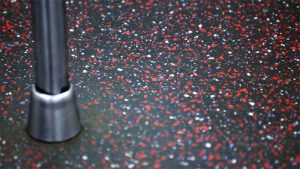 Installation considerations
Specification should also take into consideration installation requirements for both new construction and renovations. In the case of moisture in existing slabs, it should be addressed accordingly. Some premium rubber manufacturers offer installation systems that can entirely eliminate the need for moisture testing and mitigation. When it comes to resilient flooring, installers are adapting to the changing demands by addressing all the major construction challenges, including constrained capital budgets, installation time, and system complexity.
Seamless flooring can also increase product longevity in high traffic areas, such as buses, subways, and rail lines. Temperature fluctuations can push seamed floorcoverings to its limits. They can shrink, leading to cracks or fissures and resulting in the surface losing its unified appearance. This also creates a circumstance where the floors collect dirt more easily. A dimensionally stable rubber flooring system retains its shape without the appearance of unsightly joints or cracks.
Ensuring safe travels
According to the National Public Transportation Association[4] (NPTA), mass transit is one of the safest ways to travel—citing it is 10 times safer per mile than traveling by car since it has less than a tenth of the per-mile traffic casualty (injury or death) rate as automobile travel. Flooring can play a key role in mass transit safety. Mud, snow, and rain brought into buses, subways, or trains can cause floors to become slippery. This hazard is compounded by commuters rushing to get to their destination. In fact, some of the most common injuries occur from falls due to slipping on unreliable floors.
Waterproof premium rubber is designed to withstand the harshest conditions while keeping passengers on their feet. Rubber flooring reduces the likelihood of slips and falls as it is slip resistant in both dry and wet conditions. Should a fall occur, the resilience of rubber flooring cushions the fall and possibly reduces the likelihood of serious injury.
Breathing cleaner on board
The Federal Transit Administration[5] (FTA) says, public transportation systems help cities improve national air quality standards by reducing the level of vehicle emissions and pollutants. When floors coated with finishes release emissions, they can be harmful to passengers, potentially leading to health issues, such as headaches or breathing difficulties.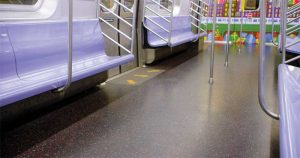 Proper selection and specification of interior materials, especially flooring, have a direct impact on air quality in two important ways: their basic composition and in the maintenance protocol throughout the product life cycle (including finishing, coating, stripping, and recoating). Premium rubber floors are low in emissions and pollutants. It is made from mostly natural materials and does not contain polyvinyl chloride (PVC), phthalates, or other plasticizers.
Additionally, the cleaning protocol of premium rubber is also low-emission since it requires little more than water. Being uncoated, basic cleaning agents high in alkaline are unnecessary for surface restoration. Flooring products endorsed by third-party organizations, including Greenguard Gold, contribute to a safer, healthier travel.
A more comfortable commute
Long commutes can keep passengers on their feet for great lengths of time, ultimately resulting in musculoskeletal disorders and loss of time from work. While many flooring materials are hard and unforgiving, some products, such as premium rubber, have a crosslinking of materials to provide superior ergonomics and comfort underfoot. Unlike most floorcoverings, premium rubber is made of materials with the ability to ease the stress of walking and standing.
Riders also need to be able to move across floors with confidence. Coating-free premium rubber offers verified nonslip properties to improve the safety of its passengers. It also helps reduce confusion and disorientation from reflective or overly smooth surfaces delivering a 'perception of slipperiness'.
Using public transportation can also be quite noisy. The World Health Organization[7] (WHO) establishes a limit of continuous background noise in a room at 35 A-weighted decibels [dB(A)] during the day and 30 dB(A) at night.  In a third-party study for in-room impact noise reduction, a premium rubber floor reduced sound[8] by 21 dB(A), dampening unwanted sound more effectively than other resilient floors ranging from 3 to 7 dB(A).
As the foundation of the built environment, flooring plays a primary role in transferring sound. The noise level emanating from a floor depends largely on the type of floorcovering. Rubber flooring's sound-absorption[9] properties can help reduce noise level up to 20 dB.
Designed with purpose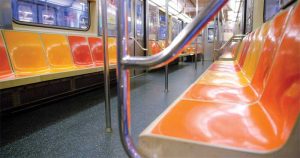 Flooring in public transportation should be more than just durable, it should also provide guidance and information to passengers. Wayfinding techniques, such as directional flooring lines, help riders safely navigate to their intended destination. Clear symbols for wheelchairs, bicycles, suitcases, or baby carriages offer passengers a quick overview of designated areas. Safety symbols also make it easier for passengers to find their way around quickly, regardless of language.
Modern ultrasonic cutting machines allow premium rubber flooring to be produced in any shape, symbol, or wayfinding system design, down to the millimeter. The exceptional dimensional stability of premium rubber means each inlay can be installed seamlessly. Symbols are firmly anchored in the floor to protect against vandalism or damage from wear and tear. Thanks to precision cutting and incorporation into the floorcovering, indicators last significantly longer than signs or stickers.
Premium rubber floors allow inlays to retain its shape permanently. Joints or cracks staining and disturbing the image will not form. This also means premium rubber floors with inlays can be cleaned easily and economically. The seamless installation is even suitable for areas where high standards for hygiene are required. The installation method can include heat or chemical welding, if it is wanted, but it is not required.
Rubber flooring stands up to New York City subways
The New York City subway system has more than 1.75 billion riders each year, so it needed a high-durability, low-maintenance flooring to handle the traffic. It has been relying on premium rubber flooring for its rail cars since the early 1990s. Today, every one of its 6418 subway cars (approximately 371,612 m2 [4 million sf] of floor space) is covered by rubber flooring. This rubber floor meets or exceeds all transit standards developed by the Federal Railroad Administration for fire and slip resistance. Its low-maintenance regimen also means the floor cleans up quickly.
Future of transportation
According to a 2014 United Nations Report[11], 54 percent of the world's population resides in urban areas. By the year 2050, the number is expected to rise to 66 percent. This, in turn, will further foster the need for additional mass transit to help avoid traffic congestion, rising commuter times, and the impact of emissions and greenhouse gases (GHGs) on global warming.
Fortunately, premium rubber flooring systems are up for the challenge. It can be found in public transit systems around the world from subways and trains to buses and beyond.
The primary standards relating to fire safety govern the use of rubber flooring. Additionally, specifiers should be aware of slip-resistant properties, durability over time, ease of the installation, and maintenance requirements when specifying rubber flooring for transit stations.
Not all rubber is created equal
Virtually all rubber floorcoverings share the same basic ingredients and are manufactured via similar processes. However, there is an infinite number of variables in the types, qualities, and quantities of raw materials. Additionally, there are many variables in the production process itself. They include:
homogeneous: consistent construction through the thickness of the materials;
heterogeneous: multiple layers of different types and qualities of rubber and/or other materials;
continuous vulcanization: lighter pressure, lower temperatures, longer process to create continuous sheet goods; and
press vulcanization: high heat and pressure to create higher density tile goods.
Rubber flooring that is both heterogeneous and press vulcanized eliminates the need to ever coat the flooring. While many rubber floorcoverings may appear to be the same, the materials and production variables referenced above produce floors differing significantly in terms of durability, stain resistance, maintenance, and reparability.
Tasha Hughes is a public relations and marketing specialist for nora systems, by Interface, an international rubber flooring manufacturer developing flooring solutions for a variety of commercial markets, including healthcare, education, industry and life science labs, and public buildings. She can be reached at tasha.hughes@nora.com[12].
Endnotes:
[Image]: https://www.constructionspecifier.com/wp-content/uploads/2019/03/nora-NYYC-Subway-3.jpg
American Public Transportation System: http://www.apta.com/mediacenter/ptbenefits/Pages/FactSheet.aspx
[Image]: https://www.constructionspecifier.com/wp-content/uploads/2019/03/nora-NYC-Subway-4.jpg
National Public Transportation Association: http://www.apta.com/resources/reportsandpublications/Documents/APTA-Hidden-Traffic-Safety-Solution-Public-Transportation.pdf
Federal Transit Administration: https://www.transit.dot.gov/regulations-and-guidance/environmental-programs/air-quality
[Image]: https://www.constructionspecifier.com/wp-content/uploads/2019/03/nora-NYC-Subway-1.jpg
World Health Organization: http://www.who.int/occupational_health/publications/noise.pdf
reduced sound: http://www.ncbi.nlm.nih.gov/pmc/articles/PMC4056361/
sound-absorption: http://www.ncbi.nlm.nih.gov/pmc/articles/PMC4056361/
[Image]: https://www.constructionspecifier.com/wp-content/uploads/2019/03/nora-NYC-Subway-2.jpg
United Nations Report: http://www.un.org/en/development/desa/news/population/world-urbanization-prospects-2014.html
tasha.hughes@nora.com: mailto:tasha.hughes@nora.com
Source URL: https://www.constructionspecifier.com/rubber-flooring-commuting-with-comfort/
---