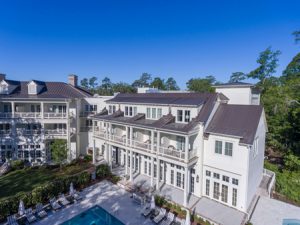 The recently expanded Palmetto Bluff Resort in Bluffton, South Carolina, now has a 74-room inn with a metal roof finished in custom Patrician Bronze color. Approximately 6968 m2 (75,000 sf) of 24-gauge galvalume panels were installed on the resort.
Designed by Dallas-based HKS Architects, the new inn was inspired by the R.T. Wilson Jr. mansion built on the property in the early 1900s. The resort is set within the 8094-ha (20,000-acre) Palmetto Bluff community and conservation preserve. The inn is finished with artisan siding on the exterior façade. Standing-seam metal roof was chosen to complement the building's classic Low Country architecture.
Don Harrier, principal at HKS, said one of the greatest challenges was complying with a long list of restrictions designed to keep additions within the scope of the original buildings, such as a mandated three-story height limit and rules regarding waterways.
"It is easy to get into a site like this for construction, but in our world we have staging areas for materials, contractor trailers, etc., and because of the environment, we had to build another building first to house back-of-the-house areas, maintenance, administration, and parking," Harrier said. "There were a lot of logistics involved as far as taking care of the site."
Installation of the panels on the 14,307-m2 (154,000-sf) luxury inn was done by Southern Roof & Wood Care (SRWC) in Hardeeville, South Carolina.
"It was a complicated job with three adjoining sections of the roof and lots of different elevations and planes and dormers. The flashing details were complex," said David Swanson, president of SRWC.