San Francisco's Transamerica Pyramid Center to undergo $250M renovation
by brittney_cutler | April 11, 2022 5:23 pm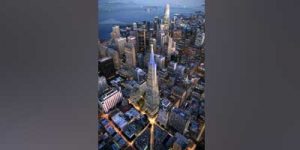 Architecture firm Foster + Partners has joined the project team to renovate San Francisco's Transamerica Pyramid Center. The $250 million renovation is the largest in the landmark's 50-year history.
Spearheaded by development firm SHVO, the project is the biggest investment in downtown San Francisco since the pandemic, for the city's second tallest building. An additional $150 million will be allocated to expanding and upgrading the adjacent Three Transamerica structure to a contemporary high-design office building.
The new Foster + Partners design seeks to revitalize and restore the historic Redwood Park, while tying all three of the center's buildings together through a series of strategic interventions at ground level, creating a new destination in the heart of San Francisco while respecting and celebrating the heritage of the site.
SHVO and Foster + Partners are committed to conceiving high-performance office spaces. The office will be reimagined as a living space, with a sophisticated emphasis placed on comfort, hospitality, and flexibility for tenants and guests. In addition to the onsite private members' club, CORE, hospitality grade amenities and service will elevate the offering.
The planned retail space is carefully curated, while two floors in the middle of the tower are dedicated to wellness, a lounge, and conferencing facilities—all with panoramic city views. The top floor below the pyramid's spire culminates these amenities with an enchanting private bar and lounge.
Additional landscaping will also activate the site perimeter. Adding seasonal color to the space, Mark Twain Street will be lined with plum blossom trees, leading up to the base of the pyramid featuring curated cafes, shops, and restaurants. The project is slated to be completed by mid-2023.
Endnotes:
[Image]: https://www.constructionspecifier.com/wp-content/uploads/2022/04/BC_SHVO-F.jpg
Source URL: https://www.constructionspecifier.com/san-franciscos-transamerica-pyramid-center-to-undergo-250m-renovation/
---