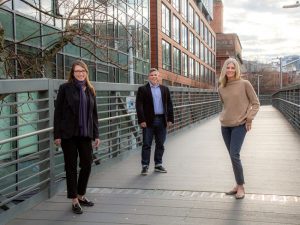 LMN Architects, based in Seattle, Washington, has added three new partners: Julie Adams, Osama Quotah, and Pamela Trevithick.
With this expansion, LMN seeks to enhance its capacity to undertake complex planning and design assignments across both public and private market sectors—from small-scale projects to major institutional facilities and urban districts.
"Julie, Osama, and Pamela are the kind of generalist practitioners that have been at the core of the firm's success over its 41-year history. Each has demonstrated exceptional capabilities across design, technical resolution, project management, client relations, and strategic business development," the firm said in a press release.
"We are thrilled to welcome Julie, Osama, and Pamela to the partnership," said Sam Miller, FAIA, partner with LMN. "Collectively they bring versatility, depth of expertise, and a diversity of experience, which will enhance LMN's ability to advance our practice and contribute to the growth of our profession."
Adams has been a leader in the performing arts and education markets, leading some of the firm's most prominent projects both locally and nationally, through skillful engagement of multi-faceted client groups. Her pragmatic professionalism is paired with a deeply empathetic leadership style, the firm said.
Quotah leads with a passion for the firm's work, and his impact extends far beyond the walls of LMN's studio, the press release said. He has demonstrated a deep engagement in the local community and advocacy for design as a force for positive change. Quotah's ability to collaborate and communicate LMN's vision has been instrumental in the success of important cultural and civic projects in the Pacific Northwest.
Trevithick has demonstrated a commitment to nurturing professional relationships essential to the ongoing success of her projects, clients, and peers. She has led a variety of teams across an array of project typologies, navigating challenges with a steady hand and continually building trust with clients and project stakeholders.
"All three individuals have developed strong personal connections across the practice, from emerging professionals to senior firm leaders. As partners, they will work to strengthen cross-generational collaboration and mentoring to improve growth opportunities throughout all aspects of the practice," the press release said.