Security glazing for safer schools
February 15, 2014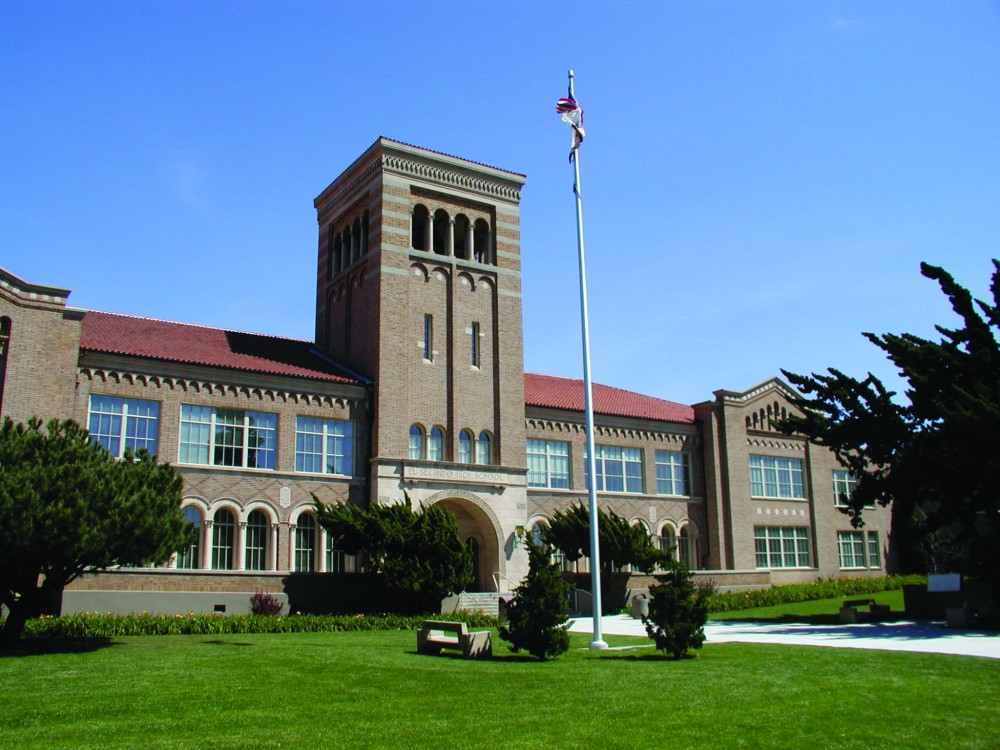 by Julie Schimmelpenningh
With recent tragedies involving school shootings, parents and administrators across the country are demanding ways to make K?12 facilities more secure. Areas of the schools under significant scrutiny are doors and windows—and more specifically, the glass being specified.
For extra school security, laminated security glass can be an easy and cost-effective measure to assist in resisting forced entry and the threat of bullets. Compared with traditional annealed or tempered glass, this type of material can secure the building more effectively.
Laminated glass is made from a tough plastic interlayer bonded between two pieces of glass. The interlayer is invisible to the naked eye, so laminated glass offers the same clear visual benefits as ordinary glass—an important feature for security. From inside, glass allows occupants to see someone approaching the school. From the outside, it can help responders locate intruders or victims.
Success in other fields
Laminated glass has successfully protected public facilities and major works of art for many years. Security glass has been in use in various forms for generations. Invented in 1903 by French chemist Edouard Benedictus, laminated glass has been employed for decades in car windshields to greatly reduce injuries. It is commonly used in high-risk facilities such as embassies and federal buildings, as well as museums. Laminated glass protects great treasures such as the Mona Lisa, the U.S. Constitution, and the Crown Jewels in London.
After the devastation caused by Hurricane Andrew in 1992, laminated glass became the standard in Florida and other coastal regions. Building code requirements were established to lessen the amount of destruction caused from high winds and to ensure occupant safety.
Enhancements to laminated glass configurations ensure glazing in federal and other public buildings are blast-resistant. Dozens of lives were saved by blast-resistant laminated glass when the Pentagon, newly remodeled, was attacked on September 11, 2001. The shockwaves following an explosion can send glass shards flying for miles and generally cause about 70 percent of the injuries following a blast, as was the case in the 1995 Oklahoma City bombing and many other blast events. It is these qualities that make the material a good candidate for school specifications.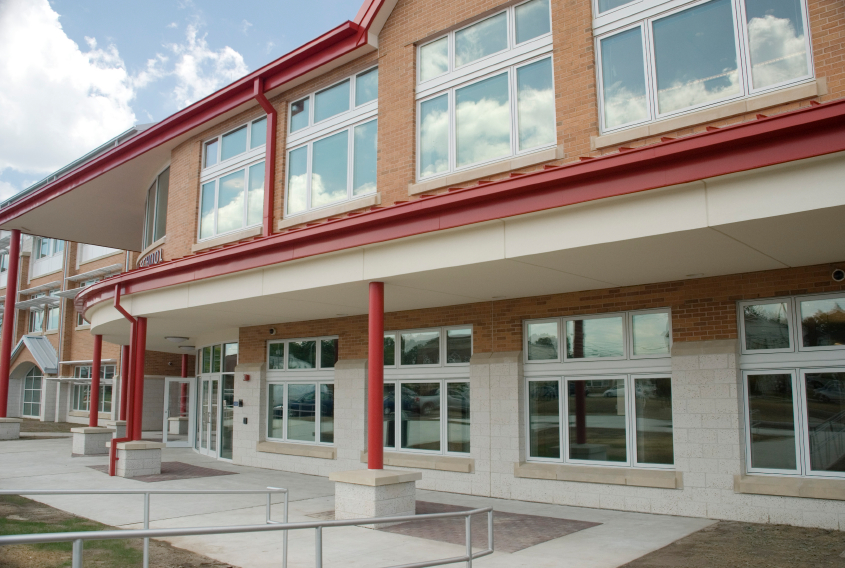 Renewed need for extra security
A school is more than just a facility; it is a place where families send their kids for the majority of their day to learn, participate in sports and clubs, and perform in musicals and plays. Schools can be why families buy a home in a specific neighborhood, and they can be what ties a community together—the buildings are frequently used as emergency management centers or shelters in times of crisis, making security an important attribute, even after teaching hours.
In recent years, however, schools are not being thought of as the safe havens they once were. Since 1992, there have been 387 shootings in U.S. schools, according to www.stoptheshootings.org[3]. One of the most recent involving fatalities occurred last December at Sandy Hook Elementary School, where 20 children and six adults were killed. As no one can predict whether an attack will happen, it is important schools be prepared for anything.
Immediately following the Sandy Hook shooting, discussions across the country started about how this tragedy and future shootings could be prevented. There were conversations about gun control, awareness and care for the mentally ill, as well as improving safety at schools through better communication systems, security measures, and intruder drill training. School districts everywhere are looking at how they can keep their students, teachers, and faculty safe. Design/construction professionals can play an important role as well.
What the school construction industry can do
By installing laminated security glass for all windows and doors, forced entry becomes much more difficult. Laminated glass is fabricated with a tough, protective interlayer, typically of polyvinyl butyral (PVB), which is bonded with heat and pressure between two pieces of glass. The use of thicker interlayers can increase the resistance of the glass to impacts. Upon impact, laminated glass will shatter, but glass shards remain held together by the bonded interlayer. Risks associated with flying or falling glass are minimized.
Laminated security glass stands up to multiple assaults from a blunt or sharp object used to gain entry. If an intruder tries to break through a window or the glass lite of a door, it would take several blows before he or she achieves access through the security glass. This allows valuable time for anyone inside the school to react, enabling more opportunity to call the police, send internal communications about the intruder, lock-down interior doors or classrooms, evacuate, or move students to a safer area.
From a glazing standpoint, school architects and administrators may consider the following when designing new or retrofit glazing systems:
glass should provide inherent health, safety, and security benefits that can help mitigate disasters;
natural daylight is essential for psychological benefits of students and teachers;1[4]
glass should provide visibility for critical passageways and entry areas; and
sustained functionality—basic functions of the school can operate following a natural disaster or incident.
Considering threat levels
Entry doors have been the most vulnerable in many school shootings. Hurricane-rated high-impact (i.e. large-missile) glass, or even ballistic glass should be considered. As in the case of Sandy Hook, the shooter penetrated the side lite of the door and then reached through to open it. The 'break-and-reach' ability of the intruder must be delayed or stopped. High-performance glass provides resistance, while still providing much needed visibility.
Existing doors may need to be replaced completely if bullet-resistant glazing is specified, as the framing system for such heavy configurations is specialized.
Access doors with a double-entry lobby to the school should be equipped with laminated security glazing having forced entry/burglary resistance capability in accordance with Underwriters Laboratories (UL) 972, Testing for Burglary-resistant Glazing Materials, or Class I of ASTM F1233, Standard Test Method for Security Glazing Materials and Systems.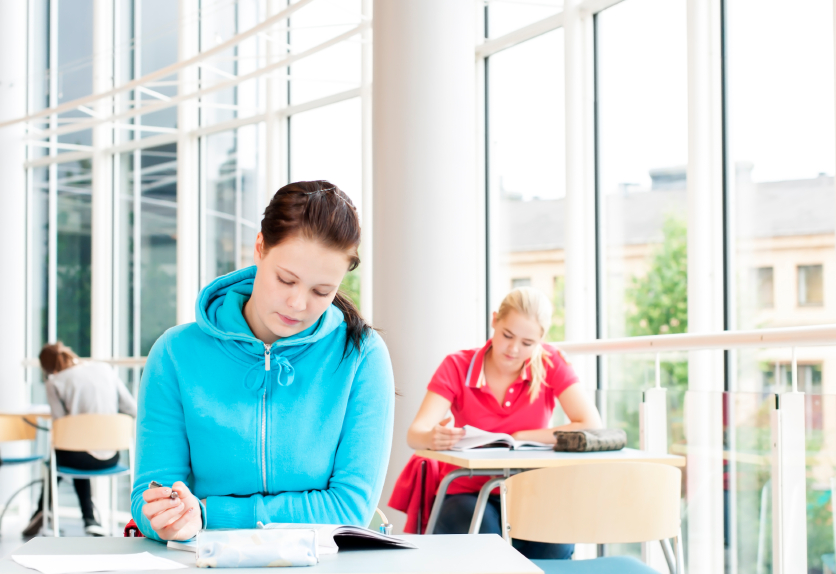 First-floor glass should be, at a minimum, equipped with basic laminated glass, which typically requires a 0.76-mm (0.03 in.) thick interlayer. This type of glass will deter ingress, retain glass, and slow break-and-reach attempts. Forced ingress glazing will offer greater protection, and uses a thicker interlayer. Laminated glass can be retrofitted into most existing window and door systems and can contribute to compliance for security windows per ASTM E2395, Security Performance of Window and Door Assemblies With and Without Glazing Impact.
If budgets do not permit replacement of windows, security film can be post-applied over the existing windows and doors. This option offers some of the benefits of laminated glass, but provides less resistance against an intruder. Further, like other laminated glass options that are not ballistics-resistant, it will not stop a bullet. Security film also modifies the post breakage behavior of glass, but may allow time to take additional action versus non-enhanced glazing.
During new construction, laminated glass may make economic sense due to its higher performance levels. However, post-applied films can be a good alternative in a retrofit situation where glass replacement is not possible.
It requires several shots from handguns like a 9 mm, .357, or .45 caliber to make a hole large enough to put a fist through to unlock a door or window. In some cases, the intruder may be temporarily confused, as the glass does not 'behave' as expected. There are many documented smash-and-grab attempts at a burglary where would-be intruders give up because they are generating too much noise and attention.
Additional benefits
Along with its safety and security enhancing features, laminated glass offers other benefits for schools. Laminated glass dampens sound coming in from the outside, making it an ideal choice for schools located in noisy neighborhoods or urban environments. The interlayer in laminated glass significantly dampens sound, keeping unwanted outside noise at bay.
Numerous studies have shown children concentrate and can learn better in a quiet space. For example, one research project found links between higher achievement and less external noise. Excessive outside sound resulted in increased student dissatisfaction with their classrooms and stress.2[6]
Laminated glass also reduces the amount of solar heat gain and ultraviolet (UV) rays going into a building, making it more comfortable and healthy for students and teachers. Work has been done delving into the importance teachers place on thermal comfort, proving temperature affects both teaching quality and student achievement.3[7] Interestingly, studies in the 1970s found the best temperature range for learning math and reading is between 20 and 23 C (68 and 74 F).4[8] Maintaining a specific classroom climate is an essential part of setting students up for success.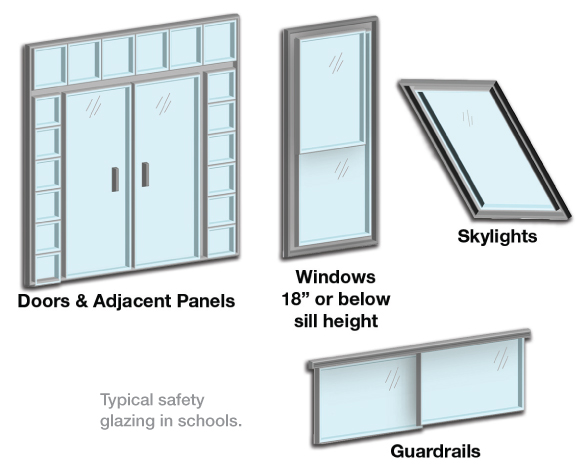 [9]Hurricane-rated laminated glass protects against natural disasters. Following Hurricane Andrew in 1992, Florida began to strengthen its building codes to help protect the building envelope. Windborne debris was a major problem during this Category 5 hurricane, and the construction industry began to look for ways to protect the windows in commercial buildings and schools.
Laminated glass proved to be one of the most effective solutions for this problem, and today, is commonplace in buildings in coastal areas of the United States, the Caribbean, and other world areas. Hurricane-resistant glass comprises multiple interlayers; it can be considered for vulnerable areas of a school, such as entry and rear doors, sidelites, and floor-to-ceiling windows.
Laminated glass is versatile, readily available, affordable, and easy to install. Also, it can be used to help a project earn credits within the U.S. Green Building Council (USGBC) Leadership in Energy and Environmental Design (LEED) program. Specifically, designers can secure points toward LEED certification under
Energy & Atmosphere (EA) Credit 1, Optimize Energy Performance;
Materials & Resources (MR) Credit 4, Recycled Content;
Indoor Environmental Quality (EQ) Credit 8, Daylight & Views; and
EQ Credit 9, Enhanced Acoustical Performance.
Since laminated glass offers solar, safety, and acoustic benefits, it can help achieve points ordinary glass may not.
Upgrading schools through glazing
In 1998, data collected in surveys conducted by the National Center for Educational Statistics (NCES) suggested the average public school building in the United States was 42 years old.5[10] This suggests many of the country's schools may now be at an age where frequent repairs are necessary.
Due to the burst in school construction during the Baby Boom Era, the NECS study reports almost half (i.e. 45 percent) of schools were built between 1950 and 1969. Seventeen percent of public schools were built between 1970 and 1984, and only 10 percent after 1985. These older schools were not envisioned with modern-day security and safety measures in mind; further, they do not offer the physical security level now desirable.
Educator A.C. Ornstein found by the time school is 20 to 30 years old, frequent replacement of equipment is needed.6[11] Original equipment, including roof and electrical systems, should be replaced between 30 and 40 years old, as rapid deterioration begins after this point. In fact, most schools are abandoned by the time they reach 60 years.
When the NECS study was published, most of those facilities were already about 50 years old and experiencing serious decline. In other words, half of the country's public schools could be seen as major threats to student safety.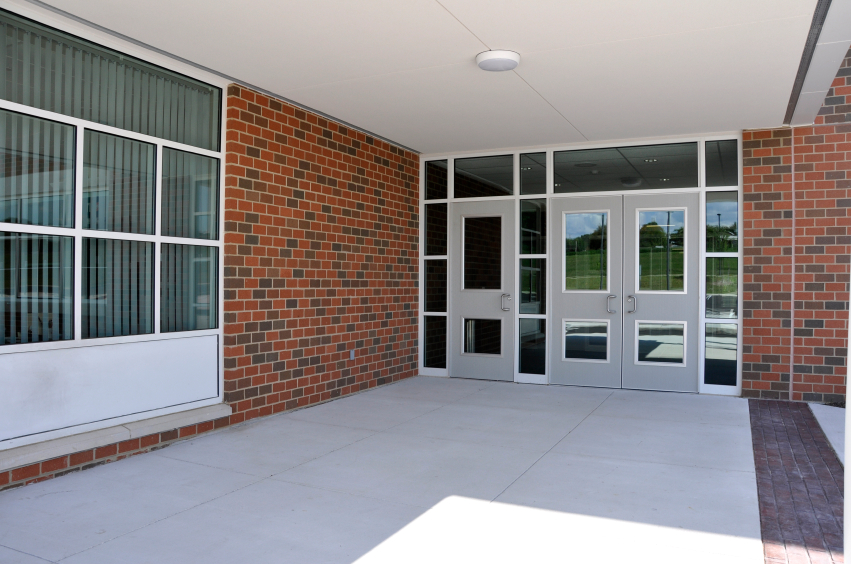 Today, as the rate of school construction continues to decline, safety is a more serious concern than ever. The existing stock of schools is too old to offer any kind of reliable security systems. Outdated glass, in particular, lacks basic insulation features to control classroom temperature and cannot offer much more than protection from outdoor elements. However, the installation of laminated glass immediately updates an aging school and offers protection to students and teachers.
While there is pressing need for building better schools, many face funding and time constraints. When new buildings cannot be erected, the architectural community must look at available options to modernize, update, and safeguard existing schools. Laminated glass or window film remains one of the easiest and most cost-effective measures available for enhancing student and faculty safety.
Notes
1 For example, a 2002 study by L. Heschong et al ("Daylighting Impacts on Human Performance in School," Journal of the Illuminating Engineering Society, 31[2])identified effects of natural light on students as evidenced in significantly improved standardized test scores for elementary students. The same study concluded that daylight contributed positively to overall health and well-being of students. (back to top[13])
2 The G.I. Earthman and L. Lemasters' paper, "Where Children Learn: A Discussion of How a Facility Affects Learning," was presented at the 1998 annual meeting of Virginia Educational Facility Planners. (back to top[14])
3 The 1999 J.A. Lackney report, "Assessing School Facilities for Learning/Assessing the Impact of the Physical Environment on the Educational Process," was published by Mississippi State's Educational Design Institute. (back to top[15])
4 The David P. Harner article, "Effects of Thermal Environment on Learning Skills," appeared in Educational Facility Planner, 12 (2). (back to top[16])
5 The NCES report, "How Old Are America's Public Schools?" was published in January 1999 by the U.S. Department of Education's Office of Educational Research and Improvement. It can be read online at nces.ed.gov/pubs99/1999048.pdf[17]. (back to top[18])
6 Ornstein's article, "School Finance and the Condition of Schools," appeared in the book, Teaching: Theory into Practice (Allyn and Bacon). (back to top[19])
Julia Schimmelpenningh is global applications manager, advanced interlayers for Eastman Chemical Company. She is has been a glass industry activist for 25 years with experience in research and development, technical lamination processing, product, applications, and standard development. Schimmelpenningh is a participating member of ASTM, International Organization for Standardization (ISO), and Glass Association of North America (GANA). She can be reached at jcschi@eastman.com[20].
To read the sidebar, click here[21].
Endnotes:
[Image]: http://www.constructionspecifier.com/wp-content/uploads/2014/02/HS-in-CA.jpg
[Image]: http://www.constructionspecifier.com/wp-content/uploads/2014/04/School-Security-Article_Photo-1.jpg
www.stoptheshootings.org: http://www.stoptheshootings.org
1: #note1
[Image]: http://www.constructionspecifier.com/wp-content/uploads/2014/04/School-Security-Article_Photo-2.jpg
2: #note2
3: #note3
4: #note4
[Image]: http://www.constructionspecifier.com/wp-content/uploads/2014/04/CS_February_2014_HR-50.jpg
5: #note5
6: #note6
[Image]: http://www.constructionspecifier.com/wp-content/uploads/2014/04/School-Security-Article_Photo-3.jpg
top: #note7
top: #note8
top: #note9
top: #note10
nces.ed.gov/pubs99/1999048.pdf: http://nces.ed.gov/pubs99/1999048.pdf
top: #note11
top: #note12
jcschi@eastman.com: mailto:%20jcschi@eastman.com
here: http://www.constructionspecifier.com/masterformat/security-glazing-for-safer-schools/
Source URL: https://www.constructionspecifier.com/security-glazing-for-safer-schools/
---